Note: Dallas is a fan of our site and wanted to contribute on occasion. Here is his first guest post. Please say hi in the comments! -dc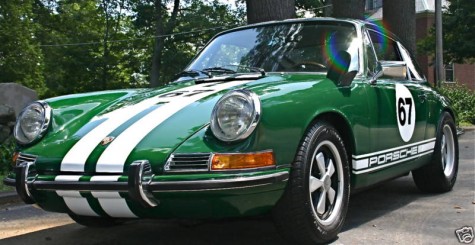 This one is described as a "". For people that know even a little about vintage Porsches, this is like describing a vintage watch as a "Rolex Submariner 5513 5517" – it's sort of like nonsense. Just as there are "Submariner 5513s" (cool vintage Rolex watches) and "Submariner 5517s" (very cool incredibly valuable only-issued-to-the-Royal-Navy vintage Rolex watches), there is the "1967 Porsche 911 Coupe" (cool vintage car) and "1967 Porsche 911S" (very cool quite rare vintage car). Let me elaborate…
By 1967, Porsche was into the third model year of its seminal 901/911 series of rear-engined sports cars. For model year 1967 the factory introduced the "S" model as the range-topping version, featuring a hotted-up engine boasting 160bhp – 30 more than the base Coupe and Targa. The factory produced just 1,823 "S" coupes and 483 "S" Targas that year. Despite the power boost, some considered that the S models made inferior street drivers as the increased power was made partly at the expense of low-end torque. However, nowadays, S cars are highly sought after, and an original S can bring serious money. Which brings us to the car on auction…
First off, the car looks fantastic. I'd have left off the racing numbers as a matter of taste, but I think the white stripes and "Porsche" script look great against the dark green paintwork. The cosmetics of this car just look super, with nice Fuchs wheels (introduced on the '67 S) presenting the classic, iconic short-wheelbase 911 look.
Where things get a bit chancy with this example is in the description, and the question of whether the car is a real "S". With collector Porsches, much of the price premium is based on originality – original engine and equipment in particular, and whether the car was originally built as the variant it is billed as, or converted later as a "clone". Porsche will even issue, for a fee, a "Certificate of Authenticity" that confirms the original trim level, equipment, and paint colour of a vintage 911. The seller states:
"this car was born as a straight 911 homologated to an "S" back in the 70's."
When I queried the seller as to what this actually means (I asked point-blank "does the CoA issued by Porsche list it as an "S"?), the reply was rather unclear. The seller stated in an email that an S engine was installed in 1984 but the auction description states that the "homologation" occurred in the '70s. It was apparently "born a 911" (i.e. not an "S") so I would place a caveat on the description accordingly. The fact that an incorrect VIN was quoted in the auction (and not yet corrected) doesn't help the comfort level. Once the correct VIN is posted, all questions will be answered… a real factory 1967 "S" has an "S" suffix to the VIN.
A hallmark of this seller's auctions appears to be extensive quotation of "factory history" information on the marque, but it's unclear how this relates to the car in question. In particular, the seller quotes extensively regarding the special equipment supplied with the "S", but doesn't actually confirm that the car for sale ("born a 911 [non-S]", remember) comes with the special parts.
I give the seller kudos for listing a telephone number for inquiries, and I hope that a prospective buyer will avail himself of the opportunity of speaking to the seller and clarifying these issues. While a minty real "S" might now bring ~$40K+ (notwithstanding the dreamers asking $100K or more), this car should be considered accordingly. I think an enthusiast would do well to acquire a totally-sorted turn-key (and beautiful) '67 911 Coupe with non-matching engine like this one for ~$20-25K.
**Note that this car is listed for sale at the seller's website www.myclassiccargarage.com for $42,500.
– Dallas