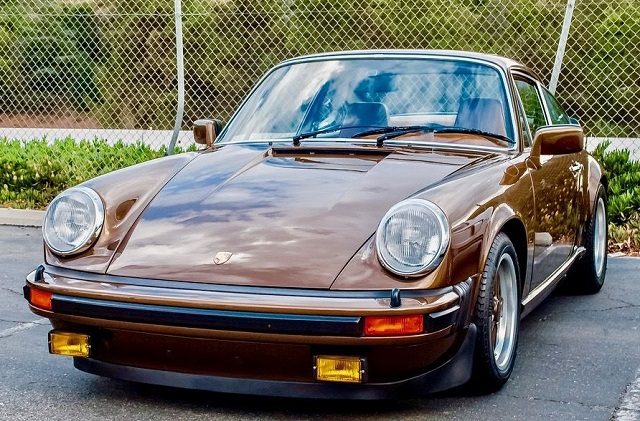 Every now and then I come across a 911 that I can't stop looking at. The close ups, the profile, the little details, I'll keep coming back to all of it trying to take in more and more of the car. This is one of those 911s. This 911 takes all of the best things about the 911SC and elevates them. The seller says his intention was to replicate the look of the Carrera 3.0 and in that regard it does very well. It has the "Carrera" script – perhaps the only thing I could do without but understandable in a car replicating a Carrera 3.0 – along with the front and rear spoilers from that Carrera (also shared by the 3.0 liter 930). Add in the bumper horns, the pop-out rear side windows, the various European parts, and upgraded suspension and the whole package comes together very nicely.
It isn't just the little details that stand out, the colors are great too. I imagine there are other colors that I'd prefer, but the Tobacco Metallic paint we see here looks phenomenal fitting both the period and personality of the car well. That period-correct theme is continued in the interior which shows a contrasting cork seating with tartan inserts. It's an unusual, but interesting combination that helps to take this 911 to the next level. All together this looks like a very well put together 911SC and definitely one of the better examples I've seen. It isn't wholly original, but the upgrades are appropriate.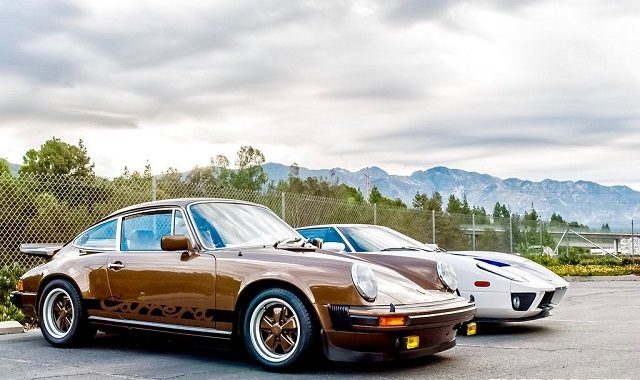 Year: 1979
Model: 911SC
Engine: 3.0 liter flat-6
Transmission: 5-speed manual
Mileage: 49,481 mi
Price: $84,995 Buy It Now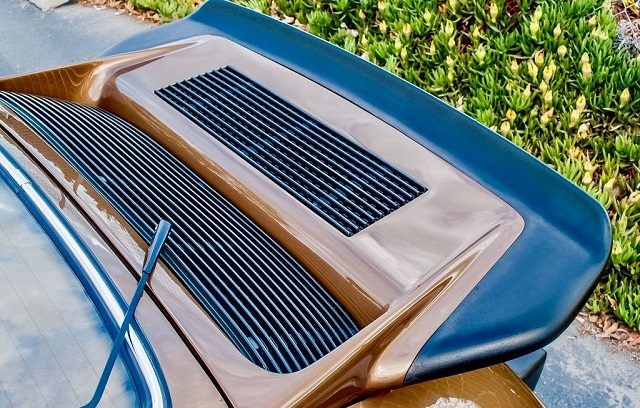 Exceptional, one-of-a-kind, well-sorted, and well-loved 911SC "Super Carrera" for sale.

VIN: 91199200670 11/78
Made in West Germany

Genuine Porsche Certificate of Authenticity in hand.

Originally purchased from Rusnak Porsche in Pasadena, this California native car has never lived outside of Southern California. Enthusiast owned since birth with four owners over its lifespan (to my knowledge).

During my ownership the car won the 2012 PCA Beverly Hills Concours—"Unrestored" Class. This was the only time I have entered the car in a Concours or show.

Following that I upgraded much of the car with NOS/NLA/Genuine Porsche parts with the goal of emulating an German-delivery Carrera 3.0. I did this because I prefer the aesthetics of the Euro cars over their U.S. and ROW counterparts. I added a correct restored early Carrera tail and had the engine, transmission, AC, and clutch rebuilt/restored. Finally I removed the Air Pump, added SSI's, and beefed up the suspension.

The suspension was lowered to European height, corner balanced, and dialed-in by specialist, Marty Mehterian, who sets up suspensions for Singer Porsche and Magnus Walker. As a result, the stance is spot on.

NO RUST. NO ISSUES. In fact, this car is a nearly flawless, mostly original example. Every aspect is in EXCELLENT CONDITION unless noted below.

All maintenance, service, and upgrades were performed by reputable, best-in-class Independent Porsche Service specialists. No DIY repairs. NO EXPENSE SPARED.

Super clean, tight, responsive—this 911 handles and sounds wonderfully!!

SUMMARY
49,481 miles
Rare "California Delivery" car
Rare two year only paint code (K5 Tobacco Metallic)
80% original paint
Rare dash/interior color (36 Cork Leatherette)
Original Cork dash, door inserts, and interior trim
Numbers matching
Original glass (good condition)
Original/recently rebuilt engine (6590434)
Original/recently rebuilt AC (blows cold)
Original/recently rebuilt transmission (193023)
Original/recently rebuilt master cylinder
Original/recently rebuilt clutch
Original/complete tool kit
Original spacesaver spare tire, jack, compressor
Power Windows
Electric Sliding Sunroof
No accidents or dings
Clear title
Non smoking
Always garage kept and covered
All receipts
All OEM manuals
Correct decals throughout
Both Keys

PROFESSIONALLY INSTALLED UPGRADES
New Genuine Porsche European Bumperettes
New Genuine Porsche European Turn Signal Lights
New Genuine Porsche Fog Lights
New Genuine Porsche Front Chin Spoiler
New Genuine Porsche Front Headlamp Spray System*
New Correct German Headliner
New Genuine Porsche Chrome Door Glass Frames
Rare/Complete Genuine Porsche Carrera Tail Deck Lid
Rare NOS/NLA Genuine Porsche Carrera Tail Rubber
Carrera Rear Quarter Pop-Out Windows
New Genuine Porsche Rear Wiper*
Rare NOS/NLA 15″ Fuchs Wheels (7/8's)
Rare NOS/NLA Pirelli P7 Tires
Rare NLA Blaupunkt Bamberg Cassette/Radio/Mic*
New Correct German Carpet (Interior and Trunk)
New Wevo Gate Shifter
New Wevo Engine Mounts
New SSI Headers
New M&K Exhaust (2 in/1 out)
New Elephant Racing Torsion Bars/Bushings
New Koni Adjustable Shocks
* not connected/fully functional

EXTRA PARTS IN STORAGE
Original Front U.S. Bumper
Original Rear U.S. Bumper
Original Front (Non-Spoiler) Valence
Original Rear (Non-Spoiler) Deck Lid
Original Black Anodized Trim
Original Black Anodized Door Handles
Original Rear Quarter Windows/Frames
Original Blaupunkt CR-2001 AM/FM Cassette Radio
Original California/U.S. Air Pump System
Original Headlamps and Turn Signals
Rare NOS/NLA Genuine Porsche Carrera Tail Rubber
Rare NOS/NLA Pirelli P7 Tires (2 rears)

This combination of mileage, provenance, condition, options, NOS/NLA parts, rare color, and extras put this car in an elite class of collectible automobiles.

Similar to the Audi Quattro, BMW E30 M3, Lancia Delta, Renault R5 and other great 80's era Group B European rally cars, there's no denying that the 911 G-Series is an iconic range of automobiles whose time has come.

According to Hagerty, air-cooled Porsche values have exploded more than 300% in the last 5 years. At less than half the average price of a 76-77 era Turbo Carrera and with similar same stage presence/sex appeal, this 911SC is a smart, fun investment whose value is poised to keep climbing well into the future.

My goal is to make this transaction totally safe and secure for both parties. I will happily assist with PPI's, requests for info, and shipping via Buyer's transport company of choice.

TERMS & CONDITIONS

$1,000 NON-REFUNDABLE deposit due from Buyer upon auction end or upon winning bid.

Full payment due from Buyer within 5 business days of auction end or winning bid.

Buyer is responsible for transport set up and fees within 5 business days of payment clearing.

On Day 6, storage fees of $25 per day begin and must be paid before vehicle will be release to transport or Buyer.

Paypal, bank, or wire transfer fees paid by Buyer.

Tax, title, and tags paid by Buyer.

Seller will not "hold" the car for purchase on the promise of payment.

Do not Buy unless you have funds immediately available or financing already approved.

If Buyer reneges or breaks any of the deal Terms & Conditions, Seller will file a formal complaint through eBay, take full legal action as allowable by law, and block the bidder.

Car is owned outright by the Seller. Clean and clear title in hand.

Car is sold as-is, where-is.

Seller strongly recommends/welcomes a comprehensive pre-purchase inspection (PPI).

PPI report is paid for by the Buyer. Once executed it becomes the property of both the Seller and Buyer.

Priority will be given to those seeking/executing a PPI.

Shipping is paid by the Buyer's and is their full responsibility. The Transporter is the Buyer's agent acting on the Buyer's behalf.

CALL/TEXT 646-217-9225 FOR MORE INFO
This is a private owner sale. Will consider a collector car trade of equal/greater value.

Thank you!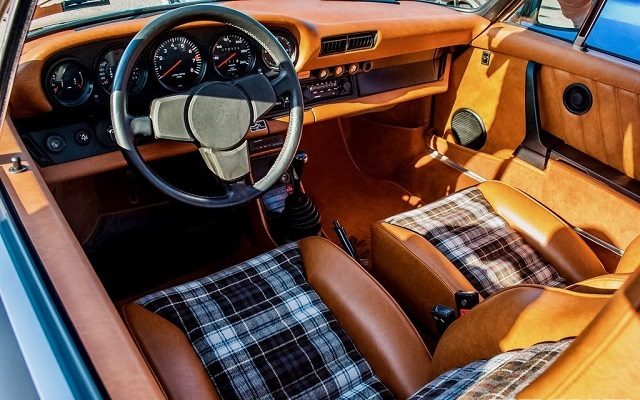 For those who might be interested in such things this 911SC also comes with quite a bit of its original parts. I can't really imagine why someone would want to buy this particular car and then revert it to its original appearance, but it's still nice to have those parts. And, of course, they could probably be sold if you really didn't want them. But at this asking price – and it is a very high asking price – there are going to be cheaper alternatives for those who want an original condition SC.
So, with all of the great qualities of this 911 is it worth an asking price of $85K? That's higher than just about any 911SC we've come across, though as the seller notes it's still much lower than the price of either an early 930 or a Carrera 3.0. I don't know exactly how relevant that is since it is only the aesthetics that are replicated here, but it is a point to be considered. I honestly don't know what it would cost to replicate the build. First you'd have to start with a 911SC with this mileage and in excellent condition, which alone could set you back $40-$50K. Add in that this car is ready to go and I could see the price making some sense if everything is just how you want it. Granted, you could get one with more miles and lesser condition to provide yourself an initial lower cost, but at some point the comparison becomes apples to oranges.
At the end of the day, this looks like a pretty great looking 911 that's been very well executed. Whether it's worth this asking price will be quite subjective, but it's not priced too differently from many of the backdated 911s we see so I do think there is a market for such a car. You're certainly going to get a lot of looks and interest from fans of these '70s 911s.
-Rob