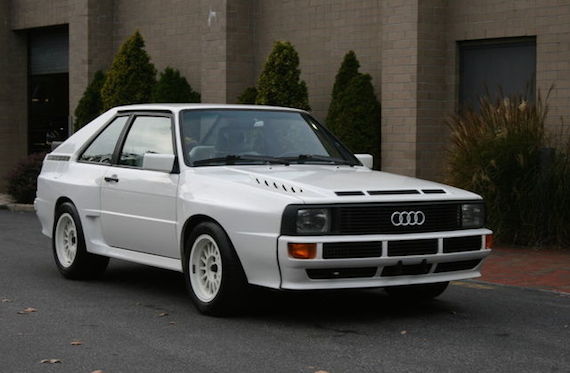 By 1984 the writing was on the wall, and the wild formula called Group B was mutating cars as if they had been supplied nuclear-tainted drinking water. Lancia went from the nutty but awesome and pretty 037 to the much nuttier, much less pretty but significantly faster Delta S4; a mid-engined turbocharged and supercharged all-wheel drive wonder. That matched Peugeot's effort with the 205 Turbo 16, a mid-engined turbocharged and super-balanced all-wheel drive hatch. The competition was lighter and much better balanced than the Audi was, and all-wheel drive was no longer the trump card. The Audis had been fast but also a bit prone to understeer – something that won't surprise anyone who has driven a 1980s Audi. Additionally, they were heavy compared to the competition even when fitted with aluminum blocks instead of the road-going cast iron. One last complaint that the drivers had was that the windshield rake meant there was a tendency to have a large amount of glare that distracted the driver and navigators. Plus, Audi was at the limit of what it could develop reliably with the 10 valve turbo motor.
The response was the Sport. To drop weight, Audi chopped the best part of 13 inches out of the middle of the Quattro, making it a two seater unless your passengers had no legs. They took the doors from the short-lived 4000/80 5+5 2-door and the windshield from the 4000/80, too – it was much more upright than the normal Coupe. The flares grew as well, another few inches in girth allowing now 9″ wide Ronal R8 wheels with larger tires. The body was made from carbon fiber and kevlar to help cut weight and was produced by noted special vehicle producer Baur in Stuttgart. And under the vented hood lay what would become the party piece; the 2.1 turbo motor now sporting 20 valves. The result was staggering in terms of road performance; in 1984, the Sport was the fastest accelerating road car you could buy to 60 m.p.h. at 4.5 seconds. Remarkably, 30 years on that would still be considered seriously fast. But it was the belching flames, the wail of the five cylinder and the wild slides that captured the imagination of the world. In rally trim, Audi saw a reported 600 horsepower from the monstrous S1 E2 depending on trim. On the road the Sport only saw half that output, but the Sport received a special interior to match the special exterior – heavily bolstered Recaro seats in special trim and a heavily revised dashboard with more gauges and a new readout. 214 of these special Quattros made it to the road at a somewhat staggering equivalent of $72,000 in 1984 – nearly double what the already expensive long-wheel base Quattro cost. As with all of the special homologation cars from Group B, the Sport was a truly special car then and is perhaps even more revered now: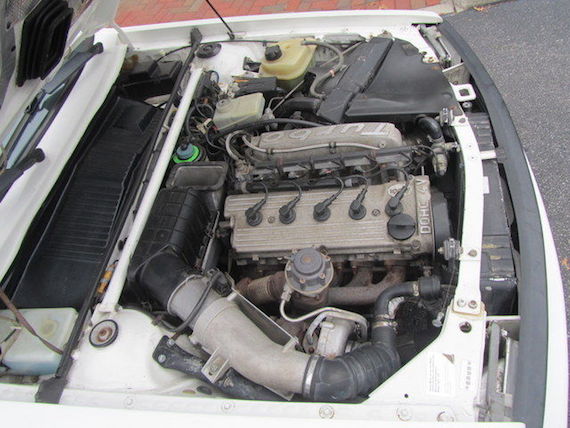 Year: 1985
Model: Sport Quattro
Engine: 2.1 liter turbocharged inline-5
Transmission: 5-speed manual
Mileage: 86,545 mi
Price: $295,000 Buy It Now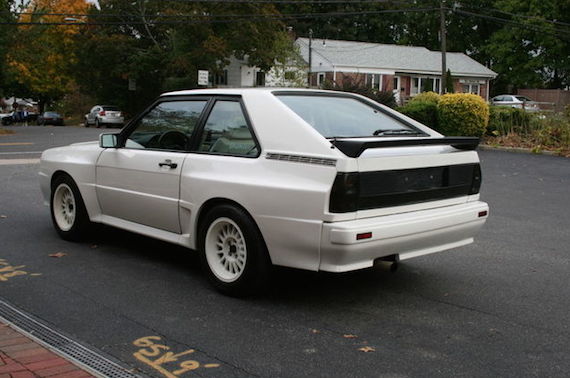 White with White leather seat with Black inserts and Black carpeting, 86,000 miles, 302 HP, 4WD, 5-speed manual 1 of approximately 200 produced. VIN: WAUZZZ85ZEA905157

The Audi Quattro Sport SWB Coupé was a car originally introduced in 1984 by Audi for homologation purposes, in all approximately 200 were produced. A body of carbon-kevlar kept the weight down and explosive power was on tap via the 2.1 liter turbocharged five cylinder engine with 20 valve cylinder head. The all-alloy, 5 cylinder turbo-charged engine was capable of producing 302hp in road trim and well over 450hp when set up for racing – the rally-spec versions went on to win the Manufacturers' Championship for Audi in 1982/1984 and the Driver's Championship in 1983/1984. In street form, sixty miles per hour arrived in 4.5 seconds, which made this homologation special virtually untouchable in its time. Group B was perhaps one of the most storied series in motor racing, not only for how it advanced the art of racing, but for the sheer madness of the competition itself.

This Sport Quattro was imported in 1987 by its first owner. It was purchased by its second owner in 1996 and has remained in his custody until its purchase by Autosport Designs, Inc. in 2013. It has been stored to date and will require a bit of service, re-commissioning prior to use.

A rare find, this Audi Sport Quattro is not only an superb, fun motorcar to drive, but it is sure to appreciate in future markets.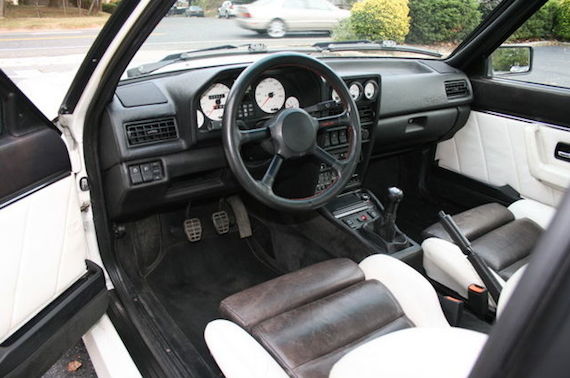 I'm going to say something that's pretty sacrilegious to the Audi faithful; the Sport Quattro is not my favorite Audi. First off, it was not nearly as successful as people think it was. Look up the number of wins scored by the Sport and you'll find that it was just two; one by Walter Rohrl and one by Stig Blomqvist. In terms of sheer importance and success, the original long wheelbase versions were substantially more important. Second, while the bulges and vents are cool ultimately in my mind they don't make the car prettier. The front overhang looks unbalanced compared to the shortened stance, and while the car looks downright purposeful from both the revised front and rear, from the side it appears almost clownish. While it's not listed as such, this is likely one of the several Sports imported and owned by Frank Beddor, who also founded the Audi Quattro Club (now ACNA). That said, it appears to have been modified from original. I don't believe I've ever seen a white interior on one – most were silver or black, and I wasn't able to find another photo of a white interior on a Sport. It may have been replaced to match the also-custom white dial readouts present and the aftermarket steering wheel, which resembles a Treser wheel but I can't identify it. The seller also states that after long-term storage the car needs a full service which won't be cheap on this car; you'll be ordering parts straight from Europe. If you thought there was no dealer support for regular 1980s Audis, try turning up to the local network in one of these. Additionally, the original "sport quattro" sticker is notably missing from the rear – hinting it may have been resprayed for some reason. The exhaust also doesn't appear to be a stock unit. Despite the customizations and running issues, the seller has not been shy about asking nearly $300,000 for this example. That's in line with other asks we've seen from Sports, and considering there were only a reported 48 made in white in total, as the saying goes if you don't like the price go find another. For reference, the perfect example offered by RM Auctions in January hammered at a record $401,500. In that light, a correct restoration – even though expensive – of this car could still produce a valuable result. The Sport market has experienced a serious uptick in recent years, so even the 2013 Bonhams sale for $175,000 of a similar Sport that sat for some time with damage is pretty out of date. $300,000 may sound crazy for this car, but it's likely close to the market value unless there's a major undisclosed issue.
No matter where you go, it will draw an appreciating crowd. Dynamically, it was not a great driving car. At least in my eyes, it was not a pretty car. Historically, it was not hugely successful. But arguably, this is the most desirable Audi ever produced and still captures the imagination of rally fans who still dream of the haunting, raucous screams of the fire-breathing monsters Group B produced. The Sport Quattro may not have been the ultimate fastest rally car, but it always appeared to be – perhaps, from a publicity standpoint, more important than actual wins. Simply put, this is the car that enthusiasts want to see.
-Carter