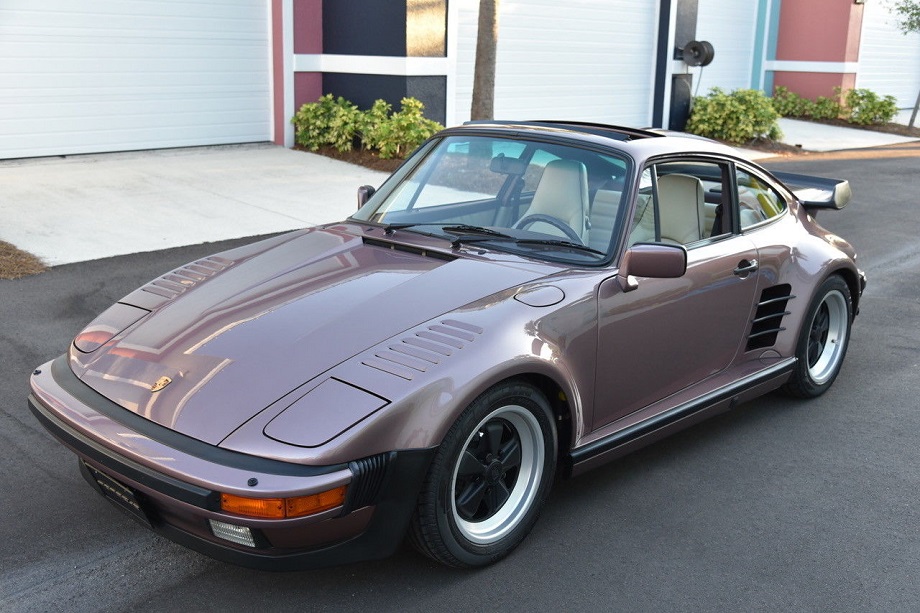 This 930 might be in the best condition I can recall seeing one. The mileage is pretty darn low at only 11,300 miles so maybe this shouldn't come as a surprise, but even still low miles does not always equate to excellent condition. I know not everyone likes the Slantnose option on these cars, but like it or not I think we can all appreciate how good this one looks. And for those us, myself included, who are fans of the Slantnose, this 930 provides you with something to spend a good deal of time inspecting.
It's a Cassis Red Metallic 1988 Porsche 930 Coupe with the M505 Slantnose option. It's stated to be only 1 of 2 such cars painted Cassis Red Metallic (I have no idea if that's true) and it has a contrasting Linen and Burgundy interior. Pretty much all of the Slantnose 930s are rare and the Coupe easily is the best looking of the various models. This one is immaculate.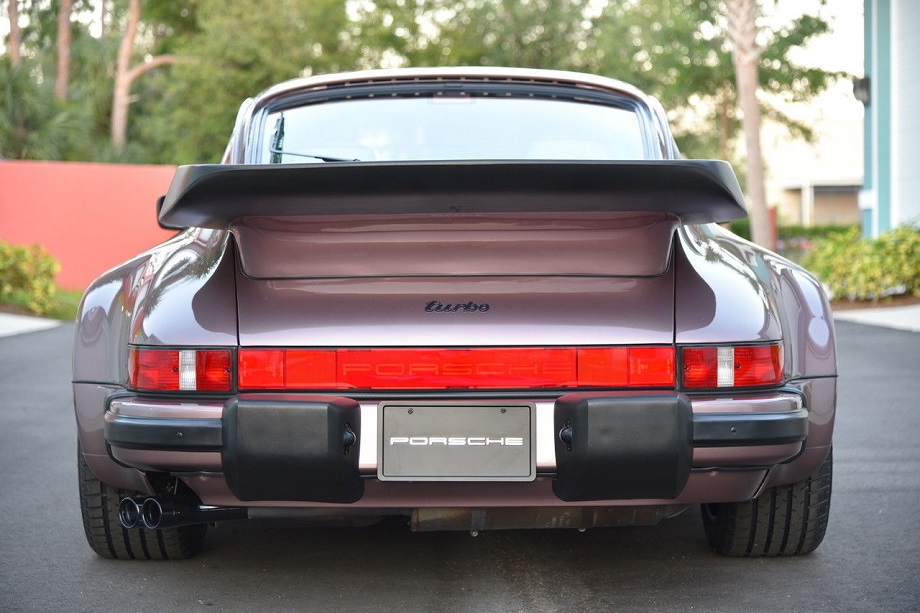 Year: 1988
Model: 911 Turbo
Engine: 3.3 liter turbocharged flat-6
Transmission: 4-speed manual
Mileage: 11,300 mi
Price: $225,000 Buy It Now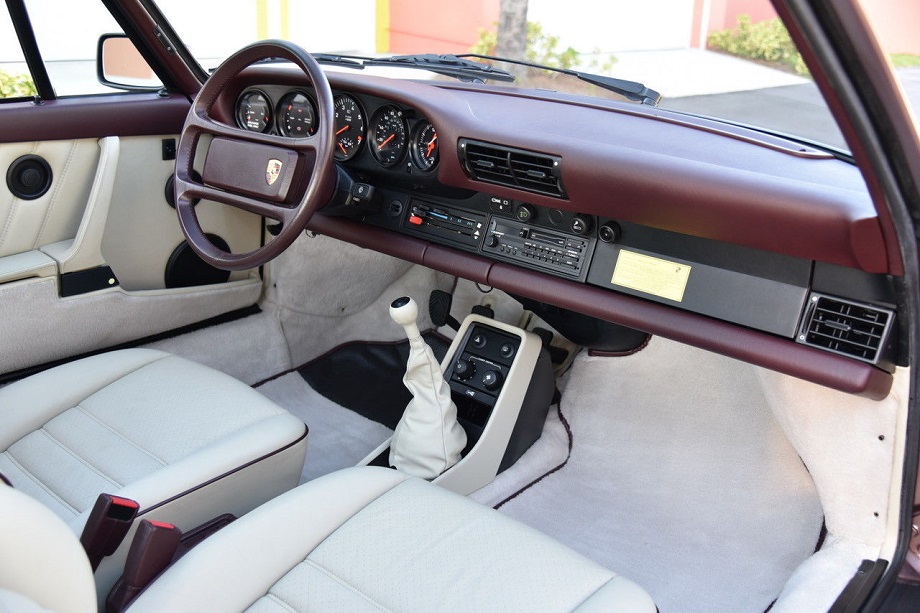 Will consider trades up or down.

P. 239-778-7703

Bring your Porsche engineer, specialist and guru; this rare Slantnose will exceed your expectations. Complete Porsche! Nothing Missing! Everything done! Porsche Obsessed Expert Collector Owned.

One of only 2 Slantnose ever painted the eye-catching special order color of Cassis Metallic. (shades of purple depending on sunlight). Linen Leather Interior w/ special order Burgundy. Please give email for additional photos.

Porsche maintained and Porsche heavily documented service history including recent $10,000 in Major Engine Service, clutch and new tires. Concours detailed and perfect in every way. Best of the Best.

Porsche Certificate of Authenticity.

Factory original window sticker.

Owners manuals with pouch, Blaupunkt radio manuals, Slantnose specific manual (rare) and all the little extras that come in the pouch.

Complete tool kit in great condition.

All factory covers for headlight mechanisms in trunk compartment.

Plastic gloves

Plastic raincoat

Sunroof manual crank

Air Pump.

Jack.

Spare Tire.

Locking lugs w/ caps and the keys.

Two Porsche leather key pouches.

New Porsche "Turbo" Floor Mats

All Keys, None missing.

Additional options:
Slantnose pkg, Sunroof, Limited Slip Differential, Sport Steering Wheel w/ elevated hub, Heated Front Seats, Lumbar Support Front Seats, Velour Carpet in Luggage Compartment.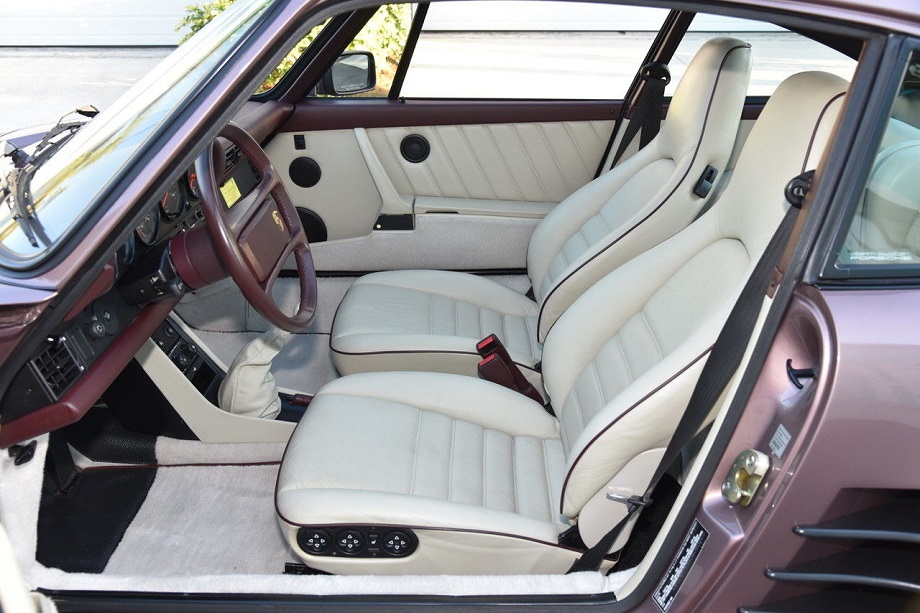 We see a lot of Cassis Red 911s equipped with a Burgundy interior. It's a nice enough combination and in general I really like the Burgundy interiors from this era. But the two colors are just a little too similar so while it isn't monotone, there also isn't a lot of contrast. On this 930, the use the Linen for most of the seating and carpets really changes that and I like it a lot! I can't say with complete certainty that this would be my favorite combination for Cassis Red, but I like it here and it is one of the better ones I've seen. As noted above, all of the interior looks in great shape; it's clean, crisp, and appears original.
Not everything seems perfect though since there are a few questions I would have. Mostly I think it's just verifying originality and specification given the very high asking price. I am curious about the engine work. Given the very low miles you wouldn't really expect any major work to be necessary. Perhaps the work stated here was just refreshing to make sure everything was flawless and working perfectly prior to sale. We are told that it comes with a documented service history and that also might shed some light on the work performed.
Mostly I find this 930 a joy to look at. The market obviously will be quite limited because of the price and that you can't really drive it given the premium for the low miles. But it's a great collector piece and I'm sure its next owner certainly will enjoy being able to gaze upon the unique lines of the Slantnose.
-Rob