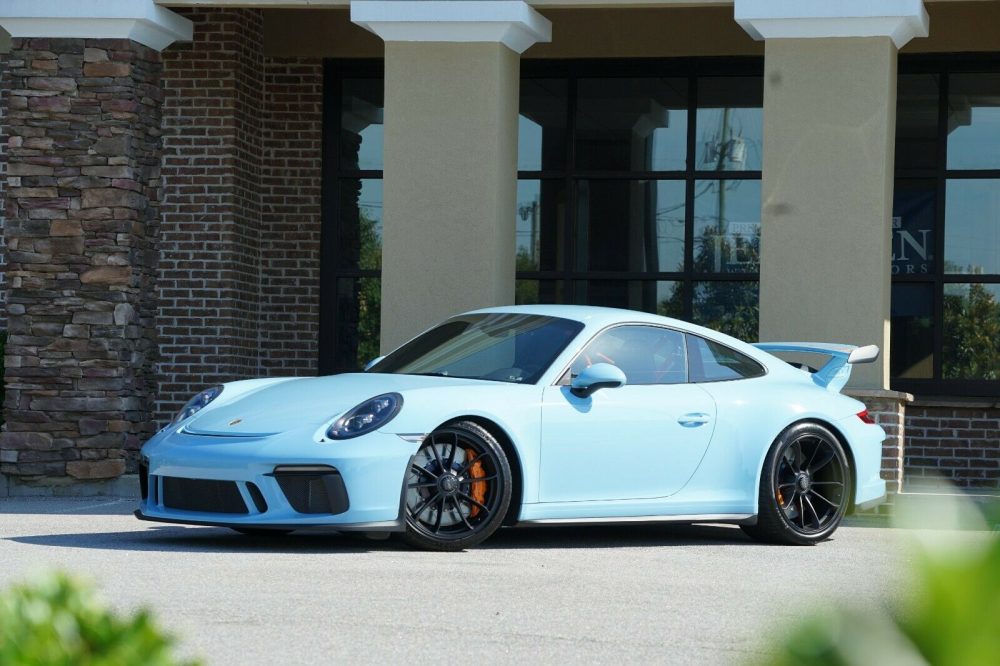 Another day, another classic Porsche color. This 2018 911 GT3 is finished in the historic color of Gulf Blue. I literally mean historic, as it was the main color the John Wyer-Gulf Oil Porsche 917 race cars that have become legendary not only for their performance on the race track, but the names that own the cars now some 50 years later. It was only offered as a production color on the 911 from 1972-1975 and that has been it until recently put in rotation in Porsche's paint-to-sample program, which explains how this 991.2 GT3 wears it. Usually anyone who orders a Gulf Blue car starts finding little other things to paint orange, and this is exactly what happened here with orange calipers, rear wing script, and roll bar. However, this GT3 also has another thing that makes it unique, and surely explains why it is so cheap compared to other 991.2 examples.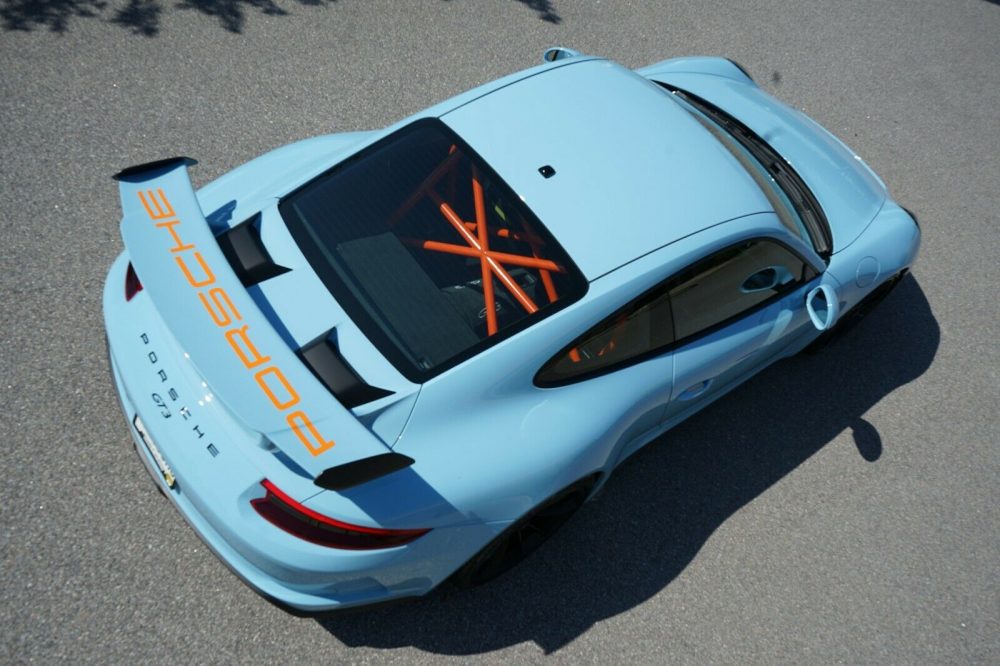 Year: 2018
Model: 911 GT3
VIN: WP0AC2A98JS175607
Engine: 4.0 liter flat-6
Transmission: 7-speed Doppelkupplung Automatic
Mileage: 4,242 mi
Location: Columbia, South Carolina
Price: $127,500 Buy It Now
2018 Porsche 991.2 GT3.

4,300 Miles. PTS – Gulf Blue. Full Black Leather w/ Deviated Stitching. Extended 23.7 Fuel Tank. PCCB converted to Giro Steel Rotors. Original Ceramic Rotors & Pads come with car. Alcantara Wheel. Headrest Logo on Full Leather Carbon Buckets. Front Axle Lift. Fire Extinguisher. Smoking Package. Bose System. Carbon Fiber Interior Package. Sport Chrono. LED Headlights. Carbon Lighted "GT3" Door Sills. First Owner – Car was damaged by Porsche Dealer. 100% Porsche OEM parts. See picture of damage. Car has no paint work other than brand new OEM front bumper. Full PPF Wrap. No excuses!!!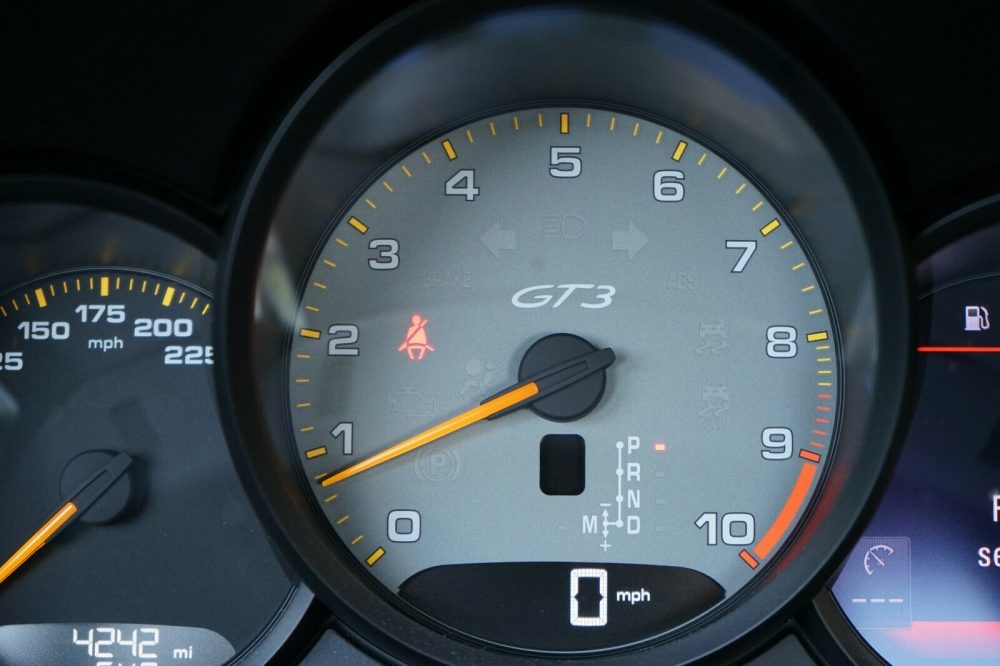 I knew something was too good to be true when I saw a paint-to-sample 991.2 GT3 with only 4,200 miles listed for $127,500. The seller on this one says the car was totaled by a Porsche dealer and rebuilt on an R-title. From the one photo of the damage provided, this car took a nasty hit to the front. Some further Googling shows one of the rear wheels was badly damaged as well. What happened? Well, I can guess this probably wasn't a careless lot attendant hitting a curb while moving it from the wash bay. Lets put some clues together.
Some of the photos show a windshield banner that says something follow by "Porsche." My guess is that is the dealer's name. Another thing to note is that the carbon ceramics were swapped out for less pricey steel rotors and pads. Lastly, we see that orange roll bar. My guess? Someone wrecked this thing on the track and that "someone" was probably the dealer principal or someone with ties to the dealer. Again, this is a total guess and I don't have inside knowledge, but that is what makes sense to me seeing all the photos. Swapping out the carbon ceramics with a handful of miles is usually done so you can track the car, and the carbon buckets plus the cage? I'm thinking this car was doing laps.
Where does it leave it now? Well, buying and dealing with expensive cars that carry R-titles is a mess. Banks won't loan money for them unless it's something extremely significant, and the same case goes for carrying insurance on them. I'm sure with enough phone calls to the right places you could have a loan on this one with a massive down payment, and you could get coverage if you pay an equally massive premium. So my guess is that this one is probably destined back to track duty for someone who can just write a big check for this one. To me, it just isn't worth it to use a street car. If you can buy a $120,000 GT3, you can probably buy a $150,000 GT3, so just get the one without all the baggage and call it a day.
– Andrew