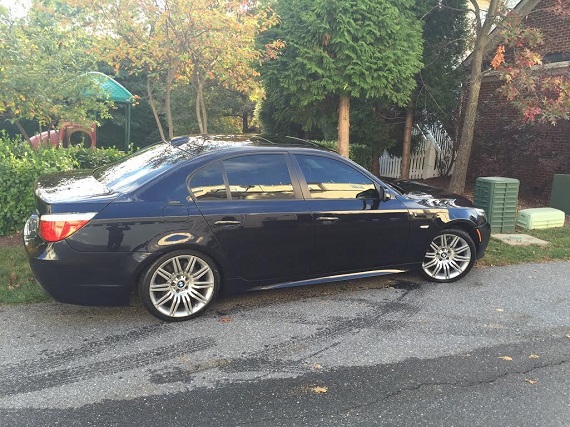 It seems that with every progressive generation of BMW 5-series, the gap between the outgoing M5 and the top of the line non-M 5 series narrows considerably. While there wasn't much of a contest between the E28 M5 and E34 535i, by the end of the E34 run the 540i M Sport was – for all intents and purposes – a M5 without the S38. BMW upped the ante to 400 horsepower in the new E39 M5, once again widening the gap to the 540i model. But the successor E60 545i offered 330 horsepower with matching torque in 2003 alongside the outgoing E39 and once again the gap in performance became much smaller. That gap was made almost impercievable in 2005, when BMW revised the E60 with the increased displacement in the N62 motor. Now sporting 4.8 liters from the N62B48, the new "550i" now had 360 horsepower and 361 lb.ft of torque – a near match for the S62. What was perhaps more amazing was that the new N62 also nearly matched the torque of the new E60 M5's S85 V10. But while that screaming V10 produced far more horsepower, the peak torque was reached only at 6,100 revolutions – hardly practical in your daily commute. In comparison, peak twist on the N62 came at a much more realistic 3,400 r.p.m.s, and on the fly these 550is were – and still are – seriously quick sedans. They also introduced the next generation of design language and computer technology into the 5-series. Some love the look while others lambaste the design. While it's certainly not my favorite 5, at least it's distinctive and different in a world full of cookie-cutter designs and dare I say I think it may look better today than it did new – perhaps a testament to its avant garde lines. While the lust-worthy V10 captures the imagination of enthusiasts, day to day the 550i is likely as fast 95% of the time and much cheaper to get into and run. Today I've got two nice examples to consider – which would you sport for?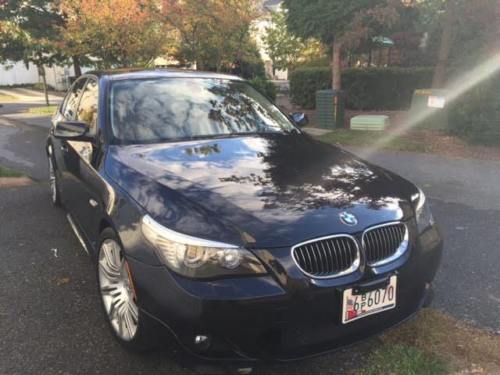 Year: 2008
Model: 550i
Engine: 4.8 liter V8
Transmission: 6-speed automatic
Mileage: 39,000 mi
Price: $19,500 Buy It Now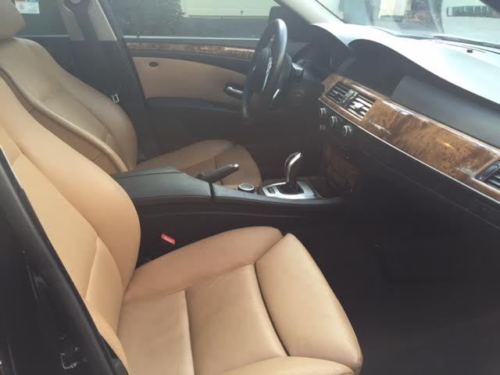 RARE BMW 550i M Sport Package — 39,000 miles!

BEAUTY BLACK 550i WITH NATURAL BROWN DAKOTA, VERY WELL MAINTAINED BY BMW CERTIFIED ONLY, ALL SERVICES UP-TO-DATE. THIS M SPORT PACKAGE WITH AERODYNAMICA PACKAGE, IS SUPER CLEAN IN AND OUT, ALWAYS GARAGE KEPT!! MECHANICALLY SOUND, RUNS AND HANDLES EXCELLENT!! YES, ONLY 37K ORGINAIL MILES!

4.8L V8 550 WITH INCREDIBLE POWER!! ENGINE SOUNDS LIKE A 4-DOOR RACE CAR! DYNAMIC HANDLING PACKAGE, PREMIUM SPORT PACKAGE, HEAD-UP DISPLAY, SPORT AUTOMATIC TRANSMISSION, NAVIGATION, PREMIUM SOUND WITH SATELLITE RADIO/CD/AUX/USB, BLUETOOTH, PARK DISTANCE CONTROL, SMARTPHONE INTEGRATION, PUSH-BUTTON START, POWER HEATED LEATHER MULTI-CONTOUR SEATS, SPORTS LEATHER STEERING WHEEL WITH PADDLES, XENON ADAPTIVE HEADLIGHTS, MOONROOF, M SPORT 19-INCH WHEELS AND SUSPENSION WITH 2 NEW TIRES, LESS THEN 500 MILES. WINDOWS PROFESSIONALLY TINTED. CAR TURNS HEADS EVERYWHERE IT GOES. CLEAN CARFAX AND HISTORY REPORT IN-HAND!!

202-669-2917 FOR MORE INFO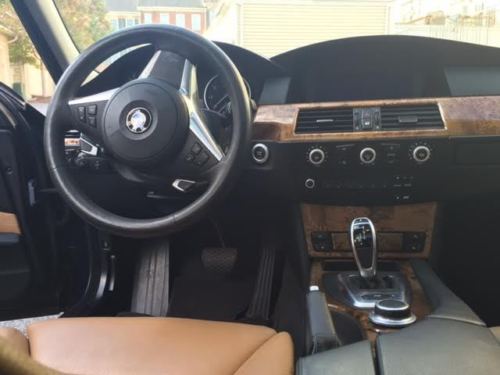 It seems that a fair chunk of these 550is were made in black, which to me isn't as pretty on the design as some of the M5 colors like Indianapolis Red Metallic, Sepang Silver Metallic or Interlagos Blue Metallic. But this example makes up for the lack of imagination outside with a lovely interior in Dakota Brown with wood trim. This example also features my favorite wheel design on these E60s – the Style 172 wasn't as outrageous as some of the other designs, but looked great on these M-Sport models and masks its size well – 19×8.5 fronts, and 19×9.5 rears match the size of the M5 wheels. Nearly $20,000 gets you into a V10 M5 today – but not in this condition or with this low miles, and certainly one that would be in need of attention. It's pricey, but it's about as good as one of these comes to market. Or, is it?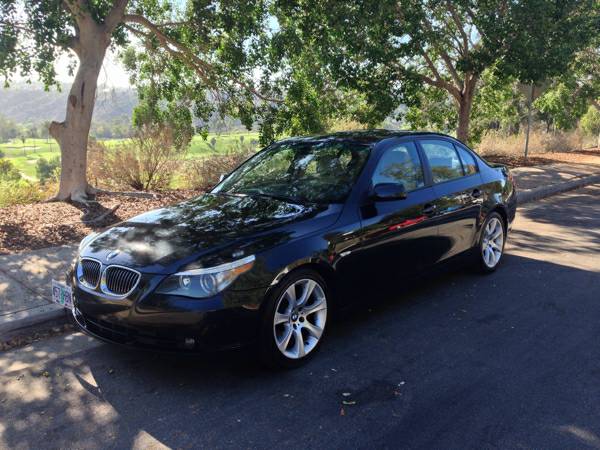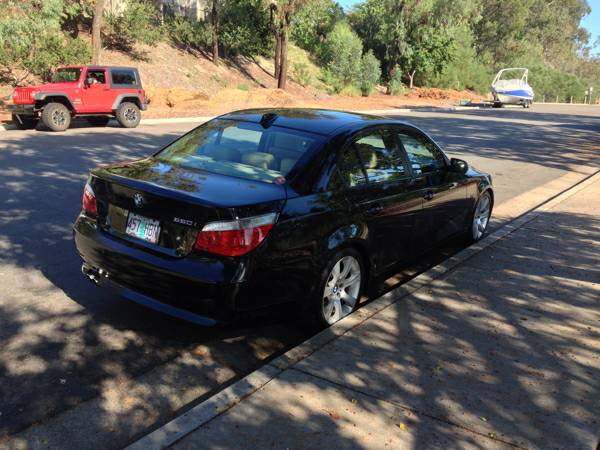 Year: 2006
Model: 550i
Engine: 4.8 liter V8
Transmission: 6-speed manual
Mileage: Not Listed
Price: $10,800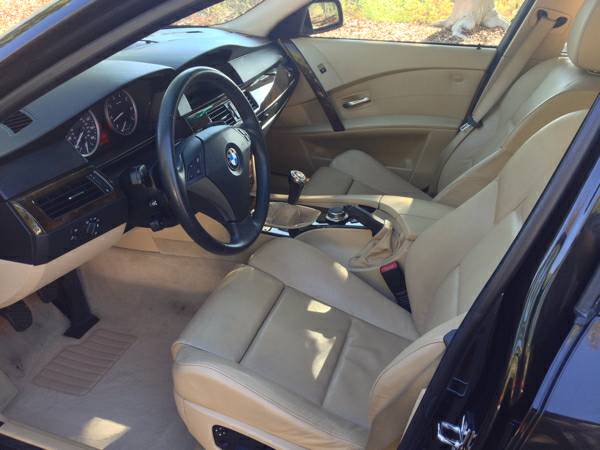 For sale is a 2006 BMW 550i V8 with a rare manual 6 speed transmission. Took it to the dealer awhile back, and they said it's like finding a unicorn, as it is very hard to find a 550i with a standard transmission. It has plenty of room, known as an "executive sedan." Black metallic sapphire with tan leather interior. The interior looks brand new, and while the exterior has a few very light scratches, it is in amazing condition for its age. It has a sunroof, parking sensors, navigation, a beverage cooler, a ski bag, and Bluetooth. Push start ignition. This car has the dinan stage one software performance package installed, so it is pushing 400 hp, and with the software upgrade, the governor is switched off. It is up to date with all of its required services. Just had the oil changed last week. Very cold a/c, and warm heater. This car handles very well, and is very fast. I am sad to see it go, but we have to many cars. Includes 2 BMW 5 series service manuals, a BMW brand car cover, and the original window sticker. 
 If you would like to take a look at it or have any questions, call or text Shayne at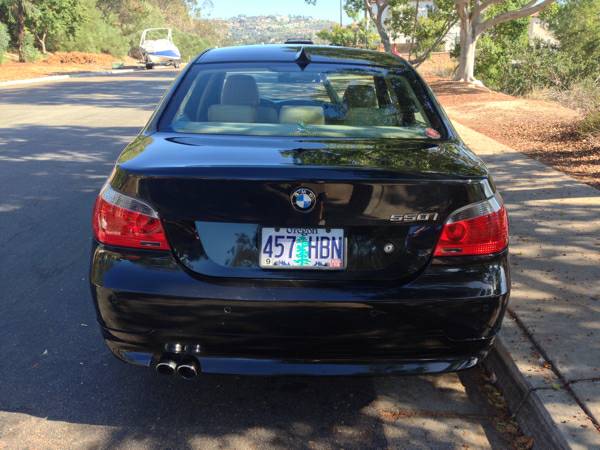 Of course, the big complaint of the newer 5s is the proliferation of automatics, so why not channel all that V8 goodness through a 6-speed? Again it's black on tan, and preceeded the Style 172 introduction. A second year car, it instead has the standard Style 124 wheels which were 18″x8″ front and 9″ rear and a carry over from the 545i model. But the condition of this example overall looks to be great, and the combination of the Dinan reflash and 6-speed manual gives you true M5 performance in a sleeper package and without the higher bills. Miles aren't disclosed and likely much higher than the 2008 example, but at only half the asking price this seems like one stellar deal.
-Carter