This is starting to get a little bit silly. As I mentioned in my most recent feature of a Turbolook Carrera Cabriolet, we've seen a decent number of these 911s, also known by their M491 option code, come up for sale recently. I wasn't really looking to post more of them. But then three all popped up for sale within a few days of one another and there are a lot of similarities among them. I still wasn't entirely sure about posting them, but honestly two of them are so interesting and unique that I simply could not pass them by. Given how similar they all are it made the most sense to bring them all together into a single post.
One piece of good fortune: among these three cars we have a representative of each Carrera model so regardless of which model M491 you're looking for we've got you covered! The similarities: All three of these Carreras are in exceptionally good condition and sit with very low mileage. All are from the earlier side of 3.2 Carrera production, meaning they have the 915 5-speed transmission. Two are for sale from the sale seller, presumably as part of the same collection, and come with a few questions, but have crazy unique interiors. All three have very high prices; high enough that when I first came across the Coupe we'll see below I thought the seller had misidentified a 930. And I still thought the price was too high!
Anyway, on to the cars. I'll show them all before any discussion and in ascending order by price: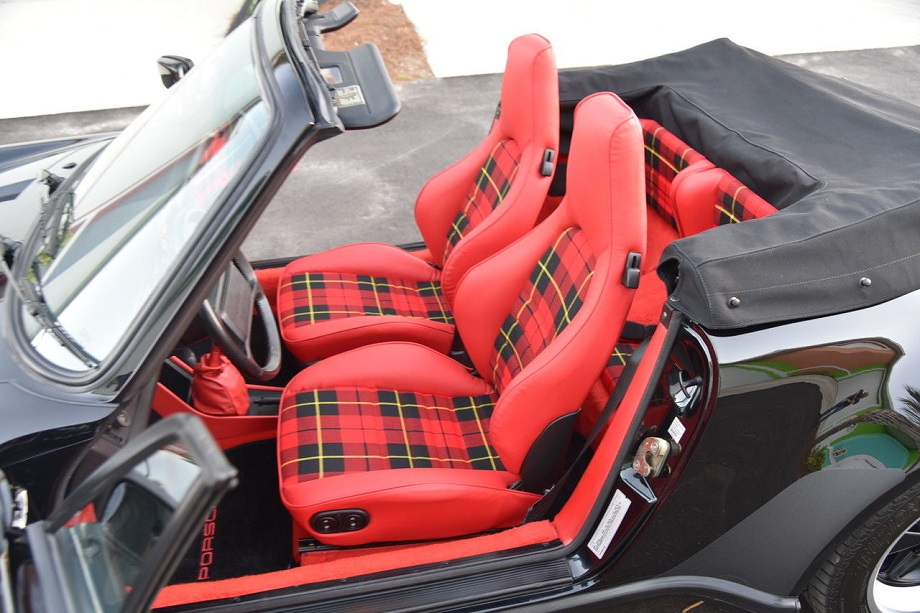 Year: 1985
Model: 911 Carrera Cabriolet
Engine: 3.2 liter flat-6
Transmission: 5-speed manual
Mileage: 45,000 mi
Price: $94,500 Buy It Now
Put your tongue back in your mouth and your eyes back in your sockets. .

Will consider ANY partial trades up or down. Looking for low mileage 80s Early 90s Turbo and Slantnose

Factory M491 Black / Lipstick Tartan
Original Excellent Condition Paint ( Digital Paint Meter )
Original Radio

Top: Excellent!

Major Service: Receipts.
Recent Engine out service ( Beautifully Cleaned )
Recent NEW Clutch
Recent AC Service
Recent Transmission Service

Owners Manuals.
Blaupunkt Manual
Tools,
Air Pump.
Plastic Gloves
Plastic Raincoat

EXCELLENT CONDITION!

EXPORT OK!

Undercarriage is as clean as the top of the car.

More Photos available.

Phone 239-778-7703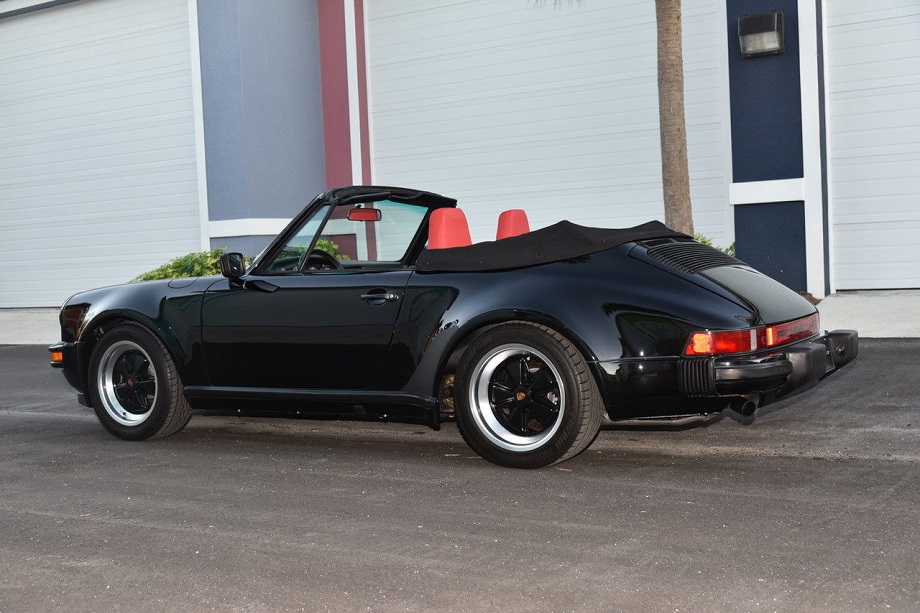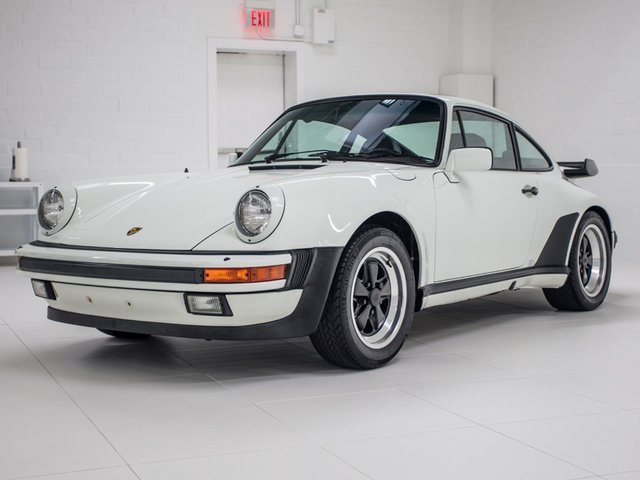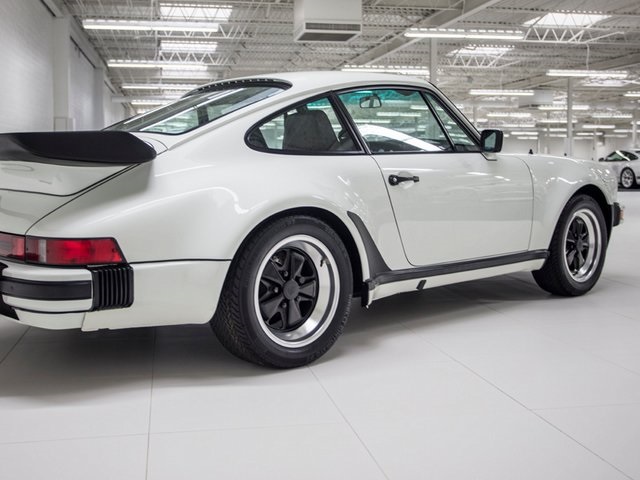 Year: 1984
Model: 911 Carrera
Engine: 3.2 liter flat-6
Transmission: 5-speed manual
Mileage: 29,242 mi
Price: Reserve Auction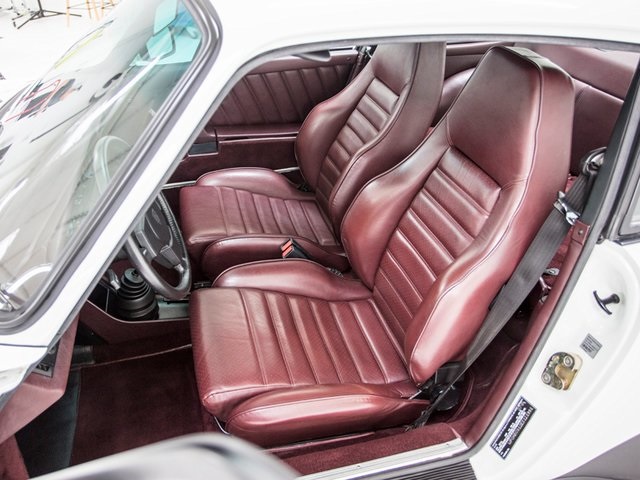 Porsche North Houston proudly offers this beautiful 1984 Porsche 911 Carrera Coupe in Grand Prix White over a Burgundy interior with 29,242 miles. The 911 Carrera is powered by a 3.2L horizontally opposed six cylinder engine producing 200 hp and 185 lb-ft of torque through a Rear Wheel Drive and a 5-Speed Manual Transmission. This 911 Carrera is further enhanced with the following:

Blaupunkt Radio

Automatic 2 Point Seatbelts

Increased Side Door Strength

Sport Seats

Cruise Control

Black Roofliner

Brake Pad w/ Abrasive Pad

Symbols for Controls

Turbo Look

Electric Sliding Sunroof

Porsche North Houston is a member of the indiGO Auto Group and has received the highly coveted Porsche Premier Dealer status. Our dealership features a beautiful Porsche Corporate Identity showroom, fully staffed factory certified service center, parts department, finance department, detailing department, and Porsche accessories boutique. Allow us to also help arrange transportation of your new car directly to your home anywhere in the world. Trade-in proposals are always welcome. If you like this vehicle and have questions, simply call, email, or drop by our location at 13911 North Freeway (I-45N) on the north side of Houston. We invite you to Activate Your Ownership with us today!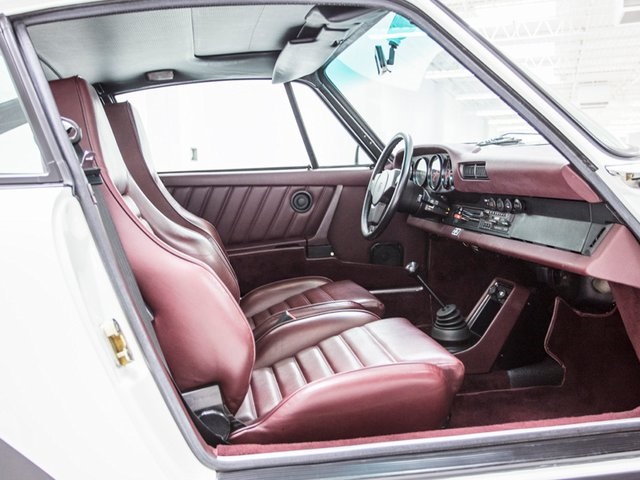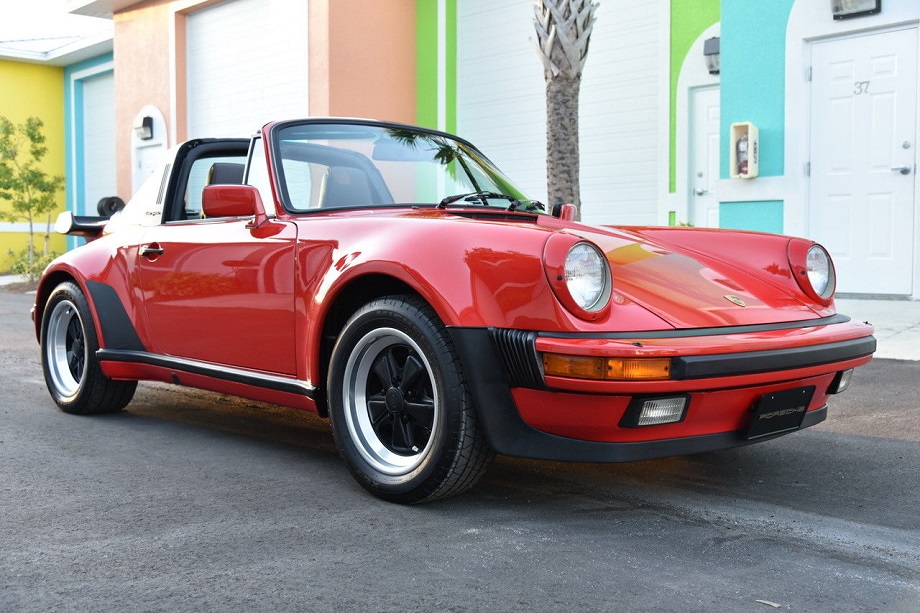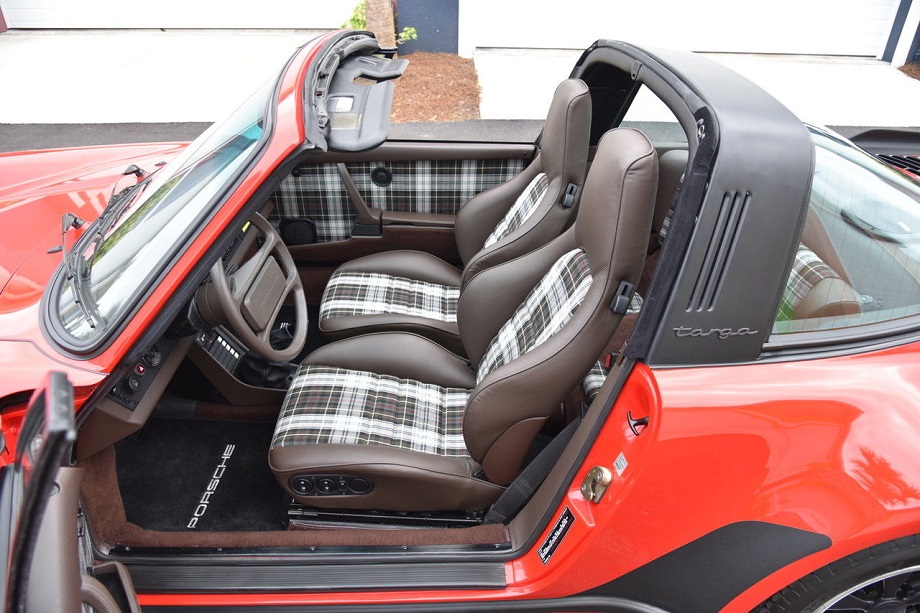 Year: 1985
Model: 911 Carrera Targa
Engine: 3.2 liter flat-6
Transmission: 5-speed manual
Mileage: 33,400 mi
Price: $119,000 Buy It Now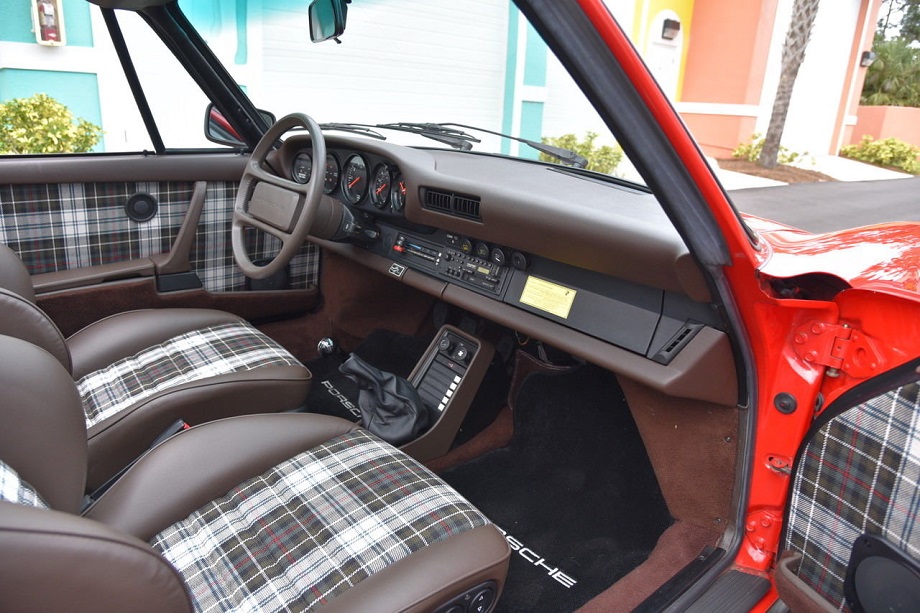 Turbo look M491 Targa 1 of 45 USA and 1 of 79 Worldwide. 1-owner, Original paint.

Phone : 239-776-7708
1985 Factory M491 Targa 33,000 miles
1-Owner
Red / Buffalo Brown Tartan
Original Excellent Paint ( digital paint meter )
Undercarriage is as clean as the top of the car.
Tools
Air Pump.
Recent Service
Excellent Top
Owners Manuals / Blaupunkt Manuals and Pouch
Original Window Sticker
Air Pump
New Floor Mats
Original Floor Mats
Blaupunkt Speakers
All 4 locking lug nuts with keys
Porsche Leather Key Pouch
Lost Key Card
Spare Keys
Plastic Raincoat
Plastic Gloves
Export OK

Many more photos available.

Phone : 239-776-7708

Complete Porsche! Nothing missing! Will exceed your expectations. Will consider a partial trade or trade up for super low mileage Slantnose or 80s early 90s Turbo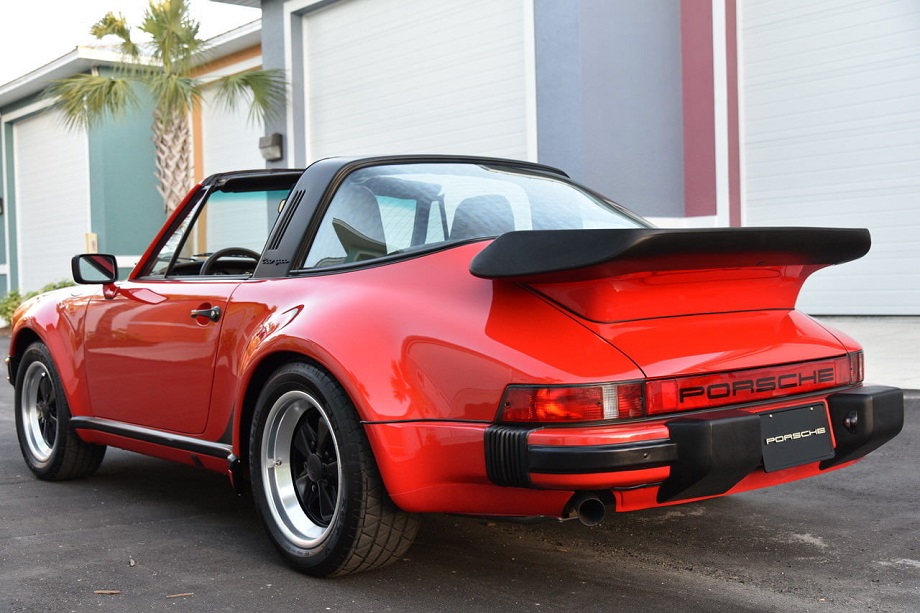 Quite the sampling. Truth be told, I don't think any of these have even a slight chance of selling at these prices. You might convince me that the two '85s, with those incredible interiors, will at least garner some discussion, but I still don't think they'll sell. The Coupe I imagine would only sell if it were one of the super rare '89 M491 Carreras and even then I'm not so sure.
About the two tartan interiors: we aren't shown here the documentation to support their originality. The Targa does come with the window sticker that shows the buyer selected a special leather interior, but that doesn't necessarily account for the originality of the tartan inserts. Given that those likely came through the Exclusive department it might be quite difficult to get that sorted out. Obviously at this price they'll have to be original to either car.
For me the Targa is the best of the bunch. The interior of the Cabriolet is just too much. I love a red interior, but Lipstick Red along with the tartan inserts. My eyes! The Targa, however, has nice balance and the interior works pretty well with the Guards Red exterior. I also prefer a Targa over a Cabriolet anyway so that helps too.
Whether they ever sell or not, I'm very happy to have seen these simply because we almost never see a tartan interior on an '80s 911. The inserts add a nice touch to the interior and really serve to liven things up. They won't suit everybody (especially the Lipstick Red), but they are certain to attract notice and make for quite the conversation.
-Rob