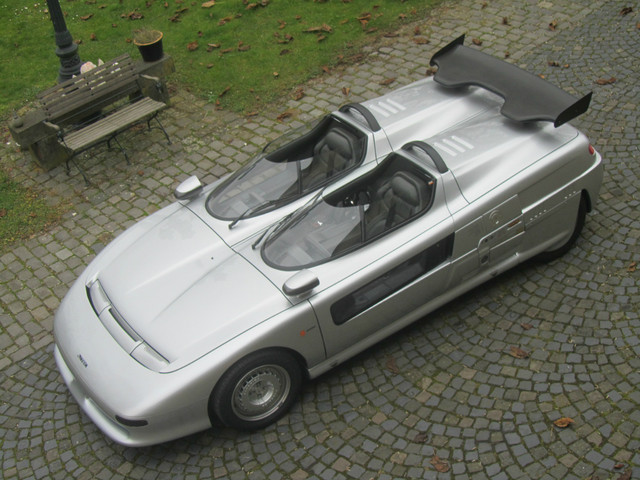 I have a lot of respect for Bob Lutz and Chrysler in at least one way; in 1989, they came out with the Viper concept, and because of such an overwhelmingly positive response, said that it was going to go into production as is. Of course, that wasn't true and when the production Viper arrived the next year, it was a lot less hard-edged than the original concept. That's true of nearly every concept car that goes into production; they're outrageous for the shows, then watered down for public consumption. Apparently, no one told that to Giugiaro's Italdesign when they decided to take their hybrid Audi/Lancia/Spaceship directly to the market. If the complete lack of practicality didn't cool prospective buyer's desire to own one, surely the $225,000 entry price did. A bit of an oddity to see anywhere but on posters, there is one for sale today in Germany: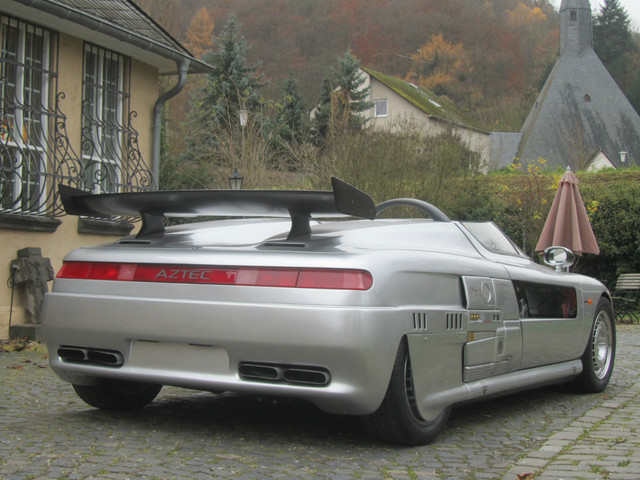 Year: 1993
Model: Aztec
Engine: 2.2 liter turbocharged inline-5
Transmission: 5-speed manual
Mileage: 7,000 km (4,350 mi)
Price: €129,000 ($172,279 today)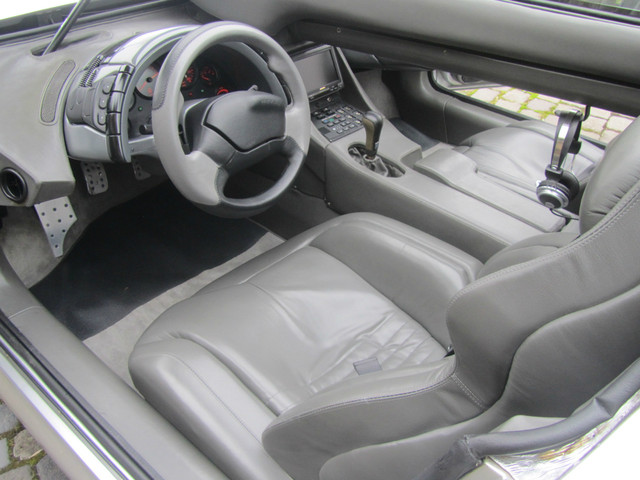 7000 km, Displacement: 2200, Year: 1988, 183 kW (249 hp), number of owners: 1, Petrol, Transmission: Manual, Year 5/1993 Colour: Silver metallic

Vehicle description:
SUPER RARE! COLLECTORS PIECE! INVESTMENT!
In ITALDESIGN in Turin from world-renowned designer GIUGIARO about 20 copies of this mobile DESIGN STUDY were created and offered at a price of DM 500,000. 5 Cylinder turbo 2.2 liter engine from Audi with 183 kW (250 bhp), four-wheel drive, the body is made of aluminum, steel and carbon and wonderfully constructed!
The car is in original condition with original paint and comes from a COLLECTION, which was disbanded due to age of the owner! A highlight for any collection! Also, exchange or trade-in possible! By the way: Designers GIUGIARO not only designed the VW GOLF and other models, but also models for Ferrari, Lamborghini, Maserati, Alfa, Lotus, Ford, BMW (M1), and so-on google you'll find everything about and around this extraordinary vehicle and its designer.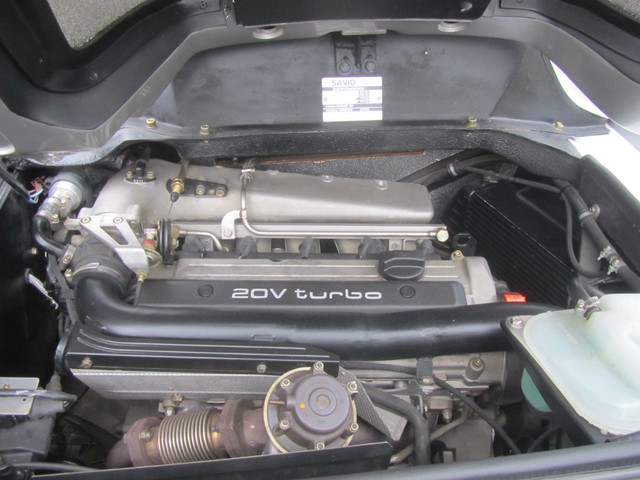 Outrageous is a pretty good descriptor for this car. Now, I know what you're saying – it's not German! But bare with me – aside from the Audi power plant, Italdesign is now owned by Lamborghini (nee Audi), and these cars were assembled with the help of Motoren Tecnik Mayer (MTM) – noted not only as a premier Audi tuner, but Mayer was an ex-Audi engineer. So, if the M1 can be considered German this car should be too. The design is pretty futuristic by 1988 standards, but to me it looks a bit like a Fiero GT that went horribly right. The exterior appears pretty much no-compromise and has interesting features like an external Manometer, which clearly indicates how much of a man you are for driving this beast. Note the dial goes to 11.
Being old and Italian, you can be sure that some of those Speak-n-Spell era electrics aren't working working particularly well. On the bright side, it appears the passengers can play Contra or Legend of Zelda while you're driving, which is probably a good thing since the lack of roof ensures you won't be entertaining them with your conversation at any speed above 10 m.p.h.. As a super-limited production exotic roadsters go, this might not only be an affordable option, but it might even be practical. "What?!?!" you say? Well, it's got a Audi engine that's good for the best part of a half million miles without too much work. It probably even gets respectable fuel economy when you're not flogging it. The drive train is sourced from a Lancia Delta Integrale – World Rally Champion spec-stuff there. And worry about the famous Italian tin worm fades when you ready that the body is mostly carbon fiber and aluminum. All that's left are those infallible Italian electronics – hey, they could never go wrong! In all seriousness, if you're going to drop over $150,000 on an occasional car, you might as well make it one that makes every occasion you drive it special. Porsches? Bentleys? Ferraris? Pedestrian. You don't see them sporting gull-wing tonneau covers, do you? And you probably wouldn't even drive your GT2 or 458 in the rain, so why do they even have roofs? See, the more you think about it, the more sense it makes….
-Carter