Ah, the holy grail. The sweetest and most forbidden fruit, they only grow more so as the years pass and prices rise. Reader Don's garage recently doubled to two E30 M3s, so he gave notice to this listing on Craigslist Atlanta for his gorgeous, low-mileage Cinnabarot example. This halo car is in the special category of circa-100k mile cars, having covered just 107,000 miles in its 22 years. Somewhere along the line, it picked up the virus of rust, but Don did it right and took it to VSR1 for a full mechanical restoration, removing all traces of oxidizationitis among other mechanical improvements. One of the two previous owners repainted the Cinnabarot, and Donald installed a full gray interior in place of the original black. All in all, this M3 has had all issues addressed and it shows.
1990 BMW E30 M3 for sale on Atlanta Craigslist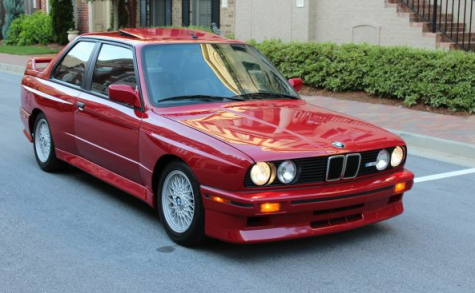 Don's description of the car:
For sale is my 1990 BMW E30 M3. Brilliant Red with Gray interior. 107,000 miles ( that's an average of less than 5,000 mile per year) I am the third owner and bought the car in 2009. During that time to present I have had the following work performed:

Installed new air conditioning compressor (Air blows cold!)
New Transmission mounts
Replaced lower control arms and bushings
New Cat and exhaust system (Stromung muffler)
New Heat shield
Various seals replaced
New heater core
Replaced front sway bar end links
All fluids changed.

It has Eibach springs, Koni shocks, front (Sparco) and rear strut bars as well as ground camber plates

A mechanical restoration was performed by Vintage Sports and Restoration in Bow, NH (VRS1). Over $8,000 in receipts from VSR1

The car was previously resprayed and with the exception of a few spots looks very good.

Now…..this car had rust issues. VSR1 repaired (read that as cut out and replaced) all known rust issues during the mechanical restoration. This car is a great daily driver and an excellent candidate for track days. It turns heads, but it is not concours quality. I've tried to bring it back to mostly original condition with period correct modifications. It has the original stereo (working), the computer functions, sun roof and electric windows all function. The original interior was black, but I have replaced it with Gray. This car is ready to drive.

I am only selling this awesome automobile because I purchased another E30 M3 and lack of space won't allow me to keep two. My loss …… your gain!
All props to Donald for taking an imperfect-but-low-mile e30 M3 and saving it from further desecration. The effort and money needed to get rid of all rust and get a well-known shop like VSR1 to address all issues is no small sum. That said, I still think the $20-25k range is reserved for all-original, low-mileage ideals of the model. These M3s are the subject of such lust and scrutiny that provenance and originality go a long way, and while repairs and replacements are costly and necessary, they subtract from the elements that cause perfect M3 prices to skyrocket. A price just under $20k would highlight that this beautiful car hasn't lived a flawless, climate-controlled life, while garnering the money it deserves for being brought back to such nice condition.
-NR