Last week I wrote up a heavily-modified E30 M3 that, while decently executed, tended towards the impure and thus more-accessible end of the spectrum. Reflection on the first M3's still-accelerating prices usually involves an example with many caveats and speculation on what a fictional "creampuff" might reach. Well, folks, today is that creampuff. One owner has taken it 77,000 careful miles between nights in the garage, it's Alpineweiss over red leather, and is completely unmodified. Look up "perfect stock E30 M3" in your dreams and the pictures show this exact car. So the question lies: what does the most unblemished and cared for E30 M3 cost these days? Almost 40 bids have pushed the reserve-on price over $30k. What do you think? $10k more? $15k? $20,000 more?!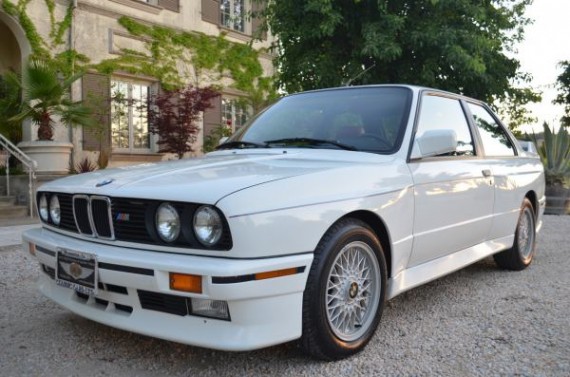 Year: 1988
Model: M3
Engine: 2.3L S14 inline four
Transmission: 5-speed manual
Mileage: 77,000
Price: Reserve-on auction at $30,000 at time of writing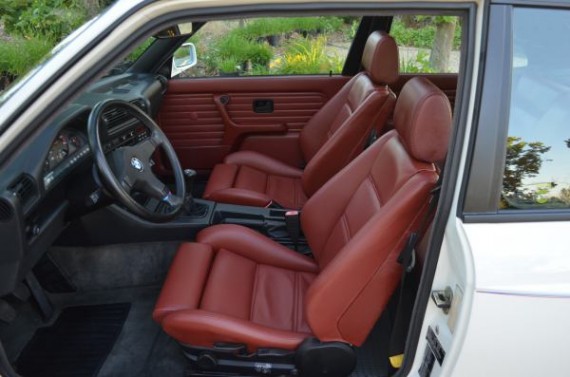 In the face of most omissive and annoying descriptions, I can't get angry for one that is TOO informative. A wikipedia-worthy M3 history and thoughtful dealer questions are too long to be copied here but a decent read on the eBay listing:

The M3 is certainly one of the most original, long term ownership (virtually one owner from date of purchase in 1987 – July, 2012) unmodified to be offered in years. It is rare to see M'3 offered for sale as most are coveted by collectors / enthusiasts but to come across a car that has been "hidden" for over a dozen years is remarkable. As important is the fact that when the car was new it was used very sparingly by its mature physician owner, never abused, and, of course, never tracked or raced.

This particular M3 has signs of being very well cared for by the one adult owner for all of its life. An inspection of the undercarriage and photos (part of the listing) suggests the car may not have even been driven in the rain! The body is perfectly straight with excellent original paint and even the "M" pin-striping as applied by the dealership when the car was delivered.

FEATURES OF THIS 1988 BMW M3 E30 – SUMMARY

-Early production car (4/87) Note: Virtually all USA delivered M3's were titled as 1988 models despite production dates that ranged from 3/97 on.
-Finished in factory correct & rare combination of Alpine White & Cardinal Red leather
-Tri-Color BMW "M" Pin-striping
-Numbers matching engine & 5-speed transmission
-Factory stock and correct BBS wheels
-100% BMW body panels with excellent gaps & fitment
-New, correct Michelin tires added within 500 miles
-Original factory AM/FM radio and correct rear package tray mounted factory speakers (Note: Radio shows "Code" in photos but we have the original code to enter and the radio works fine)
-Totally stock engine and engine bay (no added aftermarket air cleaners, strut bars or other items)
-Like new trunk with factory rear mat / carpet & spotless spare tire well with absolutely NO Rust
-Factory spare, & tools (Never removed..refer to photos)
-BMW Owner's Manuals including:
-M3 Supplement Owner's Manual
-BMW Anti-Theft Radio Manual with Installation Instructions
-NOAA Weather Radio Booklet
-Limited Warranty Booklet – BMW
-BMW Roadside Assistance Booklet
-BMW Service Locations Booklet
-Roadside Assistance ID Cards
-100% Stock Interior in beautiful condition
-Front seats just professionally recovered using matching correct leather "hides"
-Excellent rear seat with beautiful patina but NO damage, rips, tears
-Seat belts totally free from fraying / signs of wear
-Perfect headliner
-Stock and perfect sun-visors
-Fully functional sun roof
-Factory BMW / BBS mesh wheels
-Stock 4 wheel disc brakes
-Stock widened M3 fenders
-Clear California Title
-Totally 100% Clean Auto Check and Car Fax Reports IMPORTANT NOTE:
AutoCheck rates the BMW at "45" with the range for similar cars being 11-29! This represents the highest rating on a car of this vintage that we ever seen on AutoCheck. Car Fax also shows a totally clean report and "Adds" a significant amount "Above Retail" due to the BMW's exceptional history and low, low mileage.

SUMMARY

The E30 M3 represents a rare, low mileage M3 that has a history of being cared for by one owner for close to 25 years. The car is in absolutely magnificent condition and is arguably one of the, if not the finest example in the United States.

The cosmetic quality of the car is superb with even the most minor flaws requiring close critical inspection to be noticed. The front of the E30 is free from rock chips and damage and the car was garaged and properly stored for its entire life (and it shows). The interior is the same high quality and the photos accurately reflect the overall quality of the exterior, interior, underside and engine bay.

The car has been inspected by BMW specialists with the following observations:
-Tires appear almost new
-Remaining brake pads 10mm (Front) / 8mm (Rear)
-No rust or undercarriage damage
-Fully functional lighting systems (Passed safety inspection)
-In 100% stock condition with the exception of the change of "wear" items
-Straight damage free body & exceptional paint quality

We ask that you review the 100~ photographs carefully since, in the case, the old adage "A photograph is worth a thousand words" is very appropriate. Please contact us if we can answer any questions regarding this lovely M3 (925-846-1451).

A DRIVE IN THE E30 M3

Over the years, we have driven literally hundreds of BMW's and owned almost as many! They have been our choice as our regular high performance "drivers" and we love that they offer a wonderful combination of performance, handling, comfort and good looks. The E30 is popular for good reason but locating original examples has become extremely difficult.

Whether cold or warm the BMW fires up immediately with a smooth idle. The engine is free from any noises and the car does not leak fluids. The clutch engages properly and without fuss and as you shift from first to second gear you notice how solid and tight the car feels. No rattles, squeaks or indication that you're driving a quality high performance BMW.a nice feeling.

As you begin to drive you also appreciate the "green-house" affect that the BMW M3 offers resulting in great visibility. Additionally you are reminded that the driving position is excellent and that the car would make a great long distance touring car in addition to being a practical, fast and fun everyday or weekend car for use on those twisty back roads.

Once you gain momentum it is clear that this car is considerably more fun to drive than a stock "3-Series", especially in the "Twisties." The suspension is taut, well damped and the steering precise and certain. The braking system is excellent as a result of the improved M3 components, the M3 stops straight and sure. The emergency brake is properly adjusted and fully functional.

The BMW has the perfect exhaust note from the stock exhaust system and the combination the high-revving 16-Valve engine and the wonderful suspension makes this car and absolute delight to drive. While the stock sound system is fully functional, we would much prefer to listen to the sound of the engine instead of the radio!

This particular car runs and drives as it did when it was delivered new to its original owner. The BMW is extremely comfortable under all driving conditions ranging from a regular high end driver to a car that will be appreciated at any BMW gathering, show or special event.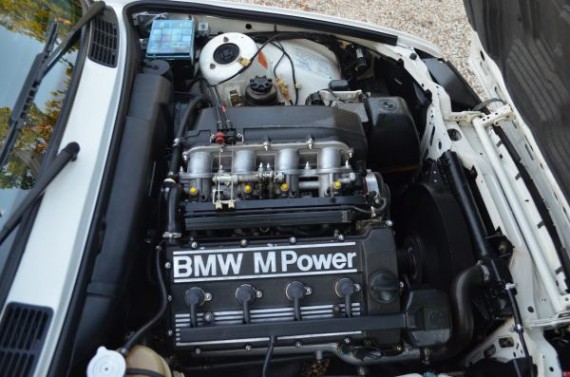 I've never seen pinstriping on the M3, and while different, I don't mind how they accentuate the fat fenders. I never thought I'd like stripes on an M5 either, but mine have certainly grown on me. I'm intrigued to see where this one lands. While the wave of a valuation bubble can be entertaining, it's getting to the point where I want them to slow down a little so a few more normal people can buy and enjoy them.
-NR