Volkswagens are ripe for engine swaps, but usually the old engine is long gone by the time you get to a car. Today, we have one of the all-time greats, the Mk1 GTI, improved with the 30 extra horses offered by the later 16V from a Scirocco. Other solid improvements to exhaust, suspension, etc. make this a solid GTI that looks more than clean enough to justify its $3k asking price.
1983 Volkswagen GTI for sale in West Virginia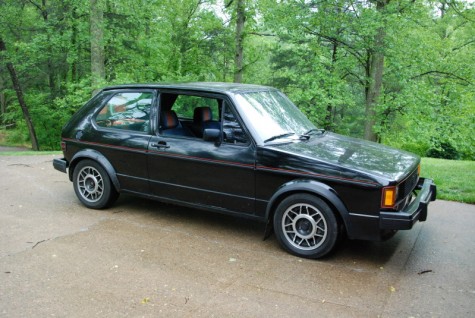 From the seller:
STILL AVAILABLE, really need to come see it to see how good it really is. VIDEO LINKS at the bottom of the ad. Its a 1983 GTI passed down to me by my grandfather. we did sachs clutch, sachs suspension, borla exhaust, 16v motor swap. I have enjoyed this car everyday i have owned it. However it is time to let it go. I finally am graduating from college and won't have a garage to keep it in anymore. so therefore i would rather someone get this car and enjoy it rather than it sit outside all the time.

The car has been garage kept its entire life, NO RUST, the gas tank has been redone in the past year so no worries about crap in the tank, new fuel pump put on 2 months ago (it didn't need it but if i am going to sell it i figured i would use that lifetime warranty on the pump), it has 4 really good looking snowflake wheels and some that are ehh good project wheels.

16v motor was pulled from a sirocco with 35K miles one it, the 16v now has approximately 75-80K miles. The 8v has 80K miles on it and has stayed in the same garage as the car all this time. The body has 140K on it but looks amazing. paint is a little ehh from almost thirsty years oh use but that is to be expected.

The windshield has 2 spots in it but they were filled back in 2003.

Last photo is a click on it video.

[B]UPDATE:[/B] This seems to be a big question so i will respond to it if you live over 100 miles away from Charleston,WV I would suggest a trailer or car dolly. This is only because i cannot guarantee that a car almost 30 Years old will make a long trip just fine. However I believe it would make most trips i just won't guarantee anything on a car this old.

COMES WITH—>

Original 8v motor
6 spare wheels
Once i locate them louvers, spare fender, and i think there are a few more parts
AND ANY SPARE PARTS I FIND IN THE MEAN TIME!
Maybe I'm more optimistic than the seller, or maybe he's not sharing something, but I'd expect a decent car, even if it is from 1983, to make it more than 100 miles. All I know is that I passed on a sweet Mk1 GTI with some simple and great go-fast parts when I was selling my first car, a 1981 Rabbit Pickup, and I've regretted it ever since. I got one drive in it when the VW collector, Lon from Iowa who was harvesting rust-free VWs from the West Coast, offered to trade it for my truck and cash. I was under the rule of my parents at that point and they wanted another truck, so the diesel-transmissioned and Quaife'd GTI was not to be. It had, like this GTI, a trunk full of parts that could instantly turn a VW enthusiast from a couch potato to a weekend wrencher. If you're looking for a quick GTI that could quickly be a great GTI, take a trailer to West Virginia and relieve this college boy of his project.
-NR