The BMW C1 Scooter that we featured two weeks ago has been relisted. For sale in Chicago from our reader Johnny, this is an uncommon piece here in the US and already has a fair amount of bidding interest this time around.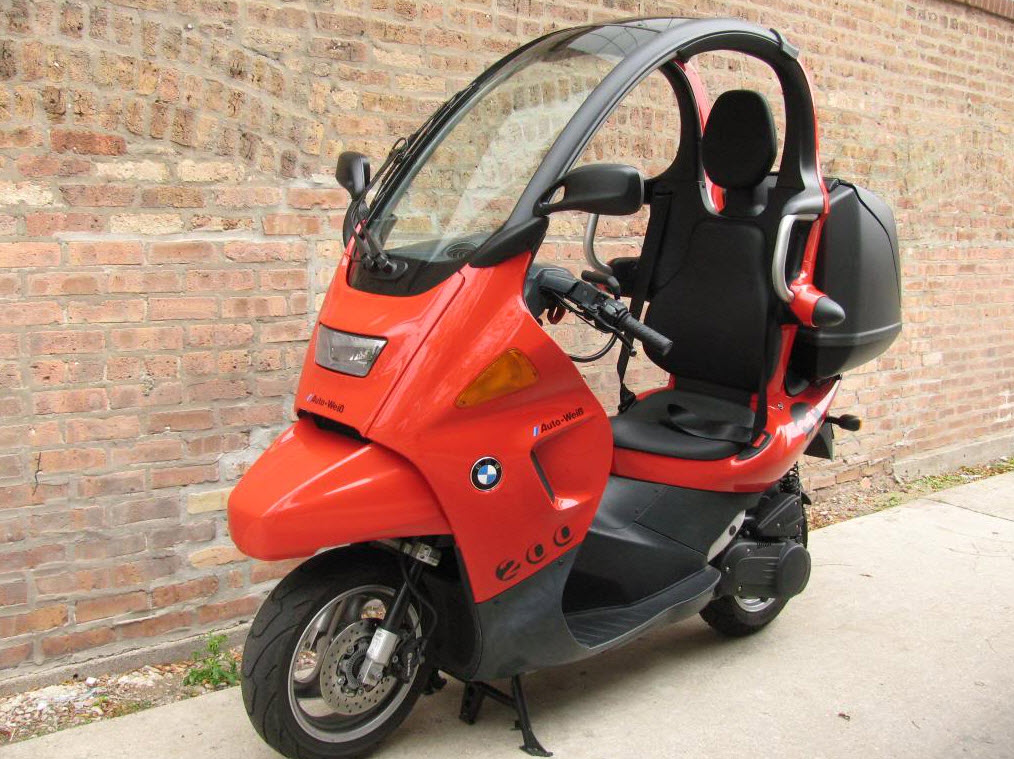 The below post originally appeared on our site September 10, 2012:
We've had a few oddball machines here at GCFSB over the years, but this may be the most unexpected feature vehicle yet. The BMW C1 was devised with city dwellers in mind. An enclosed scooter, the C1 was designed around a safety theme, as it had shoulder belts, crumple zones and an aluminum roll cage. Two models were offered, the 125 and 200, which had a 124cc or 176cc one cylinder engine, respectively. Manufactured by Bertone and sold between 2000 and 2003, the C1 was never offered to US customers. This particular C1 comes to us from our reader Johnny and is located in Chicago.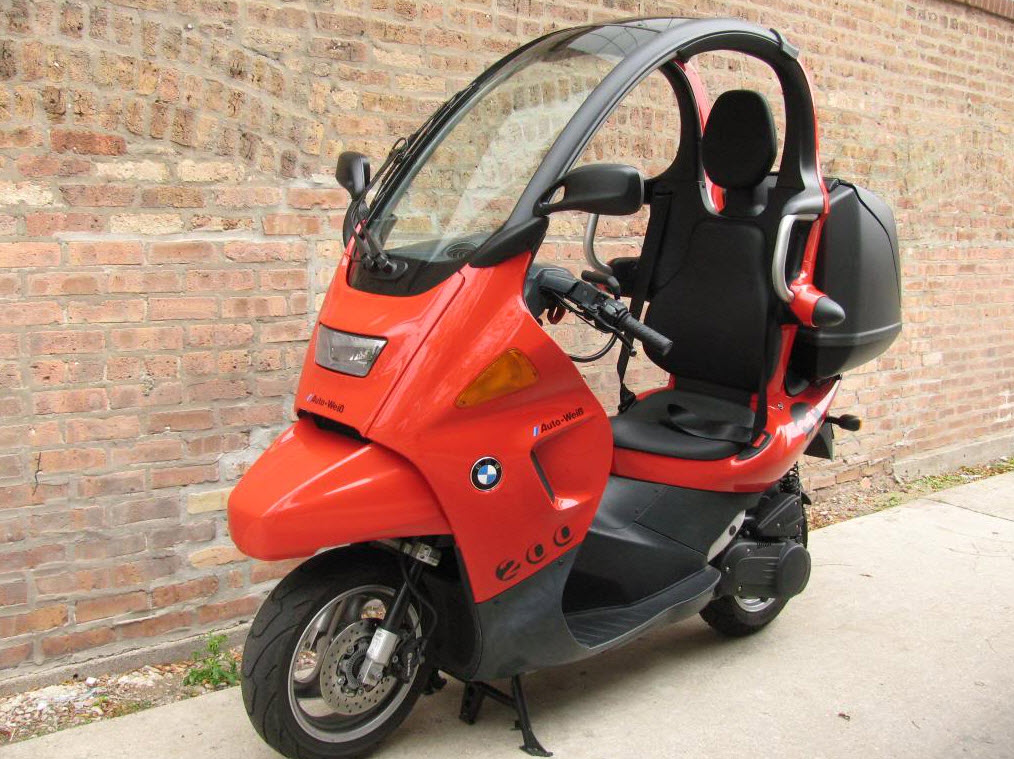 We have a lot of time, effort and money into listing this motorcycle on eBay. Please be respectful of that and be certain that you intend to follow through with the sale. Your bid is a contract to buy. We have the listing set up to accept bids only from US bidders in an effort to prevent scammers from ruining the auction. If you are a legitimate bidder outside of the US and you have a way to have the bike picked up at our location without it being crated, please e-mail Chris at chris@motoworkschicago.com. Provide him with your ebay ID and confirm that you can arrange international shipping and have the bike picked up uncrated at our location in Chicago, and he will gladly add you to the list that allows you to bid.

My beloved BMW C1 is up for auction. I'll be sad to see this one go, as I lusted for one of these machines from the time it was introduced in the mid '90s until last year when I purchased her. If you are not familiar with what the C1, here is some background: First presented by BMW in 1992 at the IMFA in Cologne, Germany, the BMW C1 is a small motorcycle with a safety cage.

After selling 10,614 in 2001, the C1 only sold 2,000 in 2002 and ceased production in October 2002. The C1 was never available in the USA, and it didn't take off in the UK as BMW had hoped, partly because the Government refused BMW's argument to let riders use it without wearing a helmet. Several other European countries accepted the company's claims that, with the twin seat belts, it was impossible for the rider's head to hit the ground in an accident.

For the first time in a modern motor vehicle, the C1 combines the advantages of two-wheeled motorized transportation with the strengths of the automobile. The C1 is targeted to urban European markets as an appealing alternative to small cars and crowded mass transit systems. The ultimate congestion beater, it is easily maneuverable, versatile in traffic, easy to park and, due to its distinctive appearance, readily noticed by other motorists.

The C1's most innovative design feature is its emphasis on safety. It is the first two wheeler in the world to offer a high standard of passive safety. BMW claims its crash tests have shown that, in a head on collision, the C1 offers a standard of accident protection comparable to a modern subcompact car. In fact, the C1 is so safe that it can be ridden without a helmet. The German, French and Spanish authorities have allowed an exception to the helmet law for the C1.

Why is it so safe? The driver is protected by shoulder height protective bars, an impact absorbing front wheel guard and a rigid aluminum roll-over cage. The C1 thus incorporates a car-style safety cell, formed by its aluminum "space frame" and roof struts. The C1 is fitted with twin seat-belts in a "cross your heart" fashion to keep the rider safely inside the vehicle.
The C1 is powered by a 125cc, or a 200cc engine mated to a continuously variable, stepless automatic transmission. Just twist the throttle and go! The C1 engine features double overhead camshafts, sophisticated inlet-port shaping and electronic fuel injection. The engine is content to run at high speeds, thanks to a compression ratio of 13:1. The C1's generator, the most powerful ever on a two-wheeler at the time, develops 400 Watts, so you are good to plug in accessories and still power the heated seat and grips.

Things I like and interesting data on the scoot:
She is safe to ride without a helmet, and its really true, I did a pile of research online and found that all of BMW's testing states that the scoot is actually safer to ride without a helmet.
The centerstand system is amazing, one lever raises and lowers the suspension, and the other lever deploys the stand. It's genius.
The windshield wiper has a fluid reservoir and and a button to spray.
The optional rear case is huge.
She is not top heavy the way I thought she would be.
Top speed is about 70mph

This scoot was bought new by a German car collector and grey market importer. I purchased the scoot from him. She has a 50 state legal Washington title that is ready to be transferred into your name. I have her insured with Progressive as a BMW scooter, the policy is less than $200 per year. Everything on the scooter works as it should. The top case was dropped by the previous owner and is scratched a bit from that, the detailed pics show that damage.

If you are a Beemer nerd and a scooter nerd like myself, this thing is the ultimate. I bought her with 1700km last year. I more than doubled that, had a blast doing it, and now it's time to let someone else take their turn.
When they were new, these scooters retailed for around $6,000 to $7,000. I've never seen a C1 in the US, so this unique two-wheeler represents a rare opportunity. A quick scan of some European sites brought up a few of these and most are priced around the $2,000 mark. You can buy a basic, brand new Vespa these days for just a tad over $3,000, but, I'm guessing the same person that would be attracted to such a scooter may not necessarily fall in love with the C1. It's nice to see, however, manufacturers who are still receptive to put products like this outside of the mainstream into production. More often than not it's when new technologies are tried out and lessons are learned with regards to manufacturing.
-Paul