While the Spyker is not a German vehicle, it has an Audi V8 and craftsmanship akin to what we are used to from the Fatherland. I thought it was about time to shed some light on this exotic. The name Spyker originated from two Dutch brothers, Jacobus and Hendrik-Jan Spijker. They founded the firm in 1880 and one of their first notable projects was the construction of the Golden Carriage used by the Dutch Royal Family to this day. In 1900, they debuted their first automobiles and three years later, they created the 60 HP, which was the world's first four wheel drive car with a single engine and four wheel brakes. During World War I, the company manufactured airplanes and aircraft engines, similar to other contemporary manufacturers that had switched their production to military applications.
After World War I, Spyker went bankrupt and ceased production in 1922. Resurrected in 1999, the new Spyker vehicles pay homage to the company's aircraft heritage. Their slogan is Nulla tenaci invia est via, which in Latin means "For the tenacious, no road is impassable." The new cars were dubbed the C8 Laviolette and C8 Spyder, and employed Audi's 4.2 liter V8. These cars are exceptionally well made, employing a great deal of old world craftsmanship in the way of quilted leather, turned aluminum and an intriguing shifter mechanism with exposed linkage. Spyker was owned and subsequently sold off by Swedish Automobile AB to North Street Capital, whose managing partner is a racing enthusiast. It is not quite clear what the future holds for Spyker, but nevertheless, these are very unique, well made vehicles. This particular 2009 Spyder presents nicely with low mileage and black accentuates the aluminum accents well.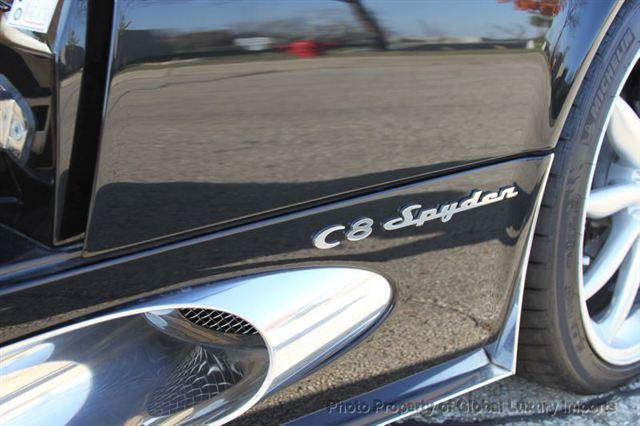 2009 Spyker C8 Spyder Convertible

Exterior color: Jet Black
Interior color: Tan

Included Optional Equipment: V8, 6 Speed Manual Transmission. Low Miles. Came from a Exotic car collection. Rare and hard to find. Accessories included with vehicle: 2 Master Keys. Owner's Manual
This Spyker is basically a three year old brand new car. New, these were just shy of $220,000. I can't imagine that they have appreciated beyond that original asking price. If I had to estimate, anywhere between $180,000 to $190,000 should be a reasonable offer for this supercar. If a Ferrari or Lamborghini is too mainstream for you, but an Audi R8 a bit too sterile, the Spyker combines exclusivity, coachbuilt quality and reliable, German performance in one wild package.
-Paul