Steve dropped me a note this morning that his stunning and exceptionally clean BMW 533i is up for sale. I like the clean front and rear without the huge bumpers, and the color combo is fantastic.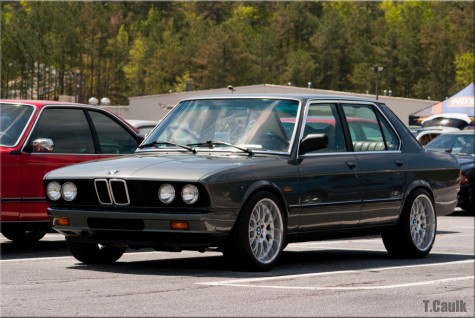 from the seller's listing:
Never thought this day would come…
I have my eyes on other obsession.
I am selling my 1984 533i with 5 speed.
Delphin Grey over Sand Beige.
Sunroof, A/C, Factory Cassette radio
VIN# WBADB7406E1190710
59k original miles !
NO RUST !
Never wrecked. #'s matching motor, tranny, body panels, etc…
I believe I am the 3rd owner. I have original owners manual with records from 1984. Most of the paperwork is from 1999 to current.
My friends call the car "no rain" because I will drive the wife's car on inclement weather days…
Always Professionally serviced by Tony at Buckhead Motor Works and was in Bobby Thrash's shop (Strictly German) for the body work and initial tuneup.

Maintenance Work done over the past 1.5 years as follows:
New US headlights
Full Tune Up
All fluids flushed
Oil Pan Gasket
A/C belts
Fan Clutch
Hood Shocks
All New Fuses
All New Relays
New Battery
Oil changed every 4k miles
(2) airfilter changes in the past 15k miles

Upgrades to the car:
750i brake Master Cylinder
3.73 LSD
Bilstein Sports all around
Ireland Engineering 25mm front / 19mm rear adjustable sway bars installed with custom fabricated & welded brackets.
e34 Aluminum control arms with 750i bushings pressed in
All New BMW Suspension parts thruout-dogbones, bushings, etc…
Euro issue only Rondell Rims-
Front 18 X 8.5 et 13 with 235/40 70% tread
Rear 18 X 10 et 19 with 265/35 70% tread
Rims completely refurbished (it took the best shops in Atlanta 4X to get them to my satisfaction…) Hyper Silver Powder Coated & Clear Coated centers with Polished lips

Euro / Rally car body mod's—
Front- US valance metal spliced, seam sealed, painted front & back
Rear- All holes filled with metal, seam sealed, undercoated 4 X, painted
I did have a retread hit the front valance…it cracked the paint in 2 places and put a small bend in the lower panel. Both cracks have been sealed so no moisture would get under the paint. It would cost $350-$450 to respray and i have priced the car accordingly.
Door handles & lower side valances also Delphin Grey

Interior is a SOLID 9 out of 10 !
This car has lived in a Garage! The seatbelt buttons are Bright Red…most of the time they are pink from age / sundamage
Black dash is Perfect
Lower dash / Console (Sand Beige) is Perfect
Door Panels (Sand Beige) are Perfect
EPROM dash conversion
OBC works
A/C is R12 and blows Cold
Speedo & all other gauges operational except tach…it was working and one day it just stopped. I think it is the plastic gear behind the gauge…?
Electric windows, lock, side mirrors work great
Headliner is in great shape with nothing torn, no rips. Showing 27 years of color/patina at rear window
Rear Seat is perfect except one crack in topcoat/finish. easy repair if it bothers you…
Front seats are Manual "Comfort" style and in great shape with Driver Side showing only very minor bolster wear and one small crack in the piping
Carpet is exceptional
BMW factory issue floor mats are not worn and in great condition

Exterior overview
Hood, roof, trunklid, & fenders appear to be in Original Paint
Front & Rear of car have been professionally sprayed to match
Weatherstripping is near perfect
All Windows / glass are near perfect
Chrome Trim is in very good condition
Rear BMW rubber spoiler is in very good condition and is not warped / deformed
Basically, its a 10′ car with normal rock chips and wear from 27 years

I do not Race, Autocross, or Abuse this car. Always Babied. Full cleaning every Saturday.
I drive it on nice days as a dependable Daily Driver and take it to the local car shows.
This car ALWAYS draws a crowd and receives compliments even in the grocery store parking lots…
If you want a car to drive across country without a problem..this is it! Very well sorted and always preventatively maintained.
Gary Beck, Mike Gray, John Graham, Scott, Josh, ATLe36 & Alpinass are some of the local forum members who have seen this car.

Price $11,500
Thanks for the heads up Steve and good luck with the sale!
dc