The other day I was driving next to an older woman in a light blue E30 325i. I glanced at it, ready to move on as the ubiquity of the 3-series makes it hard to get excited, but I couldn't stop looking. It was perfect. The chrome trim, the paint, the panels and stock basket-weave wheels were all immaculate. Seeing it offered a rare glimpse into how attractive these cars were brand-new, gleaming at a BMW dealership, itching to take the everyday sports-sedan to a whole new level. Time, dirt, and neglect too often relegate older cars to forgettable "old beater" status, completely separate from how great they once were.
Today's 735i is one such car, a shining example of how great 80s BMWs were completely stock. The original owner drove it for 1 year and 11k miles and traded it in, where the seller's parents picked up and kept it in perfect condition while driving it just 33k miles over the last 24 years. It's not the most collectible vintage Bimmer, but it is a gorgeous example of the North American flagship.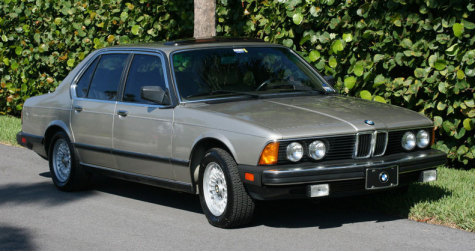 The description from a dutiful offspring:
This 1986 BMW 735i is a rare find indeed! Always kept in a garage and never driven hard. Only 44,500 pampered miles. I am selling this car for my parents who have kept this vehicle in immaculate condition since purchasing it in 1987 from Frank Hilson BMW in Fort Lauderdale. The original (and only other) owner traded it with 11,000 miles. All service records, owner manuals and brochures have been impeccably maintained for the next owner.

The Bronzit Beige Exterior and Perl Beige Leather Interior are a classic BMW combination. Bubinga wood trimming on the doors and instrument panel. Even the toolbox in the trunk lid is flawless. The 3.5 liter 6-cylinder inline engine is recognized by BMW enthusiasts as one of the most reliable and well designed engines ever built. This 735i is loaded with every available option from the sunroof to the all stainless steel exhaust system.

The pictures tell the story. The only flaws are 2 light cosmetic scratches on the hood and a very small parking lot ding on the driver's side. This is a 1986 BMW in a time capsule!
The bottom line is that you will still look classy as hell driving this car, and the venerable M30 3.4L inline-6 has a lot of miles left to pull you around while swaddled in gorgeous and nearly-perfect leather. Despite no reserve, bidding is slow with just one bid at the opening price of $7,500. That seems like inexpensive for a car that looks like a million bucks.
-NR