Known more for their luxury offerings here in the US, Mercedes-Benz has provided the commercial world with some impressive hardware over the years. Case in point, the Unimog. This imposing beast was introduced shortly after World War II for agricultural use, but over the years, its applications have diversified, including fire departments and militaries. This Unimog for sale in Arizona is geared towards private use. For someone who has to have a car that can go anywhere with little hassle, there's few that can top it.
Year: 1978
Model: Unimog U416
Engine: 5.7 liter six cylinder diesel
Transmission: Manual, 20 forward gears, eight reverse gears
Mileage: 2,448 engine hours (odometer reading N/A)
Price: No reserve auction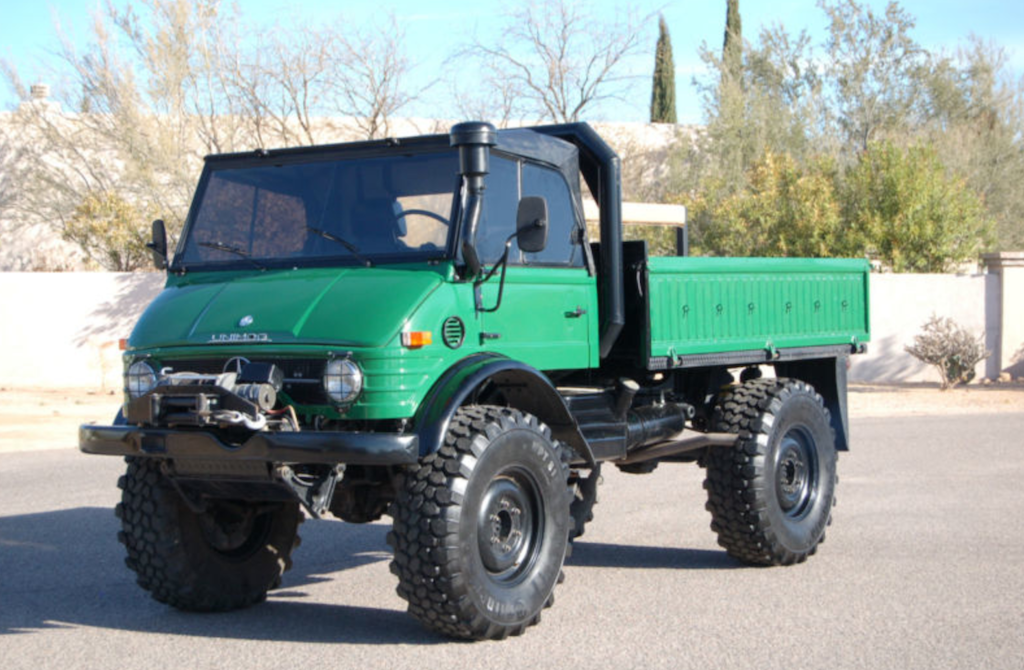 This 1978 soft top Unimog was rebuilt a few years ago with the off-road enthusiast in mind. The stock diesel engine with its 24 Volt electrical system starts and runs beautifully, with a working engine meter showing 2448 hours of total operation. The transmission offers you a choice of 20 forward gears and 8 in reverse, including what the owner's manual calls "working gears," "crawler gears," and "Super crawler gears." Maximum speed in first gear is six one-hundredths of a mile per hour, providing sufficient towing capacity when repositioning your train or jumbo jet. The pneumatic system provides power brakes and selectable switches for shift-on-the-fly 4wheel drive and full differential locking. Additionally there is a connection to the air tank to run any number of pneumatic shop tools. The air tank, fuel tank and aux fuel tanks have been raised from the stock locations to provide better ground clearance. 42″ tires on portal axles provide adequate traction. The 8 foot high intake snorkel offers ample fording capability.

The odometer stopped running a while back, but the engine meter and a visual inspection of the chassis show that this machine is in excellent condition. The 15,000lb front and 9,000lb rear winches have been used exclusively for rescuing Jeeps, since I have been unsuccessful in every attempt to get the Unimog itself stuck. Factory hydraulics have been removed, but the dropside bed now includes a six-passenger bench seat which also serves as a locking toolbox. Other custom modifications include a heavy-duty roll bar, two air cushion front seats, and LED taillights. Included with the vehicle is a complete set of owner's, repair, overhaul, and parts manuals in pristine condition. Buyer will be responsible for shipping and payment within 7 days of close of auction.

**CAUTION** Full disclosure compels me to mention that while operating the Unimog on city streets, you will be subject to constant photography, video capture, smiles, declarations of "WOW!" and innumerable thumbs-up.
Nate featured a Unimog fire truck last month that sold for $21,010. There's a fair amount of bidding interest here; given that, I'd suspect somewhere around the range of $15,000 to $20,000 would be the order of the day. That's not a lot of cash for something as capable as this. And just imagine pulling up to the filling station and one-upping that guy who thinks he's all that with the Hummer…
-Paul