There has been a long partnership between the Buick and Opel subsidiaries of GM over the years. Currently, the Opel Insignia is sold here in the US as the Buick Regal and there are plans to bring the Opel Astra over as a Buick, now that the Saturn division is defunct. But it was a little over forty years ago that Opels began to show up at Buick dealers, without being rebadged. This Kadett B, or second generation Kadett, is one of the cars that launched the small car assault on US dealers. This particular Opel also saw production reach 2.6 million, making it one of the most popular Opels of all time. This particular car for sale on Staten Island is more than likely one of the few Kadetts left on these shores, regardless of condition.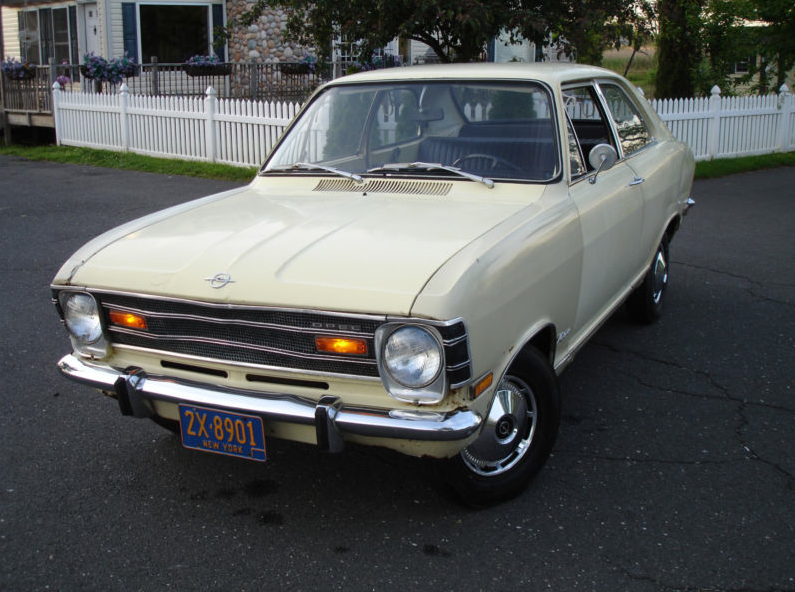 Now when was the last time we have seen one of these cars? WOW, talk about memories! This is a really neat 1968 Opel Kadett L. These cool little cars were made in Germany, and sold here in the States by the Buick Dealers across the country. This Opel is in AMAZING SHAPE for the year, and was GARAGED KEPT since day one! It was sold here by a Buick Dealership right here in Staten Island, New York by Robins Reef Buick, which is long gone today. The name tag is still on the rear deck lid to this day as seen in the photo! This Opel shows only 43,000 miles on it, and the way this car is so well preserved, I believe that this is the true mileage!

Now remember, these cars were NOTORIOUS to rust, and they really did start to rust so bad even when they were only two years old. NOT THIS ONE! This is TRULY a WELL PRESERVED, and UNMOLESTED 1968 Opel. It still looks like its wearing its ORIGINAL PAINT which really is a pretty color. The interior is incredible. I just can't believe how this car really held up so well! Interested buyers are more than welcome to come and look at it and take it for a ride! It does have some small rust on one of the floorboards, and some by the bottom of the passenger rocker, but nothing bad at all. And still keep in mind, these cars use to rust so bad since day one. It runs and drives GREAT, and is really a crowd stopper. It has the original four cylinder engine, mated to the original four speed manual transmission. It comes with an optional factory clock, rear side vent windows, seat belts, and it is a radio delete car. Now just think, HOW MANY of THESE CARS ARE LEFT IN THE WORLD TODAY???? I see here on e- bay today that there are only three listed here, and not even one of them is a KADETT. Don't MISS OUT on this one, for who knows when the next time you will ever see another one?
I'm not sure if one could consider this car "well preserved" as rust is rampant. However, the car is 44 years old and the fact that it is still hanging on should be commended, especially in the rough environment around New York City.
-Paul