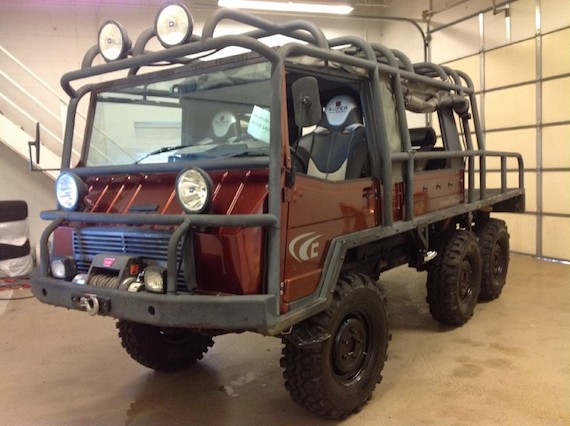 On a recent bike trip, my girlfriend and I had some long climbs up the foothills of the Bay Area on tree-lined, one-lane switchbacks. On one particularly gorgeous but hidden stretch, she yelled "look at the cool Unimog down there!" Thankful as I am that my partner knows what a Mog is, it was actually a fascinating Pinzgauer 4×4 that looked like it was prepared to be an RV for the zombie apocalypse. While that particular model looked prepared to keep people out, today's 6×6 model looks like it wants to let anyone and anything crawl in while it dominates terrain. With heated seats, a huge truck bed, and one of the most stout external rollcages I've seen, I'm not sure what it's for other than what the dudes are doing in the photo – but just riding in it looks pretty fun.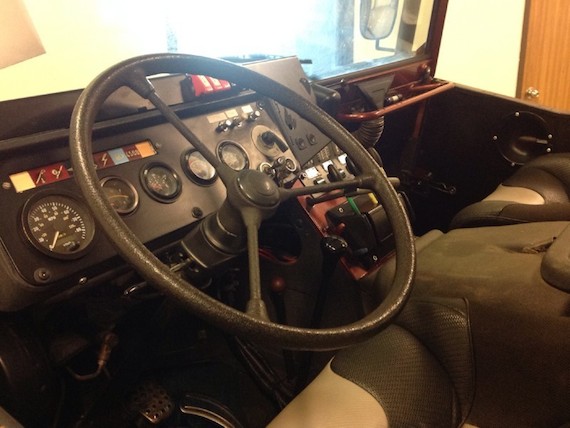 Year: 1972
Model: 712M
Engine: 2.5 liter inline-4
Transmission: 6-speed manual
Mileage: 9,615 mi
Price: $39,000 Buy It Now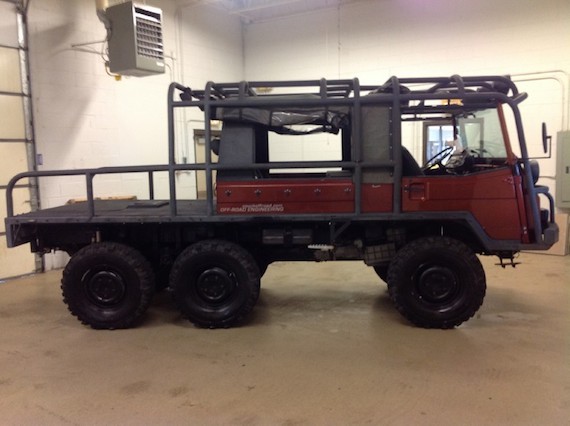 You are bidding on a Swiss military Pinzgauer 712M, offered for sale by Mastodon Motor Company, a licensed dealer in Wheat Ridge, Colorado. This is one of the nicest Pinzgauers in North America! This vehicle has been perfectly maintained and impressively modified. This Pinzgauer 712M is from 1975 and sports antique classic plates.

Additional modifications:
– 95 HP air cooled Steyr Puch Engine
– 6 Speed Fully Syncromesh Transmission
– 6 wheel Drive (Very Rare!)
– Over $50,000 invested in this vehicle, Heavily Modified
– After Market Soft Top
– Fox Reservoir Shocks all around
– Super Swamper Tires
– Both 24 and 12 Volts System
– 12,000 lb Winch
– Entire Truck is Rhino Coated
– Custom Exterior Cage
– Back -Up Camera
– DVD Player above rear passenger seat
– Heated Racing Seats
– Seats 8 People, Front and Rear
– All Seats have 4-way Seat Belt Harnesses
– Custom Paint
– Will travel 65 mph on the highway
– Fuel cell has been relocated to the steel bed in back
– Very Strong Motor, does not smoke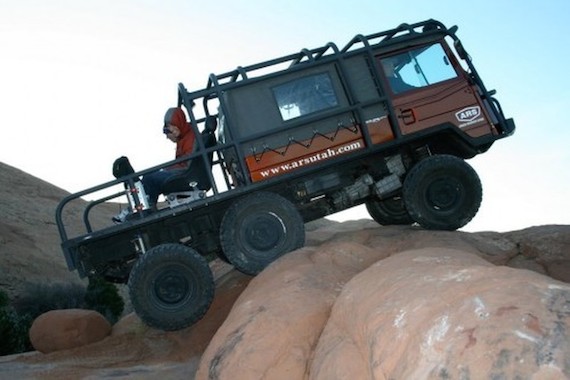 It looks like a plausible vehicle for a mastodon hunt, I guess, and that is a pretty badass auto dealer name. While the extremes of MILITARY VEHICLE and posh soft roader rub me the wrong way on the likes of Mogs, G-wagens, etc., the incongruity of this beast's features draw my attention away from its sheer earth-crawling capabilities. The bidders at the auction seem confused as well, as they are clearly present, but nowhere near the $39k Buy-It-Now. Even though the Pinzgauer made 6×6 cool way before the G63, the amount of reasonably-price Unimogs we've seen recently makes me think you could prove how badass you are for a lot less than this.
-NR