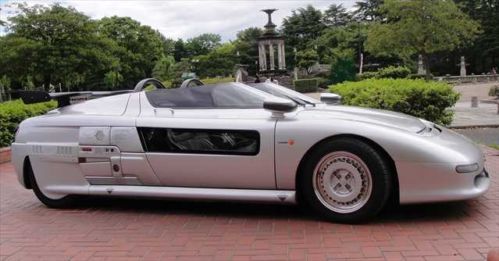 You have to ask yourself when pondering the Aztec, "Did Italdesign really think they'd make 1,000 of these in the late 1980s?" Certainly anything seemed possible then – the world was in the midst of a supercar revolution. Porsche introduced the revolutionary Group B based 959, while Ferrari had the twin-turbo brothers GTO and F40. Then there were countless others on the horizon – Jaguar XJ220 and XJR-15, an all-new Lamborghini Diablo, the Bugatti EB110 and Cizeta-Moroder V16 – even some wild U.S. based creations like the Vector and Callaway Sledgehammer Corvette. But perhaps more wild than all of these was the wild "Aztec" from Italdesign. Giugiaro's company had long been pioneers of advanced and cutting edge designs, but they really outdid themselves with the Aztec. As if taking inspiration from some of the best futuristic designs from the 60s and 70s, the Aztec looked part jet fighter, part rocket ship, and part Star Trek communicator. Indeed, it wouldn't be surprising at all to have someone like Mark Hamill or Harrison Ford pull up in an Aztec at a movie premier; it was as otherworldly and futuristic as both Hollywood and the sets of Star Wars and Blade Runner. But even if there were more wild designs that you might have seen on the show circuit in 1988, Giugiaro – with the aid of some hefty backing from Japanese capital – was crazy enough to produce road going versions of these cars. What was not surprising, then, was that there was a market for them – though, admittedly, it was as limited as the daily drive-ability of the car.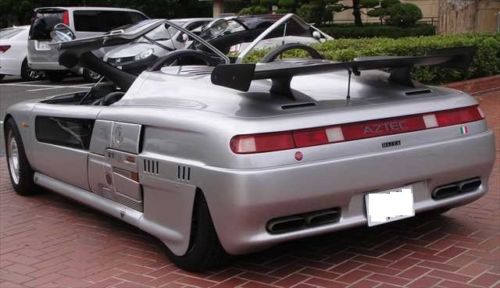 Year: 1988
Model: Italdesign Aztec
Engine: 2.2 liter turbocharged inline-5
Transmission: 5-speed manual
Mileage: 800 mi
Price: $750,000 Buy It Now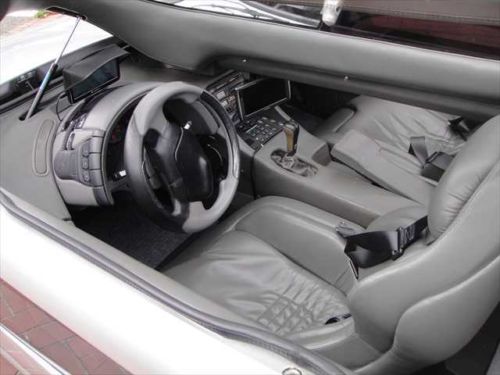 Here for sale 1988 Italdesign Aztec (Silver)
Production #: 0001. VIN: ZA9TIP03A00D50001

Only 800-miles (1000-kms). Yes! Its like a brand new still.
These miles for only driving parade, show, or to museum.
Other than that, all ways storage in air conditioned warehouse
in JAPAN.

This vehicle located in JAPAN now. The owner (collector) in
Japan turned in mid 80's, so he starts selling his collection.

The 1988 Aztec has Audi 5-cyl Turbo and All wheel drive.
The driving feel is still very smooth and Good sounds!

Owner changed to "Fuel safe Racing cell" for Safety driving
reason. Other parts are all original.

At that the time, MSRP was $980,000- in JAPAN, but 1st owner
paid $2,200,000- for premier and Giorgetto Giugiaro's SIGN
on the right quarter panel.

Asking only $750,000-!!

If you are serious, please contact to KEN @ 626-703-0414.
Please do not ask low ball.

Thank you for watching!!!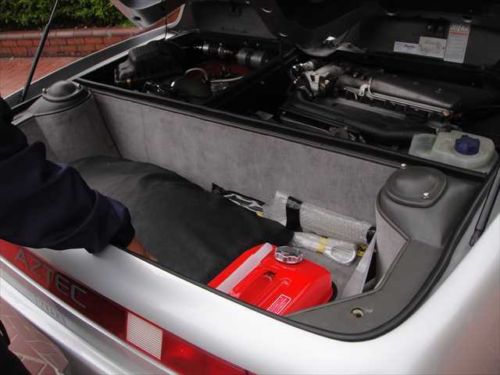 I wrote up an Aztec last year, and had a bit of a chuckle because I don't think I can write anything more poignant then what I wrote then – so here it is again, at the risk of sounding stale:
"Outrageous is a pretty good descriptor for this car. Now, I know what you're saying – it's not German! But bare with me – aside from the Audi power plant, Italdesign is now owned by Lamborghini (nee Audi), and these cars were assembled with the help of Motoren Tecnik Mayer (MTM) – noted not only as a premier Audi tuner, but Mayer was an ex-Audi engineer. So, if the M1 can be considered German this car should be too. The design is pretty futuristic by 1988 standards, but to me it looks a bit like a Fiero GT that went horribly right. The exterior appears pretty much no-compromise and has interesting features like an external Manometer, which clearly indicates how much of a man you are for driving this beast. Note the dial goes to 11.
Being old and Italian, you can be sure that some of those Speak-n-Spell era electrics aren't working working particularly well. On the bright side, it appears the passengers can play Contra or Legend of Zelda while you're driving, which is probably a good thing since the lack of roof ensures you won't be entertaining them with your conversation at any speed above 10 m.p.h.. As a super-limited production exotic roadsters go, this might not only be an affordable option, but it might even be practical. "What?!?!" you say? Well, it's got a Audi engine that's good for the best part of a half million miles without too much work. It probably even gets respectable fuel economy when you're not flogging it. The drive train is sourced from a Lancia Delta Integrale – World Rally Champion spec-stuff there. And worry about the famous Italian tin worm fades when you ready that the body is mostly carbon fiber and aluminum. All that's left are those infallible Italian electronics – hey, they could never go wrong! In all seriousness, if you're going to drop over $150,000 on an occasional car, you might as well make it one that makes every occasion you drive it special. Porsches? Bentleys? Ferraris? Pedestrian. You don't see them sporting gull-wing tonneau covers, do you? And you probably wouldn't even drive your GT2 or 458 in the rain, so why do they even have roofs? See, the more you think about it, the more sense it makes…."
As impressive as this car is, it's still more impressive to me that it was built at all – but at the same time it's not as much of a surprise that such a creation would end up in Japan. Markets for these wild supercar creations – as flawed as they were – have taken off over the past year and we've seen not only the pinnacle of those designs like the 959, GTO and F40 become million dollar cars, but indeed some of the lesser cars like the Countach take off in value. Does that make this crazy creation worth $750,000? Probably not, considering that the last example we looked at was in equal shape but only a quarter of the price. The seller's claim of $980,000 purchase price doesn't match the reality nor are the photos nearly as good as the other listing. Of course, this is example 0001 – the first produced. Like a work of art, I bet there is someone willing to pay that for a brand new bit of obscure automotive history – but I somehow doubt they'll be trolling eBay for it.
-Carter