I think I need to drive an M1 some day. Is it as fast as it looks, or were the roadgoing versions all bark and no bite? Is it sharp like a supercar, or just quick like a smushed BMW sedan? I don't think you'll have to ask too many questions before getting in today's example though, as it has an extremely rare modification package from AHG. Only 10 were made this way and mostly sold to BMW factory race drivers. With fender flares that don't quite hit Procar levels and a front spoiler that nearly overdoes it, this M1 certainly has the bark but backs it up with the bite as the M88 has been massaged to 350hp, more than enough to motivate the 2,900lb wedge to scary speeds. Painted by a famous German shop in a mental so-80s-it's-modern ombre, this is an extremely unique M1 being sold by the shop that makes all American 959s possible.
Year: 1979
Model: M1 AHG
Engine: M88/1 tuned to 350hp
Transmission: 5-speed manual
Mileage: 31,395
Price: If you have to ask…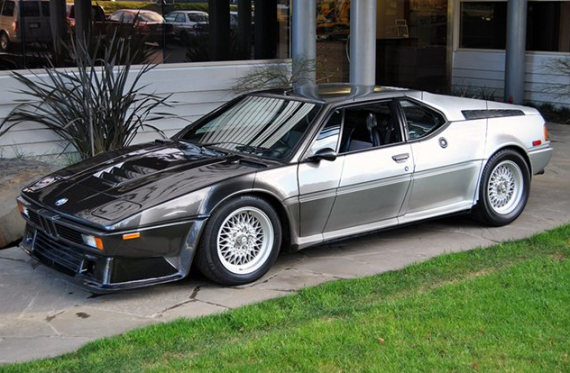 1979 BMW M1 AHG VIN: WBS00000094301094

This vehicle, number 94 of approximately 453 M1s produced from 1979-1981, was modified in Germany by AHG, formerly the largest BMW dealer in Europe and now owned by BMW. Only ten M1s ever received the treatment from the AHG M1 Studio, and most were only available to BMW's factory racers.

According to quotes from then AHG/BMW Motorsports Division president Peter Gartemann the modifications included: The 3.5 Liter 277 HP was upgraded to 350 HP, racing clutch, special exhaust, front air dam with brake ducts, wider front and rear fenders, side skirts, special rear wing, adjustable height suspension, BBS wheels, Cibie lights, full leather seats and special paint.

The car was sold in stock condition to its first owner from Mainz, Germany in November of 1979. In October of 1981 it moved on to what is believed to be the first owners daughter. According to AHG it was then sold to an artist who used the car as a canvas featured in expositions and newspapers. It returned to AHG in May of 1983, who then fitted the car with their special package. The famous German paint shop of Hermann Altmiks was hired to apply the current custom paint scheme. The engine was completely rebuilt and now puts out 350hp as opposed the stock rating of 277hp. The rebuild was completed 1200km (746 miles) before it was shipped to the US in 1984. Since then the car has only covered an additional 6000km (3728 miles.)

4301094 was purchased by an American collector in November of 1983 from Automobile International in Munich, West Germany. It arrived in the US in March of 1984, and received its EPA release letter in December of that year. When imported this M1 was modified for DOT compliance, but was released as EPA exempt (not street legal in California). Full DOT/EPA documentation is included. The NHTSA released the car in 1985, and the car began to appear in shows soon after. 4301094 was very active in the BMW scene until the late 90's, when it was put in storage as a long term collectable.

In October of 2012 the M1 was awakened once more, and over $3500 in original BMW parts were used in its resurrection. Now in the hands of Canepa the car is receiving a thorough inspection and will be given the care it requires to meet our exacting standards.
With good M1 prices around $250-$350k(!!!), the rarity and BMW-centric nature of the AHG modification makes me think this could go as high as $400k. Unfortunately, at that price this thing is probably destined for a permanent garage spot instead of letting that juiced-up 3.5l sing.
-NR