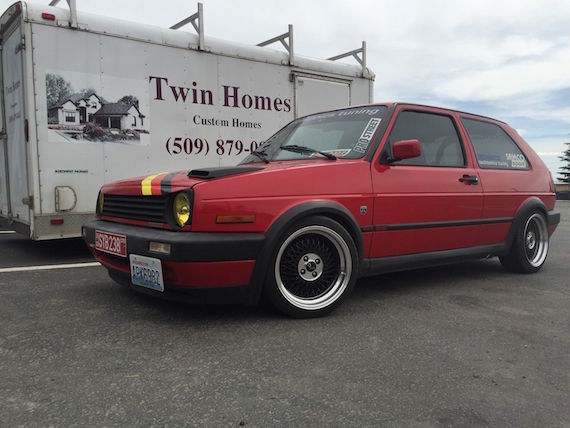 Mk1 GTIs grow more fully appreciated as classics each day, the Mk2 retains its affordable performance status in a package that is still superior to the Mk1 in the ways VW intended at its inception – more space and more comfort while retaining fun performance and German looks. This example takes those last two elements to extremes, bringing a modified G60 engine under German flag stripes front and rear. He doesn't mention what suspension is helping it sit so low, but whatever it is is matched with Scirocco brakes to create a package that should be able to handle at least some of the increased speed and power. With well over 300hp to the front wheels, it's not going to be able to handle all of it, mirroring the exterior's placement on the edge of out-of-control. This is fast and loud in Mk2 form.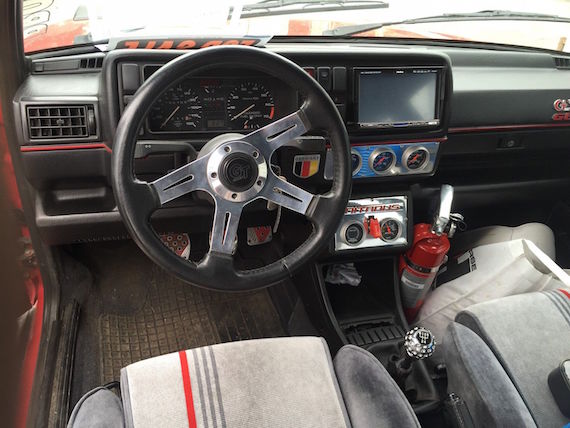 Year: 1991
Model: GTI
Engine: 1.8 liter supercharged inline-4
Transmission: 5-speed manual
Mileage: 196,252 mi on chassis, 10k mi on engine
Price: $7,000 OBO

This car has a ported and polished head with a large Schrick Cam
Lightened Flywheel
Racing clutch
Adjustable TT Cam Pulley
Header that is a 4-2-1
Header wrap
Supercharger has been rebuilt and has a smaller pulley
Set of Nology Spark Plug Wires
All hoses are silicone
Large Front Mount Intercooler
Methanol Injection
75 hp shot nitrous oxide (NOS
Scirocco 4 wheel disc brake
Car made over 325hp on the Dyno
It has custom steering wheel also has CNC aluminium gauge plates set in the dash that have the following Autometer gauges mounted:
Air/Fuel ratio
Boost pressure
Oil pressure
Water temperature
Voltage
I'm sure I have missed a few things but this should help…

Roughly 10k miles on the car since it was built…over $15k invested on build.
Car is stored indoors during the wet weather and winter. It's been driven less than 500 miles in the last 2 years.
This car is in very nice shape for as old as it is, clean interior and no rust!!!!

Clear title and has passed emissions in Washington State for the last time!

Very fast and fun ride, I wish I could keep it, but I have too many projects and not enough space…Thanks for looking!!!

We often look at cars and think of how we would modify or add to them, but here my main requests would be subtraction. Removing the nitrous and all the stickers would leave a GTI that still has plenty of attention-grabbing visuals and performance without being too tunerboyish. The seller kindly avoids asking for what he's put in and is looking for $7k, which is close to what you'll pay for decent, stock Mk1 GTI these days. Through an objective lens, this Mk2 surpasses the Mk1 in just about every category other than cult status and is a nice reminder that there are still some great VW performance values out there.
-NR