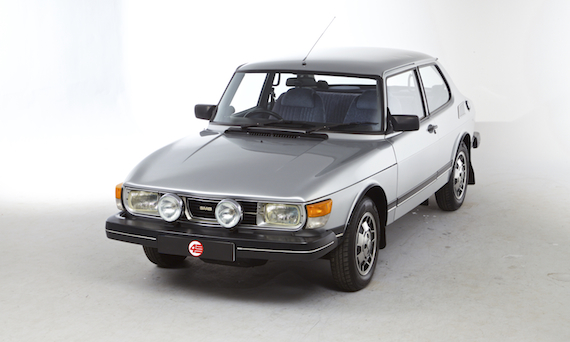 The last Saabs produced before the company's financial meltdown were decidedly upscale vehicles, a sort of Swedish yin to Volvo's yang, if you will. Earlier Saabs, though, were a rather curious lot. These cars mixed together practicality, performance and Nordic sensibility in one package, garnished with a little bit of upmarket flair. Saab was also one of the first manufacturers to employ turbocharging with the 99 Turbo, which was one cracker of a compact car. After this model made its debut, the words "Saab" and "Turbo" would be almost synonymous to the end.
While it's not turbocharged, this late production 99GL for sale in the UK is like few we've seen recently. Sitting on 15″ soccer ball alloys with under 30,000 miles on the odometer, this one really scratches our itch for vintage Swedish metal.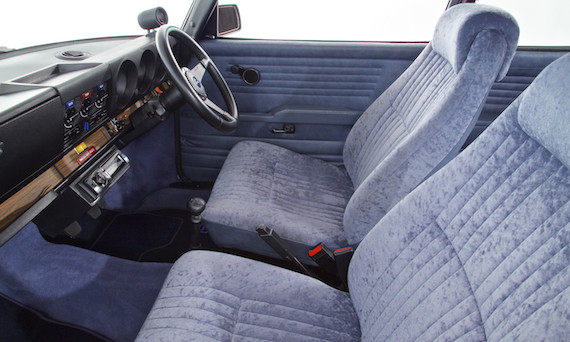 Year: 1983
Model: 99GL
Engine: 2.0 liter inline-4
Transmission: 5-speed manual
Mileage: 26,873 mi
Price: £18,995 (~ $29,247 USD)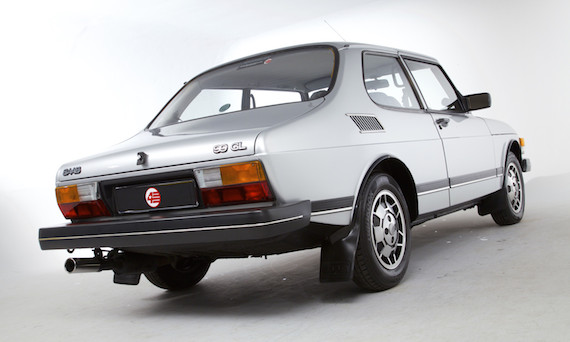 MODEL HISTORY
The Saab 99 was introduced as a new model in the autumn of 1967 with production ending in 1984. The first engine used in the original 99 was the Triumph 1709cc four-cylinder inline engine, which was tilted at 45 degrees. The engine was water-cooled, but unlike most cars of the time it had an electric cooling fan. However, Saab soon experienced reliability problems with Triumph sourced engines and decided to bring the design home. From September 1972 the 1985cc Saab B engine was used; during the lifetime of the 99 model, several subsequent engine developments took place including the incorporation of fuel injection for some versions.

The two-litre engine was fitted 'back to front', with the clutch at the front. The bonnet was forward-hinged and the panel extended over the front wheel arches. The windscreen was wrap-around and very deep for the era. The A-pillar had a steep angle, providing excellent driver visibility. Writing in 1968, the English test-driver Archie Vicar wrote in Mass Motorist magazine, "The little 99 has been given a striking and wholly rational appearance. It gives the flavour of an aeroplane on four wheels."

The 99 was Saab's last rally car, first in EMS guise and later as the Turbo version. The UK's Mass Motorist magazine summarised their view of the 99 as "comfortable, well-made, satisfying to drive and well-equipped… The BMW 2002 and Alfa Romeo Giulia are the Saab 99's main rivals. I would contend here that Saab has the advantage of them, and should Saab choose to fit an even more powerful motor, the 99 could be a class leader in a short space of time."

The car was wide and low and the suspension gave it handling that was very good for the time. The drag co-efficient was 0.37 while other cars of the time had 0.4 to 0.5. The chassis was also designed for safety. Over the years Saab continued to lead the market with safety innovations such as headlight wipers, which would eventually become a requirement in Sweden. Other innovations would include self-repairing bumpers and heated seats.

EQUIPMENT
Twin Weber 40mm carburettors, Rally specification 'Tangen' unleaded cylinder head and camshaft, Rally exhaust, Electronic ignition, EMS 'Soccer ball' alloy wheels, Cibié Oscar spotlights, Moto-Lita steering wheel, Headlight wipers, Self-repairing bumpers, Clock, Kenwood CD player with iPod connectivity, Engine and cabin preheater, Cigarette lighter, Front and rear mudflaps, Spare wheel, Spare key.

EXTERIOR
The bright silver metallic paintwork on the Saab remains to an incredibly high standard and has a wonderful, glass-like finish. The bodywork is near impeccable with only one or two very minor imperfections to note, chiefly a couple of light indentations to the roof on the passenger side.

What really sets this car apart is the original bodywork, which remains solid and corrosion-free as a result of having been dry stored for twenty years. Along both sides the car is arrow-straight, and aside from a single protective wheel arch strip, all black trim and rubber seals appear in very good health indeed. All lenses are perfectly clear and free from any chips or cracks, and the additional spotlamps present as new.

INTERIOR
Much like the exterior, the inside of the Saab is in true time-warp condition. All seats remain very supportive displaying absolutely no signs of any wear, and the pale blue velour in which they are upholstered is quite simply stunning. The addition of the Moto-Lita leather steering wheel is a nice period touch.

Furthermore, the dash and fascia present as new with no signs of ageing to any of the components, including the wood-effect inlays. The large dials are crystal clear, and the freshness of the carpets is bettered only by the impeccable door cards. In fact, aside from a minor split in the headlining on the nearside rear pillar, the interior is flawless.

ENGINE & TRANSMISSION
Lifting the large bonnet reveals a very bright engine bay indeed. Consistent with a much younger vehicle with even fewer miles, the engine presents in fantastic order. The majority of the components appear factory-fresh and the inner panels remain completely solid.

Sporting twin Weber 40mm carburettors, a rally specification 'Tangen' unleaded cylinder head and camshaft, 2.5-inch straight through rally exhaust with two silencers fitted for street use, and a 'step-up' manifold, this Saab packs a punch like no standard 99 can. The current owner has had the vehicle set up on a rolling road with the carburettors and ignition tuned accordingly for perfect driving. Professionally installed, all steps were taken to provide maximum reliability and with all round genuine Bilstein B6 shock absorbers fitted, drivability is in no way compromised.

The car is producing 160hp, which is 15 more than the legendary 99 Turbo did when new. The clutch and release bearing were replaced in October 2010, and most recently a major service has been carried out to include a brake system flush and bleed. What's more, oil and filters have been changed every year. A new battery was also fitted in 2012, and a new radiator in 2013.

WHEELS, TYRES & BRAKES
The Saab sits on the 15-inch EMS 'soccer ball' polished alloy wheels that have been recently refurbished to a great standard. As such there is no unsightly curb marking or age-related wear to behold.

The wheels are shod in a matching set of Hankook Optimo tyres, each with ample tread remaining. As a result of Saab's safety conscious attitude the 99 also features disc brakes all round, which all show plenty of life left. What's more, the car has been recently under-sealed and is very well protected from the elements.

HISTORY FILE
Assembled by Saab-Valmet in 1982, this 99 was not registered until 1st July 1983. It was originally supplied in Nottingham and has remained in the UK throughout its life, covering a mere 26,873 miles in such time.

The car was dry stored between 1984 and 2004 at which point it was rediscovered by the owner's family. It's time in storage ensured that until 2010 the car had just 5,200 miles, and required very little work to bring it back to its factory condition. The car was soon awarded Winner of the 2012 Swedish Day "Most Admired Saab" and the 2013 Swedish Day "Best Modified Swede", along with earlier awards and a full feature road test in Classic Car Weekly.

The current owner has meticulously organized the car's history file, which contains a veritable wealth of paperwork documenting the Saab's life to date. Along with several MOT certificates, a handful of old tax discs, as well as countless receipts, there is an extensive range of invoices detailing an assortment of work that has been carried out on the car over recent years. Present also are the original Owner's Handbook and service cards.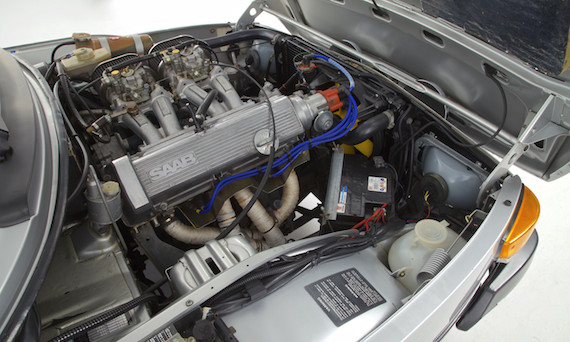 4Star Classics has been one of our favorite dealers as of late, as they have a knack for finding the obscure, low mileage cars you never thought you would see again in your lifetime. Add to that their presentation for each vehicle in their inventory and you can't help but drool. The price for this 99GL is, well, sobering to say the least. If you could find a similar 99 Turbo on US shores in similar nick, you could almost certainly snag it for less than we see here. Then again, I can't remember when I've seen a 99 Turbo or 99GL in such well preserved condition as we see here. They don't come around very often. Could the bankruptcy of a car company and the nostalgia for what made Saab great drive these practical three-doors into cult status?
-Paul