Warning!
This post is in our archives. Links in this post may have been updated to point to similar cars available to bid on eBay.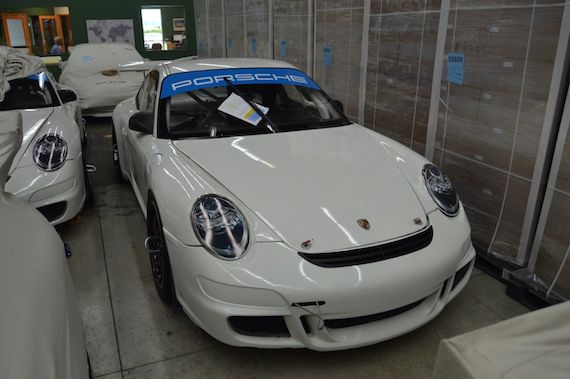 There are few marques in the automotive industry whose name is as synonymous with road racing as that of Porsche. While Porsche's reputation has been built largely through their racing success it also comes through their continued desire to make available to their customers lightened or more powerful variants of their road cars. Or in the case of the car we see here, a 2008 Porsche 911 GT3 Cup, a full on racer. The homologation requirements of many of the road-racing series that Porsche competes in do make this somewhat of a necessity, but that still doesn't change the fact that for a (considerable) sum of money interested buyers can live out their dreams to take part in semi-professional racing behind the wheel one of the most renowned road-racing machines in its class.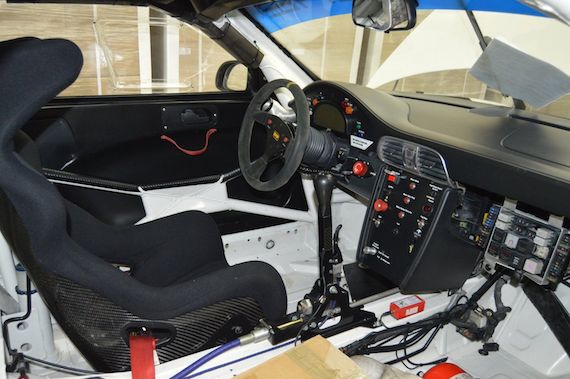 Year: 1997
Model: 911 GT3 Cup
Engine: 3.6 liter flat-6
Transmission: 6-speed sequential manual
Mileage: 6 hours on motor since rebuild
Price: $77,500 Buy It Now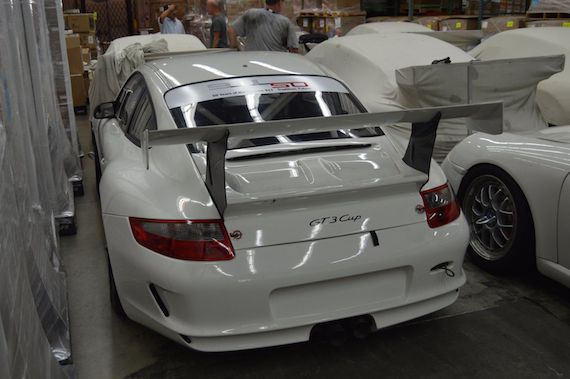 Up for sale is a 2008 911 GT3 Cup race car. This is a Porsche Factory Built Race Car. This is not a street car that someone added race parts. These are rare, each year a hand full of these are built to compete in professional and semi-professional racing. This is your chance to get a car to either take club racing or for use at track day events. These are great fun with the factory motor and sequential transmission. Believe me, when you show up at the local track with this car, people will come over to see what you have. Not only does it look great, but it sounds great too. I race my 911 GT3 Cup with NASA in the GTS class, but SCCA and Porsche Club also have classes that these cars fit in perfectly as well. In Porsche Club you would race against other drivers with the same car. A great way to test your ability to drive.

The Vin number is WP0ZZZ99Z8S798174

It only has 6 hours on the motor since rebuild.
It has only 5 hours on the transmission.
Full data sheet on the leakdown, dyno, shock dyno, compression tests are available.

This is a very nice example of a Porsche GT3 Cup race car. It is in very good condition with no issues. It has a total of 102 hours of run time on it since new.

The car includes the autoblipper. It comes with an extra set of wheels, the wheel travel hold downs, 2 different car covers, air jack wand, and the technical manuals. All of the original purchase paperwork from Porsche.

We currently have 17 different 2008 Cup cars for sale. They all vary in condition and price. All have motors and transmissions with less than 25 on them since the last rebuild. The prices range from $78,500 to $85,000 again depending on condition (this car has been given a special price for the ebay sale). All of them have just been painted and are ready to hit the track.

These are great race cars, made by the factory as race cars. These make great cars to compete at the club level or SVRA. They also make great cars for drivers education events. No need to take a street car and modify it to be the race car you always wanted. Now you can own the race car the way the factory built it.

Engine
Configuration B6
Location Rear, longitudinally mounted
Construction light alloy block and head
Displacement 3.598 liter / 219.6 cu in
Bore / Stroke 100.0 mm (3.9 in) / 76.4 mm (3 in)
Valvetrain 4 valves / cylinder, DOHC
Fuel feed Sequential Multi Point Fuel Injection
Aspiration Naturally Aspirated
Power 400 bhp / 298 KW @ 7300 rpm
Torque 400 Nm / 295 ft lbs @ 6500 rpm
BHP/Liter 111 bhp / liter

Drivetrain
Chassis unitary steel
Front suspension McPherson struts, coil springs, dampers, anti-roll bar
Rear suspension multi-link, dual coil springs, anti-roll bar
Steering rack-and-pinion, power assisted
Brakes ventilated discs, all-round
Gearbox 6 speed Sequential
Drive Rear wheel drive

Dimensions
Weight 1150 kilo / 2535.3 lbs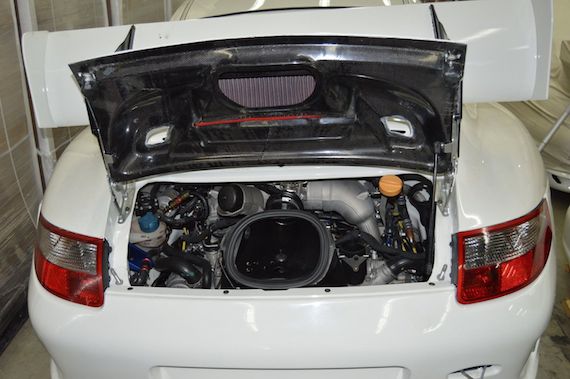 While nearly $80K is a serious amount of money for a car that can only be used on the track, it's also a ridiculous performance value within the world of 911s. We are of course comparing apples to oranges with those values, but for anyone who had ideas of converting their 911 into a track machine I would think they'd be hard pressed to do so for less than the cost of this car, or at least while having a shot at matching this car's performance. And for the really well-heeled, the seller states that he has 17 of these. So if you and your friends ever wanted to have your own racing series it seems like you're all set!
-Rob