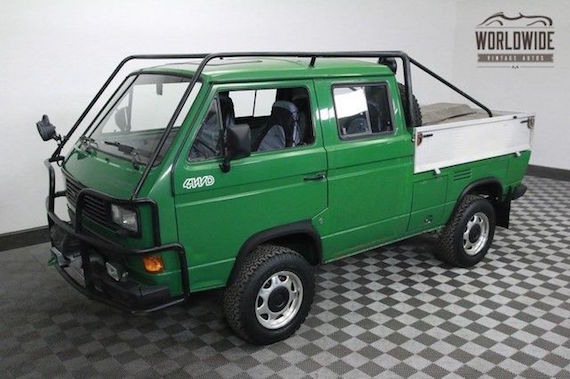 Here's an interesting dive into Volkswagen T3 history. We've seen special camping editions and even Tristar DoKas, but this green monster came with a special options list Volkswagen deemed the "Jagdwagen" ("Hunter") package. It was never released as a real model, but reportedly 12 were made in this spec, which includes a full exterior cage, winch, spot light, gun rack and side gun drawer and rear bucket seats. The Jagdwagen options commanded an extra ~$11k over the already-pricey DoKa Syncro.
This example is one of a reported four in North America and features a TDI engine from a MkIV Jetta. Besides a few exterior scuffs, it looks to be in good shape and has received some attention like new bumpers to keep it looking spiffy.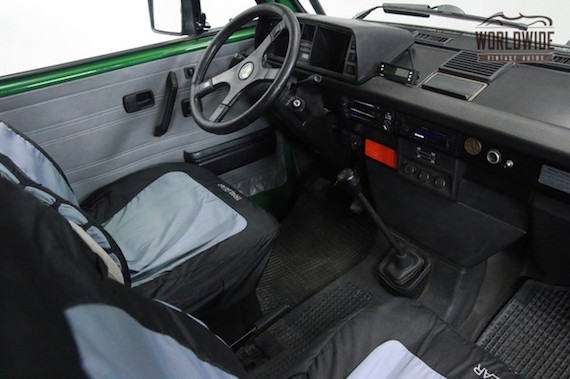 Year: 1989
Model: T3 DoKa Syncro Jagdwagen
Engine: 1.9 liter turbodiesel inline-4
Transmission: 5-speed manual
Mileage: 131,293 mi
Price: Reserve Auction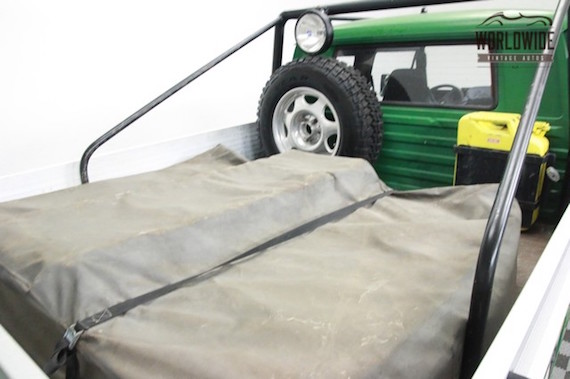 Worldwide Vintage Autos is proud to present this 1989 VOLKSWAGEN SYNCHRO Jagdwagen 1 of 12! 4×4 Rare!

EXTERIOR:

– Front and rear differential locks

-Civilian roll out arms case.

-Winch.

-Roll cage.

-Gun drawer in the tresor.

-Spare wheel carrier behind cabin

-Schamueler winch.

-Spot light in front and rear.

-Mostly original paint in dark green.

-MB CLK wheels.

-Bullbar.

-Sliding windows at the rear

INTERIOR:

-Four seats.

-Sunroof

-Gowesty Sync-Roll-O-Meter.

-Kenwood head unit.

-Cabela's Trailgear seat covers.

MECHANICAL:

-5:43 ring and pinion.

-Jetta ALH turbo diesel.

-Rebuilt transmission.

-ECU checked and verified.

DISCLOSURE:

-Imperfections in the paint.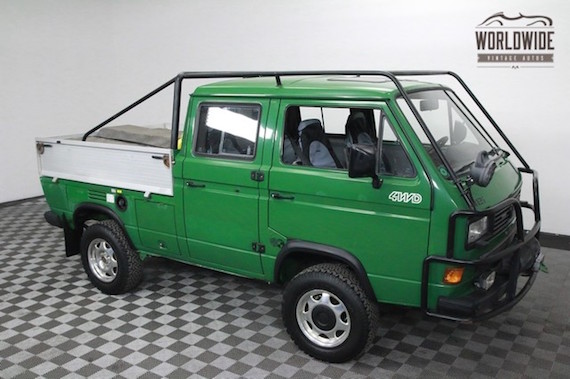 Besides the hopelessly badass exterior, I love the 4-person seating arrangement and the modern TDI engine should help it power through the bush as you hunt for the best camping spot. The Mercedes CLK wheels are a perfect fit; every T3 should wear them. Considering recent Doka Syncro prices, I'm sure the seller is looking for more than $20k. Whoever gets to rock this Jagdwagen next, they're going to get a lot of thumbs-up from normal folks and VW fanatics. God help the new owner if they pass anyone that actually knows what a Jagdwagen is, as they may have to put that full cage to use fighting off the SyncroZombies.
-NR