The recent kerfuffle surrounding BMW's decision to expand the M badge to a wider variety of cars such as diesels and all-wheel drivers has merits on both sides of the aisle, but leaves me wondering why they've so egregiously ignored a different branding in their own history, the "is" moniker. Sure, they finally brought it back with the 335is (which I think is great), but why not skip pouring fuel on the "M dilution"-fire and just make a 535ds, an X5 4.4is, or something along those lines? The 325- and 535is in the 80s were awesome, and gave a nice, subtle hint that there was more. I know the bottom line is that the ///M brings in tons of cash, but that's a shitty reason when it comes to maintaining brand identity.
Today's E46 330i with the ZHP package also seemed like the perfect opportunity to utilize the "is," but was eschewed for a 3-letter addendum bearing no relation to BMW's model history. Gripes with nomenclature aside though, it was an awesome package. Interior and exterior specialties were well backed up with 10 more horses and a higher redline, a shorter final drive for the only non-M 6-speed manual, and various suspension and running gear upgrades. This makes it essentially the opposite of most upgrade packages: lots of content with little advertisement. No one knows how many were made, but they quickly established a solid cult following. This example on Craigslist Sacramento has added an M3ish front bumper which, combined with a salvage title, makes me think it was involved in a front-end collision. It should thus be thoroughly inspected for possible damage, but if it checks out it could be had for a significant discount. At $11,900, this could be an extremely fun car for very reasonable money.
2004 BMW 330i with ZHP package for sale on Craigslist Sacramento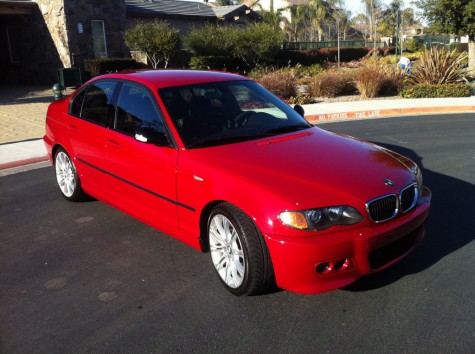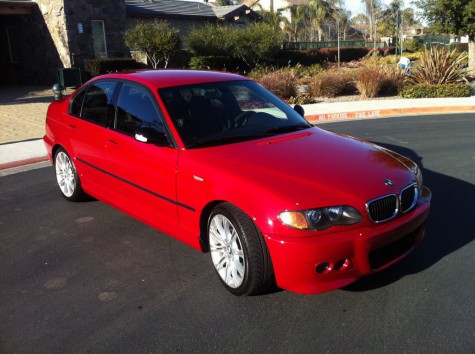 A glowing description that unfortunately never explains the salvage title but includes a nice list of ZHP upgrades:
The car is in amazing condition very clean inside and out,
The paint is flawless no dents or scratches on it
Runs and drives excellent, very smooth, quiet, and comfortable <>Handles like a dream
–I'm asking $11,900 for it
– The KBB Value for this car is $15,210

Miles: 75,030
Transmission: 6-Speed Manual
Title: salvaged
Interior: Alacantara Seats/Sterring Wheel, and black carbon fibre looking trim
Exterior: M3 front bumper, M-Tech II rear bumper, trunk lid spoiler

Fully loaded– Harman/Kardonpremium sound, Heated Power Memory seats, HID Xenon self leveling headlights,

Options– ZHPpackage, Sports package, Performance package, Premium package, cold weather package.

***The ZHP (performance package) upgrade includes the following:
* Firmer springs (front +6%, rear +8%)
* Firmer shocks (Jounce: front +50%, rear +20%), (Rebound: front +35%, rear -8%)
* Larger diameter anti-roll bars: 23.5 mm front (v. 23.0), 18.5 mm rear (v. 18.0)
* More rigid forward bushings
* -.5 degrees of camber
* BMW M exterior trim elements (front & rear fascia, side sills, & trunk lid spoiler)
* Special exterior trim: Anthracite (charcoal) headlight & foglight surrounds, High-Gloss
* Shadowline (black gloss) trim
* Large diameter stainless steel dual exhaust outlets
* Extra thick Alcantra steering wheel
* Sport Seats
* Alcantra & Cloth upholstry to replace leatherette and standard trim
* Choice of "Black Cube" or "Silver Cube" trim
* Anthracite headliner
* Red needles on the instrument cluster
* Unique 18″ Wheels (style 135M), 18×8.0″ front, 18×8.5″ rear
* Wider Tires: 225/40ZR-18 in front and 255/35ZR-18 in the rear.
* Steering ratio: ZHP has the steering ratio of 13.7:1. Non-ZHP cars as well as the E46 M3 is 15.4:1, and the E46 M3 Competition has ratio of 14.5:1.
Obviously the biggest road block is the title, and a trustworthy and thorough mechanic's inspection will be needed before considering purchasing this ZHP. If the damage was minor and well-repaired though, less than $12k is a good deal for a sharp and unique 4-door Bimmer that's just 8 years old.
-NR