It's been a while since I've checked out the R32 market. Last I checked, they were still riding a wave of desirability and scant depreciation. Something has happened in the last year or so, as prices have dropped well into the teens, whereas they used to be routinely low-$20ks. I know there's plenty to gripe about with the the MkIV Golfs, but these R32s still get me going. One of best-sounding hot hatches ever, a good amount of VR6 juice and the AWD I long for, it would probably take ownership of a horrible lemon to turn me off of these. Prices may stabilize in the future, but with 5000 more in 2008 and the imminent Golf R, it's possible the supply of 2004s might just be the same as the demand. Today's comes from the center of V.A.G. awesomeness, Colorado, and gets bonus points because the seller is only getting rid of it to finance a GTI race car. 91k miles and daily-driver wear are the downsides, but a $13.5k Buy-It-Now seems very reasonable.
2004 Volkswagen R32 for sale on eBay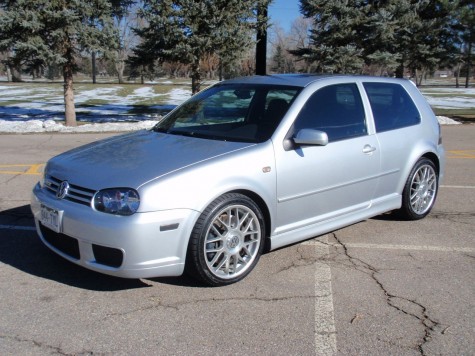 From the seller:
Adult owned vehicle. Stock and unmodified with the exception of Hella tail lights, dimpled/slotted front brake rotors, and an Autotech Sport Tuning upper front stress bar that can be removed.

Vehicle is a daily driver and has no known mechanical issues. Starts up first try every time. There are no fluid drops beneath it in my reserved parking spot. It does not smoke. Oil has been changed using Mobile 1 synthetic every 5000 miles or less.

Having been a daily driver it has some surface scuffs and scratches on the interior and exterior which are associated with normal use. There are some scratches that may or may not be able to be buffed out, one ding over the driver side rear wheel that is remarkable (pictured), and a few light parking lot dings that one would expect to find on any pre-owned vehicle.

There is some wear on the places that one would expect to find it — steering wheel, shift knob, parking brake lever, and the sides of the leather seats where it rubs when you get in and out. The floor mats are the original ones and show definite wear but they are a pretty inexpensive thing to replace. The carpet beneath the driver side floor mats is matted down and shows wear. The passenger side has had far less use and the mat and carpet beneath on that side is in much better shape.

Has 18″ VW OEM BBS RC wheels with center caps. Wheels have marks from parralel parking. I have been told that they can be repaired but have not tried.

The glove box door in the pictures has no handle but it will be replaced before buyer takes delivery.

New OEM headlights with fog lights installed 2/24/12 — car has been driven less than 10 miles since

Clutch, flywheel, etc done by VW dealership in 2011 — Less than 8000 miles ago

New Windshield – September, 2011

Snow tires with about 4-5 months of driving on them — definitely have plenty of rubber to make it through another winter

Dimpled and slotted 13″ rotors in the front. Calipers rebuilt this fall. Brake system flushed and fluid replaced with Motul 600 extreme temperature/racing brake fluid. This car has awesome braking capabilities.

Pioneer touch-screen DVD player with iPod and Pandora control — can be upgraded to include GPS and/or hands-free Bluetooth. Stereo was a Christmas present and installed at the end of January and still in mint condition. Stereo was installed using the factory Monsoon speakers and amplifier via a PAC interface.

It absolutely flies. Has tons of torque. It pulls hard from a dead start to well over 100 MPH or until you run out of straight away. It's nimble and handles fantastically in every possible road condition.

I absolutely love this car and have treated it very well and never abused or beat on it. The ONLY reason that I am selling this car is to buy a VW GTI race car so that I can go racing. I would keep it if I could afford to.
My love for the BBS RCs has faded over the years, but mostly just the chrome versions. These have always been a lot of car in a little package, and even hearing MkIV horror stories, it's exciting to see the prices coming into such reasonable territory.
-NR