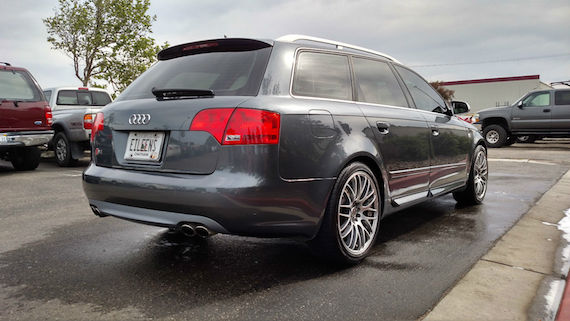 Having just sold my 2006 S4 Avant, I thought kicking off wagon week with this 2005.5 long roof S4 would be appropriate, While this example is very similar to the one I had there are some key differences that lead me to believe the seller's asking price is completely reasonable, despite what the timing chain alarmists will say. This is a two owner car with  under 80k on the clock and the all important 3rd pedal option. My car was a TipTronic model (please, put down your pitchforks) and ultimately that was the reason I didn't hang onto it longer. I loved the way the car drove, especially with the H&R Sport/Koni Yellow set up I had on it but at the end of the day I just couldn't live with the automatic. Most S4 Avant owners know this and for that reason you'll see stick shift examples often priced way higher than what one would consider reasonable. This is not one of those examples, not even close. I got just a few grand less for my automatic with 112k on the clock and a few things that needed attention. Whether that means I got more than I should have or this car is priced very competitively is ultimately up to you to decide but I think it's the latter.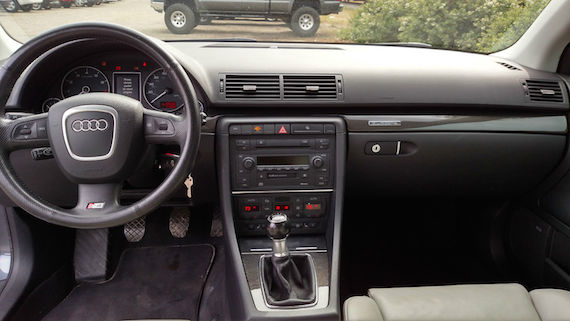 Year: 2005.5
Model: S4 Avant
Engine: 4.2 liter V8
Transmission: 6-speed manual
Mileage: 78,000 mi
Price: $17,750 Buy It Now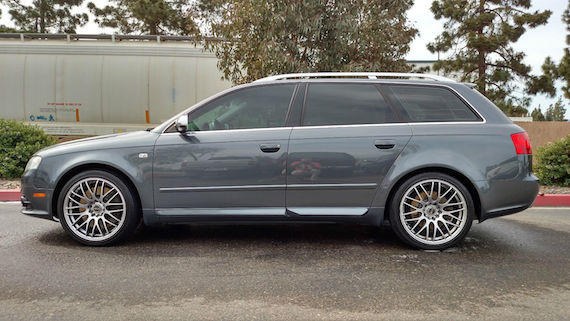 2005.5 B7 Avant with manual 6 speed transmission. Carbon trim and heated seats. 340 hp, This is a rare combination. New steering rack, new rotors/pads and engine gaskets replaced in the last six months. 75k service just completed a few weeks ago at Santa Barbara Audi. Everything works, no issues. Would drive it anywhere, anytime. Most services done at dealer. Happy to help with shipping. Clear Georgia title. Clean Carfax. If you'd like the records, send me your email address, and I will forward them to you.

For some reason, there seems to be some mass hysteria (I'm assuming since this is the most popular question I get…) regarding the timing chain system on these cars. I've searched for, and found a couple of failures, but nothing that make every owner want to run out and replace something that isn't broken. Audi has made a point to engineer a robust system for these cars, that is meant to last the lifetime of the vehicle. The factory doesn't prescribe a regular service interval, such as you would see with a timing belt system. All that being said, I can tell you that I have had zero issues with the timing chains and their associated parts. Thus the parts in that system have NOT been replaced, on this vehicle. If there had ever been something wrong it would have been fixed immediately.

If you have been searching for one of these cars, then you know that my price is fair. Especially for one in excellent condition, zero issues, and low miles.

To all the tire kicking people, that don't know what you are looking at, and continue to cite crazy ridiculous, kbb values to me. Kbb doesn't apply to these cars. Let's not waste each others time. Thanks.

Jamie
402 617 54four7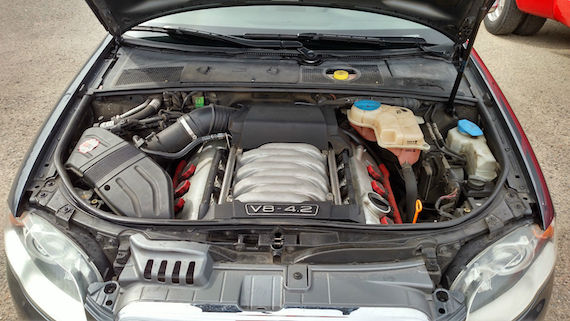 I really, really like the sellers attitude, he seems like a no B.S. kind of guy and that's always a good thing when it comes to these cars. Having just had the 75k mile service done, the rotors/pads, engine gaskets and most importantly the steering rack just replaced, I'd say a potential buyer should have a whole lot of confidence in this car. Yeah, the 2005.5 models have shown to be a little more troublesome than the rest of their B7 S4 brethren but as is often the case with any used car, it all depends on the level of care its had. Seems to me that this owner has doted on the car (though he doesn't have the best taste in wheels) and that's the best kind of owner to pick up one of these up from. I've seen a number of these in the hands of people who were able to afford the price of admission but not keep up on maintenance and the cars end up languishing in a constant state of need.
I learned a lot from my year with an S4 Avant but the biggest thing I took away from the experience was that you don't need to be scared of used German luxury, you just need to be very aware of what you're signing up for. These cars aren't cheap to maintain and they're not cheap to modify but if you accept that, the "risk" is worth the reward. The B7 S4 Avant is easily the best looking of the three generations we had stateside. Its proportions are absolutely perfect in my opinion and it's one of the few cars out there that I wouldn't change a single thing on design wise. I chose to install a euro spec black optic grille on mine and was going to add some H&R Trak + spacers to get the wheels just perfectly flush but other than that, these cars need no cosmetic improvements.
It's really a damn shame that Audi killed this car off in America with the B8 generation, even more of a shame that they chose to pull the A4 wagon from our shores as well. Now we're just stuck with the bloated, not so appropriately named Allroad that no matter how much I want to love, I just can't seem to get behind. That feeling applies to pretty much the all of the Audi USA line and don't get me wrong, they make really great cars but they don't send them over here. No S3 manual option, no S3 hatchback, no A4/S4 Avant, no A6/S6 Avant leads me to think Audi just doesn't care about the folks who helped the brand get to where it is today. For those and many other reasons, I think the B7 S4 Avant with a manual transmission is the best choice a real automotive enthusaist who wants to experience Quattro ownership. If I were interested in picking up another one of these cars right now I'd offer this seller $16,000 and go from there. Even if you ended up paying the buy it now price of $17,750 I wouldn't say that's a bad deal, just maybe not the best.
Cheers,
-Andrew