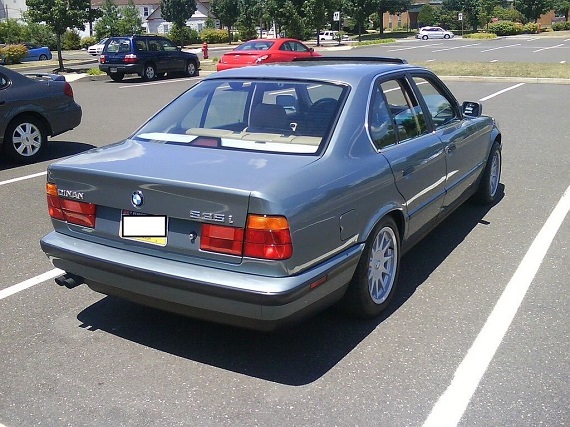 Here at GCFSB, we feature a lot of cars. Since I started writing for this site, I've composed some 1,773 articles, a fair amount of which cover more than one car. So it would be easy to forget that you'd already seen a car. That would especially be the case if a fair amount of time had passed since you last saw it and it was a relatively plain-jane looking model.
Enter this 1989 535i in Cirrus Blue Metallic. Outside of Hartge wheels, it's pretty unassuming. That is, except for the "Dinan" badge on the left side of the trunk.
It's that Dinan badge which unlocks a world of performance that otherwise is the domain of M models, and this sleeper package with low reported miles seems to be a pretty compelling alternative. Immediately, I recognized this car but knew it had been a bit since I last saw it. Since it was originally featured in March of 2014, very little has changed – the seller utilized the same photos and much of the same description from the original ad, disappointingly. He reports about 500 more miles in two and a half years, and unsurprisingly the price has dropped little. The auction is no reserve with an $11,250 starting bid – only about $750 less than the original ask. As the market on E34s really hasn't improved greatly since then outside of some exceptional M5s, I'd wager this automatic 535i – even with the Dinan provenance – will have trouble this time around, too.
The below post originally appeared on our site March 11, 2014:
1 Comment