Today we have an UrQ that has been taken care of since it was born. Owned by car dealership owners and service managers, it's one of the nicest and least-molested examples I've seen in a while. It comes in clean original black with Audi graphics and just-right Ronal wheels; no 17s needed to look badass here. Each owner has meticulously kept maintenance records, and while almost 30 years and 140k miles have left it short of perfection, it's a darn nice example of an increasingly rare car.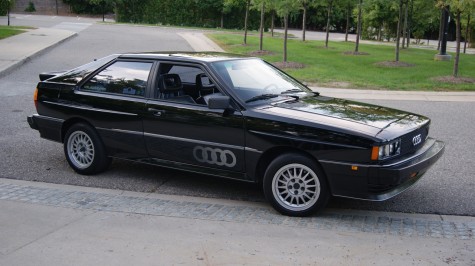 A thorough history showing a beloved car:
Hello, I have for sale an exceptional 1983 Audi Ur Quattro. This particular example is Montego Black metallic, with a chocolate brown leather interior. I have personally owned this vehicle since 1997. I am the fourth owner and purchased it with 91,000 miles on the odometer. It currently has about 139,000 miles and is still going strong. This URQ was originally delivered to Porsche Audi North in Dublin, Ohio. It was placed into service on 8/18/83. As far as I can determine, this URQ was delivered on 3/29/84 as a lease to the owner of Midwestern VW. "Bob Fergus was a successful Volkswagen dealer and the local importer for Ohio, Missouri and Kentucky. Furthermore, he was well known as a privateer in motor racing. He took part in SCCA events, driving cars of various marques like Siata, MG and Austin-Healey. Later on he also campaigned Ferraris." The second owner bought the car when it came off lease in 1987. The third owner who purchased the car in 1993 was a service manager at Byers Imports in Columbus, Ohio, so he spared no expense or time in maintaining the car. Every conceivable record of work done to the car from the first owner, second, third, and myself is included in the sale. This is a truly comprehensive and complete list of maintenance history documented with original receipts and an organized word document of what work was done, how much it cost, by what shop, and at what mileage. It is apparent through all of this maintenance history that the car was always very well taken care of at no expense. Along with this substantial documentation are all manuals including warranty book, owner's manual, radio guide, and an official factory repair manual. Further factory repair procedures are also available which were originally meant for dealership use.

All necessary oil changes have been completed in a timely fashion during my ownership with Syntec and the correct Audi o.e.m. filters. Recently, in the past few years other work done has included but is not limited to: new misc. hoses and tubing, radiator recore and fluid flush, rebuilt interior switch lights, oxs sensor replacement, n.o.s. radio replacement, plugs, wires, cap, and rotor, driver window regulator replacement, various rubber isolator mounts replaced, c.v. boot replaced, manifold redecked with new studs, replace timing belt, tensioners, water pump, seals, valves adjusted, fuel injector seals, etc, etc.
The car is extremely close to stock with the only known up-grades being the desirable wider Audi ronal wheels, uprated Audi 5000 turbo, period performance chip, slight tint, and Stebro stainless exhaust sans cat. That is it. I have tried to keep things original and period as much as possible, sometimes a frustrating and time consuming hobby…
…Items of concern that do not necessarily require immediate attention are a probable need for a new passenger front disc (mild metallic chatter on braking), the a.c. does not hold freon (although all the parts are there), the power door locks no longer work (although the parts are there), cruise control does not work, the diff panel light does not light up, and the e-brake does not function. Sporadically there is a hot-start issue. Body-wise you can see the items I will call out – surface rust on the sill of both sides (has not progressed in 10 years so I never fixed it), paint flaking on rear driver wheel lip (caused by previous owner's large wheel choice), rust on the leading edges of both the trunk lid and hood lip (n.o.s. hood, one steel deck lid, and one fiberglass deck lid included in sale for replacement), and a slight gouge in the bumper corner in a parking lot mishap.I believe that this small scrape and a driver's side door dent accounts for both "issues" reported on the vehicle history. Structurally, the wheel tubs, shock towers, and underside of the car show rust-free. The URQ shows better than average general wear for its age and mileage. The car was never driven in snow, but I definitely drove in the rain (it is a Quattro after all). Please take a look at the pictures and videos in the listing and on my imageshack account for a complete tour of the URQ. If you have any questions please feel free to ask. I currently have the car registered in Michigan with a clean Michigan title in my name. If you would like to inspect the car in person, that can be arranged.
Other desirable extras which come with the purchase of the URQ are a beautiful, rare fiberglass factory replacement deck with all trim included, a steel deck lid, extra spoiler, n.o.s. hood with the e-coat still on it, new window regulator and misc. regulator parts, extra tail lamps and light bar, and three containers full of misc. parts both new and used, an extra spare tire, original roll-up tool kit, and two keys.
This URQ was always stored winters, but thoroughly enjoyed in the no-salt months. I am selling now because I do not get the chance to use it as much as I would like, and would appreciate it going to a new home. Thank you.
This is a clean, well-looked-after example of a car that changed the automotive landscape forever. I'm actually a little sad that it's never been driven in the snow. It has a few spots that would need attention before it was 100% perfect, but it seems like a really great driver that could keep you happily in Audi world for a while. Though small, the amount of work needed makes me surprised to see the 17 bids pushing it up to $10k already. I would have guessed high single-digit thousands, but I guess we're nearing the time for the Quattro to join it's box-fendered 80s brethren like the E30 M3 and Delta Integrale as high-dollar rarities. The price is also a testament to a well-written and complete ad, illustrating that this Quattro has never been neglected, and hopefully never will be.
-NR