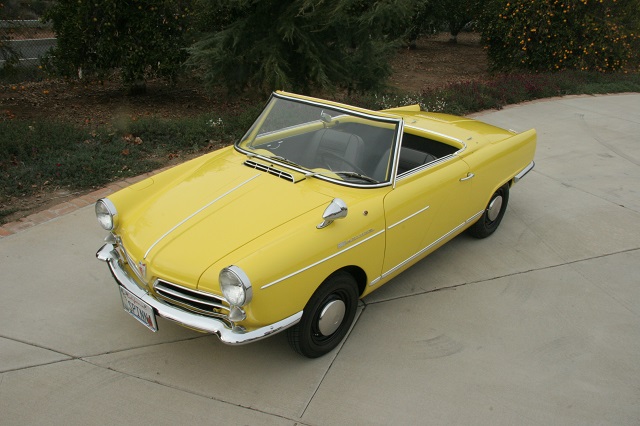 While Porsche's upstart 356 and the breathtaking Mercedes-Benz 300SL were Germany's first real post-War sports cars, they weren't the only attempt to capitalize on the economic recovery. But far from being just a recovery, West Germany's "Wirtschaftswunder" – economic miracle – aided by the Marshall Plan and a focus on strengthening the border states of the 'Iron Curtain' meant that capitalism manifested itself in new ways. Cashing in on a re-emerging middle class with newfound wealth and prosperity, companies like BMW and Volkswagen launched new sportier versions of their small, economical sedans. The 700 Coupe and Karmann Ghia, launched in 1959 and 1955 respectively, might not have had the power of Porsche or the Gullwing, but still brought sport and style to a much larger market. Both designs utilized existing technology to create a rear-drive, rear-engine two-seater that still was budget friendly.
However, they weren't alone in the market. Auto Union's main production lines in Chemnitz lay firmly in Soviet control, so it was the DKW brand which shouldered the responsibility of rebuilding the company. That would bear the 1000SP in the late 1950s – a lovely, but not particularly sporty, personal coupe and convertible. Prior to its merger with the Volkswagen Group in 1969, though, NSU – a firm more known for its pre-War motorcycles – had ventured into small sports cars. The result was the legendary Prinz and TT models; small, efficient, fun to drive rear-engine sedans. NSU branched out in 1964 and offered the world's first rotary-powered limited production convertible in an attempt to ascertain if the technology was applicable to normal production. With technically a mid-rear design, it was a revolutionary alternative to the BMW 700: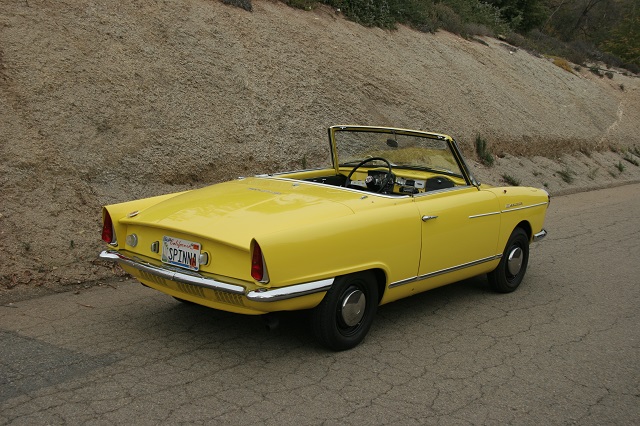 Year: 1965
Model: Spider
Engine: .5 liter single-rotor
Transmission: 4-speed manual
Mileage: 20,700 mi
Price: $27,500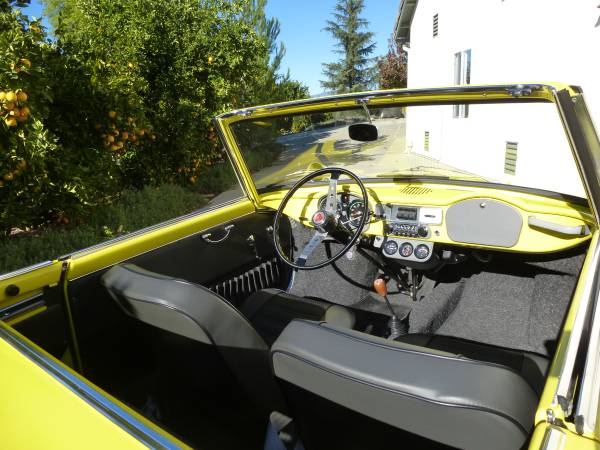 For Sale — 1965 NSU WANKEL Spider
~20,700 miles
Originally sold in California and stored in a dry warehouse for over 30 years – totally rust free and complete. Most of the badges are original. The paint, interior, carpets, canvas top and removable hard top are restored. The engine is a rebuild from Germany with new materials, but looks original and runs great.
This car was featured on the American TV show "101 Cars You Must Drive" and in Classic Car magazine. It has won several 1st place trophies in its class in car shows, most notably at 2011 La Jolla Concours. It was featured in the San Diego Automotive Museum for a year. The car turns heads everywhere.
Professionally rebuilt starter, alternator, carburetor, CD ignition, fuel tank, radiator, suspension, new shock absorbers and brake calipers, many other new parts. Bumpers re-chromed, all other parts painted or powder coated. Like new aircraft stainless steel exhaust system, nice chrome wheel trim rings. A panel of gauges is added under the dash for a coolant temperature gauge, clock and voltmeter. The vintage Blaupunkt radio functions and has an electronic antenna. The dash has been painted the color of the car with a custom gauge panel and glove box door.
Much time, love and $$ went into the restoration of this rare, wonderful little automobile. I have two other NSUs and not enough time to devote to all of them.
Asking $27,500 or best reasonable offer.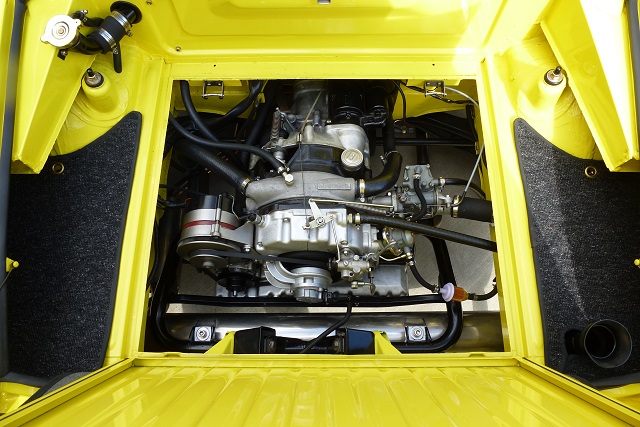 While it was relatively lightweight, the decision to put the unorthodox Wankel single rotor at only .5 liters unfortunately doomed the Spider. Would it have had a larger or more conventional motor, the power output relative to the fuel economy offered would have been more acceptable relative to its price point. Then there was the issue of dependability, as the motors required 30,000 mile rebuilds – normal for a Ferrari, but then you didn't buy a Ferrari. You see, the Spider hit the U.S. market at nearly $3,000 – compare that to the 1964 Ford Mustang, which was some $750 less. One went on to sell half a million models in its first year, and the other is a pretty obscure page in German car history. The total production of Spiders over the 4 year production span was only 2,386, according to Audi.
Despite that, the Spider isn't failure. The Bertone design is beautiful, and most would probably think you were driving an Alfa Romeo or Fiat rather than a product of Germany. There's a lovely simplicity to the lines, and with shorter overhangs it looks more the sports car part than the 1000SP. The current seller indicates that this particular example has won several local trophies, and it's easy to see why; the presentation is top notch throughout and the car appears as a turn-key, show-ready example with no excuses. Finding any NSU in such a state is hard to contemplate, but one of the rare Wankel Spiders makes it all the more special. What made the NSU a slow seller in period now make it endearing; obscurity is often now prized more than whether or not the car was dynamically outstanding. Only 215 of the entire production run made it to the U.S., and it's hard to imagine driving this car you'd ever see another unless you were at a marque-specific show (and even then, it's somewhat unlikely!). For an attention-getting, attractive car that will leave most enthusiasts smiling but still scratching their heads with the "I've never seen one" factor, it's hard to see how you could outdo this lovely NSU.
-Carter