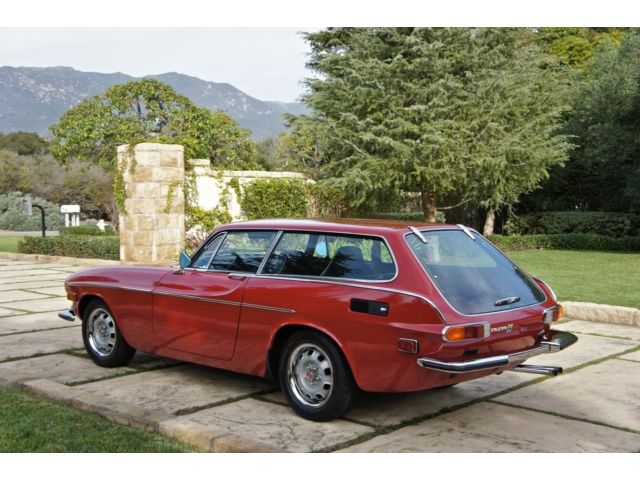 There's a running joke here at GCFSB regarding Volvos and SAABs. Without exception, every time we post one someone comments either here or on our Facebook page that those two manufacturers aren't German. It doesn't really matter that we explain nearly every time that though we know this, we still enjoy to look at a super Swede from time to time since – let's face it – a majority of people on Facebook don't actually read the articles that are posted, but rather just react to the headlines. Now, we could actually get into a discussion about how the Swedes are actually a Germanic based tribe if you go back far enough, or how many of their engineering principles fall in line with those of their Southern neighbors. We could mention that many of the newer Volvos and SAABs actually utilized German derived chassis from either Ford Europe or GM's Opel division. But that would be pointless since those arguments don't apply to today's example, the P1800ES. You see, Volvo is mostly regarded as builders of very slow moving, very safe and very conservative boxes – but go back a few generations, and Volvo threw a few curve balls as the plate. None were more curvy than the P1800, a pseudo-sports car with stunning looks available in coupe version or the more rare 2-door wagon: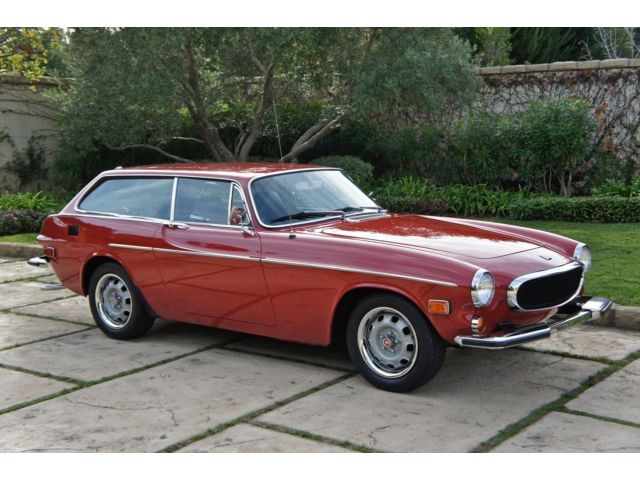 Year: 1973
Model: P1800ES
Engine: 1.8 liter inline-4
Transmission: 3-speed automatic
Mileage: 79,793 mi
Price: $42,000 Buy It Now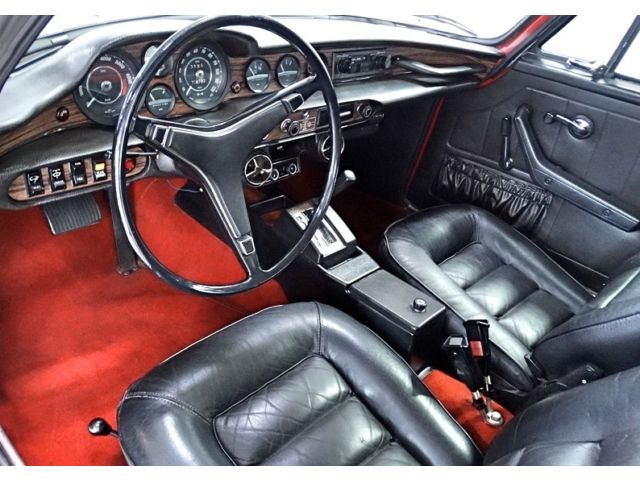 This car was sold new to its original owner, Dr. Robert H. White, Jr., by Annapolis Motors Inc. in Pennsylvania. In 1993, the car was purchased back by the original dealer and then held on the showroom floor and maintained ever since. The car is finished in its stunning original color combination of Volvo Red (code 46) with black leather interior. One owner with known history since new. Only 79,793 actual miles. Fuel injected. Extremely rare and desired Borg-Warner 3-speed automatic transmission. The car is in spectacular condition and comes with the original jack, tools, owner's manual, service manual and maintenance records. This is a collector's dream! One of the nicest examples of this highly desired and sought after model found on the market today!

An almost identical car sold at Bonhams Greenwich 2014 Auction for $92,400 US!

https://www.media.volvocars.com/global/en-gb/media/pressreleases/147678/pristine-volvo-p1800es-sells-for-record-price-at-bonhams-auction

Here is an interesting history on the P1800 by Dan Jedlicka:

1961-73 Volvo P1800

The Volvo P1800 sports coupe seemed to come out of nowhere. It took everyone by surprise when it arrived in 1961 because Volvo was considered a sober Swedish automaker known to most Americans for plain-looking, rugged family cars.

Volvo actually had made a few fiberglass-body sports cars called the Sport in the 1950s, but they came and went so fast you missed them if you blinked.

Volvo was in fact far more adventuresome than most Americans thought. Assar Gabrielsson, Volvo's founder, had come to the United States in 1953 to study the market here and to examine the then-new fiberglass-body Chevrolet Corvette at its Flint, Mich., assembly line. He felt that money could be made with a fiberglass body sports car

Volvo's first family car for the American market was its PV444 two-door sedan, which had been sold in Sweden for years but arrived here in 1956, looking much like a 1946 Ford. It was light and fast enough to beat sports cars on tracks with its rigged dual carburetor four-cylinder engine and floor-mounted manual-transmission shifter.

Gabrielsson arranged to have California's Glasspar outfit, which made fiberglass bodies for the zoomy Kaiser-Darrin sports car, build a prototype Volvo sports car using PV444 components. The rather awkward-looking Sport debuted at the Brussels Motor Show in 1955, and brochures for the car were printed for the U.S. market. But few here even knew about the PV444, so there were hardly any takers for the Sport. Only 67 were made in 1956 and 1957 before the car was dropped.

But the Sport's failure didn't discourage Volvo, which continued to eye the booming U.S. sports car market. Helmer Petterson, who had styled the 1944-57 PV444, convinced new Volvo chief Gunnar Engellau to try another sports car for the U.S. market. Engellau felt the new car—the P1800–would have a better chance of succeeding if styled in Italy, the world's exotic sports car capital. Thus, Italy's veteran exotic car design outfit Ghia and its subsidiary, Frua, were contacted.

Petterson's son, Pelle, had gone to work for Frua and, as it turned out, Engellau selected a P1800 design done by young Petterson. The design carried the Ghia stamp, and Engellau didn't know young Petterson had been involved.

The P1800 didn't look like the Sport or an old Ford. It had a beautifully shaped low roof and curvy lines. Up front was a Ferrari-style "eggcrate" grille, and modest tailfins at the rear seemed to hover above bullet-shaped pod taillights.

Dashing actor Roger Moore, who later became famous for portraying James Bond in movies, was widely seen racing around in a P1800 in episodes of "The Saint" television series of the 1960s.

Many thought Volvo had taken leave of its senses when the P1800 arrived. The PV444 was quickly followed by the very similar PV544, which also did well on tracks. It made Volvo widely known to many Americans until dropped in 1965 and established the automaker's reputation for durability and ruggedness. The P1800 thus seemed as if it would be plenty trustworthy to its first-time buyers.

The P1800, which had a 1.8-liter four-cylinder engine, soon became the sports car of choice—mainly among conservative folks drawn to the stolid Volvo nameplate. Most American sports car buyers stuck with more adventuresome cars such as the Jaguar, MG, Triumph, Austin-Healey and Chevrolet Corvette.

Volvo's production lines were jammed with its new Amazon sedan, which was built with the PV544, and eventually succeeded it. So Volvo farmed out construction of the P1800 unit body/chassis structure to the Jensen auto facilities in England—although production was transferred to Sweden a few years later.

The first Frua-built P1800 prototypes were at the New York and Brussels auto shows in early 1960, where many showgoers doubtlessly said, "That's a Volvo!?" Production didn't begin until mid-1961.

Road & Track magazine grabbed an early production prototype and reported that the P1800 "is a true sports car of a type we can expect to become extremely popular."

The P1800 body was made of steel, not fiberglass. The sporty interior had bucket seats and lots of gauges in an instrument panel overly stylized for a sports car. It was clear Volvo was just learning about the sports car market.

But the large front orthopedically designed seats were comfortable, the trunk was useful and the heating/ventilation system was good, which couldn't be said for many rivals. "Because America is a land of extremes in weather, the (P1800) is better suited to American use than are many imports," Road & Track noted.

The P1800 was mainly promoted as a two-seater, but had a tiny backseat like the Austin-Healey sports car.

Volvo wasn't about to take changes on exotic components, so the P1800 was based on the sturdy Amazon. The new car's dual-carburetor four-cylinder engine developed 100 horsepower. A four-speed manual transmission with overdrive shot power to a conventional coil-sprung rigid rear axle. The front suspension also had a commonplace coil-spring design

The 2,400-pound P1800 was fairly light, so acceleration was decent. So were steering, handling and braking.

But nobody said the P1800 was exciting. It wasn't supposed to be an all-out sports car. Rather, Volvo just wanted a solid sporty auto that would enhance its image and make it a few extra dollars by being a steady seller.

Volvo kept refining the P1800. By late 1964 it transferred production from England to its expanded facilities in Sweden. There were minor cosmetic changes, and the 1964 model's name was changed to 1800S. Road & Track said in 1967 that the auto "still has a lot of appeal…and still is a soundly constructed, rugged car that offers decent value for the money."

The engine was enlarged to two liters in 1968 and horsepower rose to 118. Fuel injection was added to the 1969 model—called the 1800E. The dashboard was redone, and horsepower rose to 130, making the 1800E fairly quick. It still wasn't the fastest thing on the block, but could cruise all day at 80 mph. And it had a beefed-up gearbox and new four-wheel disc brakes, besides new cast alloy wheels.

The P1800 tailfins actually looked a little dated even in 1961, so the car really began to look old by 1971. That's when Volvo again surprised everyone by offering it as a sports/GT station wagon it called the 1800ES.

To make the "sports wagon", Volvo chopped off the coupe's roof and substituted a "squareback" style with long rear windows, rakishly slanted back roof pillars and a frameless lift-up glass hatch.

The original P1800 thus became a "sports wagon" with a new look and more utility. It was still tight in back, despite more headroom, but there was additional cargo space. Volvo widened the wheels and tires to handle heavier loads, and an automatic transmission became an option.

It was hard to top the Frua-designed 1800ES if you had outgrown sports cars and wanted a racy small wagon. It did well before Volvo ceased production in June, 1973, although some were sold as 1974 models.

Volvo sold 39,407 P1800 coupes and approximately 8,078 1800ES wagon versions of it, so sales of its sporty car totaled 47,485 units from 1961 through 1973.

Not bad for a car from an automaker most regarded as bland!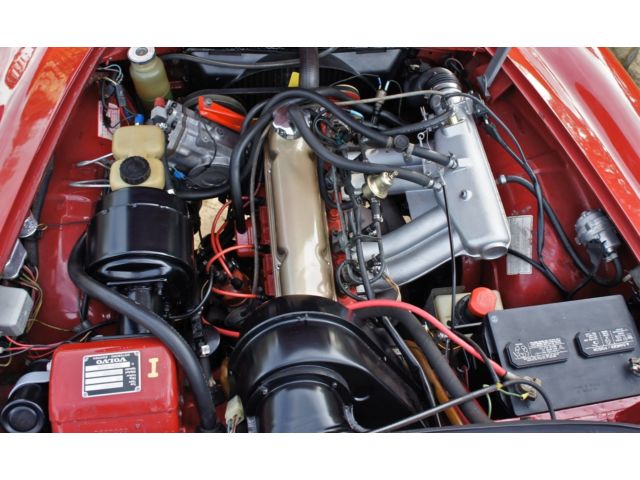 It's possible to find P1800ESs for sale virtually every week despite their relatively low production numbers and that over 40 years has passed since the last was produced. That's a testament to both their build quality and the enduring appeal of the design. However, few appear in the condition of this particular ES. It's just amazing, all original and just about perfect. I have a dream of owning one of these ESs at somepoint, though finding one that doesn't have a long list of needs is certainly difficult. As with older BMWs and Mercedes-Benz models, while it's possible to restore one you're likely much better off buying the best condition one you can find. While you'll pay a premium, that premium eliminates headaches, time and difficulty sourcing parts. This car is listed about $10,000 above a condition 1 example according to Hagerty, but if it's very unusual to find 1800s for sale in this condition and with this history. If you're looking for one of the best ESs out there, look no further.
-Carter