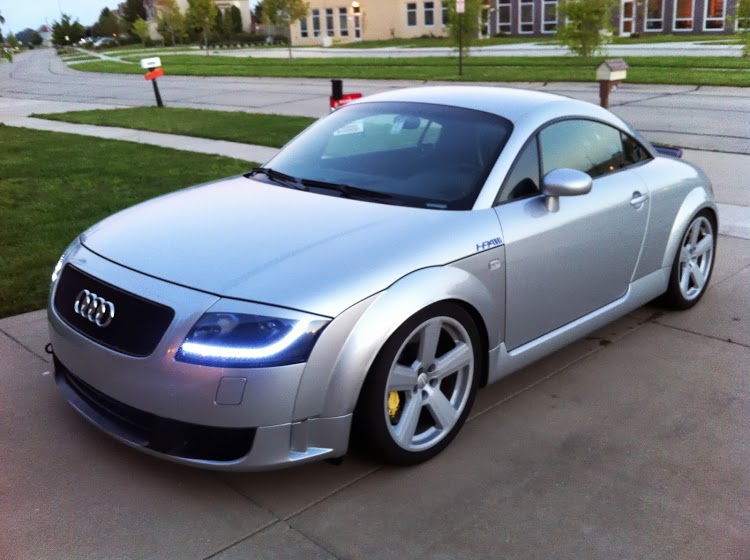 When you think of great tuning companies for German cars, most of them reside in the motherland – AMG (pre-Daimler takeover), Alpina, AC Schnitzer, Abt, Ruf, and Techart. Over the past two decades, a few U.S. based tuners have raised their game to match some of the German offerings, such as Dinan, Turner, Active Autowerke and Renntech. But around 2004, a new kid popped into the tuning scene in a major way, and he was from Canada. HPA stunned the tuning world at SEMA in that year with its twin-turbo R32, a car that would go on to be featured and much loved in Gran Turismo 4. What was so shocking? How about 450 horsepower, 0-60 in under 4 seconds, and a sticker price of $80,000. Car and Driver proclaimed the conversion was good enough to look like it came from the factory. HPA has since gained notoriety for building some monstrously powerful Volkswagen and Audi products, but because they're not in the Ivy League of tuners and are somewhat obscure, you can get some pretty outlandish performance for not much money. Today's HPA TT 550 is a good example of this performance bargain: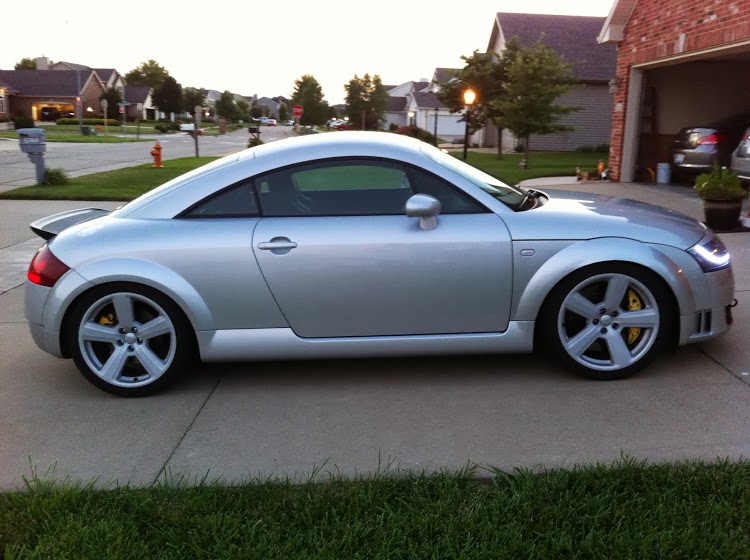 Year: 2005
Model: TT
Engine: 3.2 liter twin-turbocharged V6
Transmission: 6-speed manual
Mileage: 49,500 mi
Price: $22,000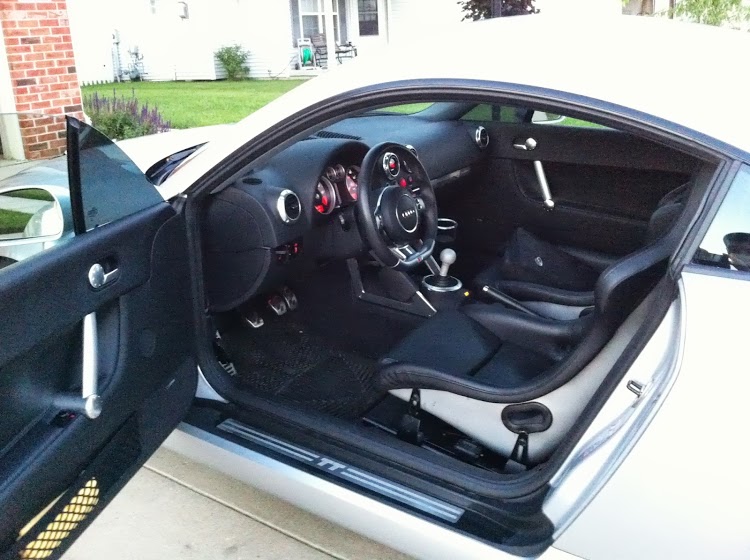 Relocating across the country and ready to let the car go. Need it happen in three weeks so it's priced at 22k. For a 550hp, 550lbft, 4 wheel drive german coupe that does not have any issues what so ever, it's a steal. Car is a beast and absolutely solid. Please contact me ONLY if you are serious and have the funds. See below for detailed specs. For current photos, and video follow the link provided here and click on the album:

https://plus.google.com/u/0/105172611491520796779/posts

Car Specifications:

Base Car: 2005 Audi TT 3.2L V6.
Exterior / Interior: Lake silver / Black
Current mileage: 49,500
Overall exterior condition: 9/10
Overall interior condition: 9/10

Performance Figures:
HPA Custom FT-550
540hp @5700rpm
560 ft-lbs torque @3500rpm

Engine specs:
8.5:1 Compression Ratio
KKK K04 ball bearing turbos
1.2 bar Boost
Race Grade Connecting Rod Bearings
Cast aluminum short runner intake manifold
Dual air-to-air side mount Competition intercoolers
HPA Proprietary silicone boost plumbing
High flow fuel supply system

Exhaust:
Twin 60mm Downpipes
Stainless Steel 88mm exhaust with dual bypass valves

6-speed transmission:
OEM R32 O2M 6spd gearbox with:
Lengthened Ring and Pinion
Hardened 3 through 6th gear set
Peloquin Pos Differential and Bolt kit
Spec Stage3R based clutch and Flywheel

Quattro AWD Drivetrain:
Orange Haldex Sport Controller

Sport Suspension:
KW Variant 2 coilover suspension
H&R Rear Anti-swaybar
Defcon 1 front control arm stiffening kit

Brakes:
Alcon 4-piston calipers with 14″ Stasis rotors
12″ Stasis rear rotors

Interior:
Stable Energy roll cage
Recaro Pole Position leather racing seats
Custom Sliders
Euro RS4 Steering wheel
Digital boost pressure, voltage meters

Maintenance & Upgrade History:
Before 18,000 all maintenances were performed per Audi's recommended schedule at the dealership where the car was purchased new in Normal Bloomington, IL.

@ 18,000 miles
1. Engine oil changed (Castrol 5W-50)
2. Brake fluid changed (Motul RBF600)
3. Fuel filter
4. New plugs
5. New MAF sensor
6. HPA FT 400

@ 20,000 mile:
1. DSG Transmission oil changed (OEM) / 6qt( 5.5L ) / from ECS tuning
2. Haldex Oil changed (OEM) /

@21,000 miles
1. Motor Oil changed (Castrol 5W-50) / 6 qt(5.5L) / from Advanced autoparts
2. Rear differential Oil changed (Synthetic Man. Trans. & Transaxle Gear Lube (75W-90) API GL-4 ) / 1 qt / from AMSOIL
3. Intake air filter (Absolute Efficiency Air Filter, EAA208) / from AMSOIL
4. Cabin filter (WIX 24822 Cabin Air Filter) / from AMSOIL

@23,200
1. New MAF sensor

@24,000
1. New engine oil
2. Front differential oil changed – Synthetic Man. Trans. & Transaxle Gear Lube (75W-90) API GL-4 ) / 1.5 qt / from AMSOIL

@30,000 (everything performed at HPA)
1.Conversion: Twin turbo, DSG (Clutch pack, Mechatronics), custom full exhaust. Done at HPA
2. Engine oil (Mobile 1 0W-40)
3. Haldex oil
4. Water pump
5. DSG oil
6. Thermostat
7. Power steering fluid
8. Coolant
9. Spark Plugs
10. Fuel filter
11. New suspension (KW V2)
12. Strut bearing, strut mount
13. See main specs above for details

@32,800 on August 11, 2008
1. Engine oil (Mobile 1 0W-40), 5.5 quarts

@36,000 on April 3rd, 2009
1. Engine oil (Mobile 1 0W-40), 5.5 quarts
2. DSG oil (OEM) 5.5 quarts
3. Engine oil temp sender, gauge
4. DSG oil temp sender, gauge
5. O2 sensor (Bank 2, sensor 1)
6. Driver side front CV boot (8N0498201D)

@37,750 on August 9th, 2009
1. Haldex oil and filter change
2. Break Fluid change
3. Fuel level sender cleaning
4. New brake pad: all 4 corners

@39,000 miles on Oct. 18th, 2009
1. Engine oil change (Mobile 1 0W-40)

@40,000 miles
1. 6-speed manual conversion
2. Exhaust upgrade (resonator removal)
3. Turbo rebuild
4. Engine side plate seal
5. Transmission main seal, release bearing

@42,600 miles on Mar. 19, 2011
1. Engine oil: Mobile 1 0W-40 5.5L

@45,000 miles on Apr. 1, 2012
1. Engine oil: Mobile 1 0W-40 6L

@47,000 miles on Dec. 5, 2012
1. New MAF sensor

@48,500 miles on April 20th, 2013
1. Engine oil: Mobile 1 0W-40 5.5L
2. New serpentine belt
3. New belt tensioner
4. New post-cat O2 sensors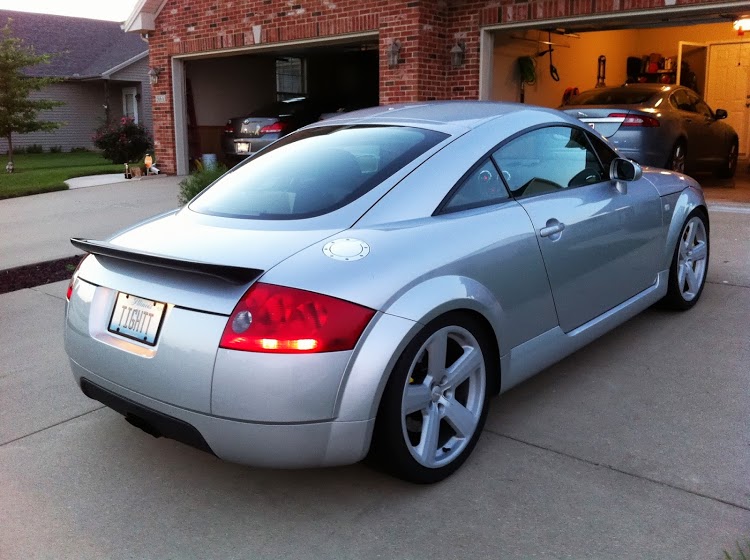 No, you're not reading the advertisement incorrectly. That's 540 horsepower. Want an R8 V10 but $100,000 shy of the asking price for a used one? Here's your car. The performance produced by these cars is simply staggering, and the ask price for the car is only about half of what the price of the twin turbo conversion runs. At $22,000, this car sure looks like a ton of performance for the money. Without a doubt, that performance comes at a price – it's not very surprising that the first DSG transmission only lasted 10,000 miles. Still, though, with a 6 speed conversion, some inviting looking Recaros, and enough torque to light up all 4 sticky tires, it's not surprising this car has gotten some use. I would expect some large repair bills looming in the not-too-distant future. I'm not a huge fan of either the RS6 wheels or the headlight treatment on this car, but both of those are pretty easily remedied. Throw the OEM lights back in and a set of BBS LMs on there and call it a day!
Would I buy this car? Well, that's a very interesting question. There was point when the early Callaway and Dinan turbo cars weren't worth much more than a stock car; but over the past few years appreciation for them has grown and good examples now command a premium. Go back and look at those cars, and the fit and finish of the twin turbo conversion on this car is significantly better. Those cars also required some serious maintenance to go along with their raised performance. Will the future hold a similar fate for the HPA cars? Only time will tell and it may be an expensive journey. But you may get in on the bottom floor of one of the best kept performance secrets out there, and you'd be on the express elevator for sure.
-Carter