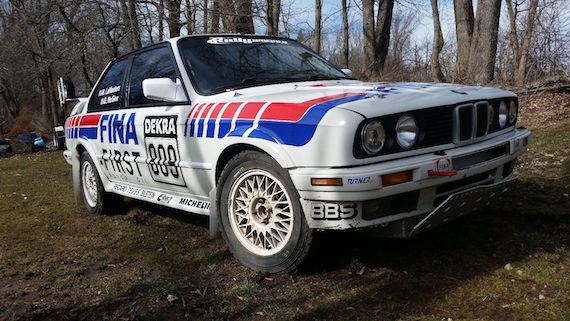 Alright, folks, it's Thursday. We're almost to Friday, and it's time to start thinking about weekend fun. I love taking the M5 out for a weekend cruise, but I've always wanted to try out rallying. It has typically seemed cost-prohibitive, as most autosports do, but today we have a kickass, fully-prepped E30 rally car that looks ripe for the picking.
From the inside out, what started as a lowly 325e has been converted to a serious race machine. The S52 swap doubles the horsepower of the original eta engine, while the suspension has been redone with ix and Bilstein parts. The interior is full rally spec, with an approved cage, seats, and a giant e-brake handle just like Ken Block. Outside, an ix-style M-Tech kit supplements the raised suspension while a FINA-tribute sticker job makes it look like the all-business machine that it is. The custom skid plate that goes back to cover the transmission both looks awesome and is extremely useful – pretty much the general theme of this dirt-tosser. There are clearly tons of regulations that I'm ill-equipped to comment on, but it sounds like the seller knows his stuff and assures us it's ready to go racing.
It would surely be a lot to dive into and the future investments will be serious, but a no-reserve auction means you could at least get behind the wheel for a really good deal.