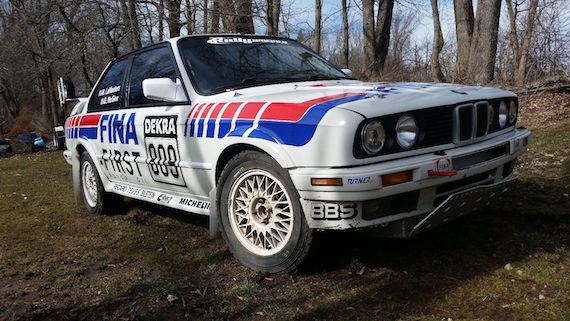 Alright, folks, it's Thursday. We're almost to Friday, and it's time to start thinking about weekend fun. I love taking the M5 out for a weekend cruise, but I've always wanted to try out rallying. It has typically seemed cost-prohibitive, as most autosports do, but today we have a kickass, fully-prepped E30 rally car that looks ripe for the picking.
From the inside out, what started as a lowly 325e has been converted to a serious race machine. The S52 swap doubles the horsepower of the original eta engine, while the suspension has been redone with ix and Bilstein parts. The interior is full rally spec, with an approved cage, seats, and a giant e-brake handle just like Ken Block. Outside, an ix-style M-Tech kit supplements the raised suspension while a FINA-tribute sticker job makes it look like the all-business machine that it is. The custom skid plate that goes back to cover the transmission both looks awesome and is extremely useful – pretty much the general theme of this dirt-tosser. There are clearly tons of regulations that I'm ill-equipped to comment on, but it sounds like the seller knows his stuff and assures us it's ready to go racing.
It would surely be a lot to dive into and the future investments will be serious, but a no-reserve auction means you could at least get behind the wheel for a really good deal.

Year: 1985
Model: 325e
Engine: S52 3.2 liter inline-6
Transmission: 5-speed manual
Mileage: 110,000 mi
Price: No-reserve Auction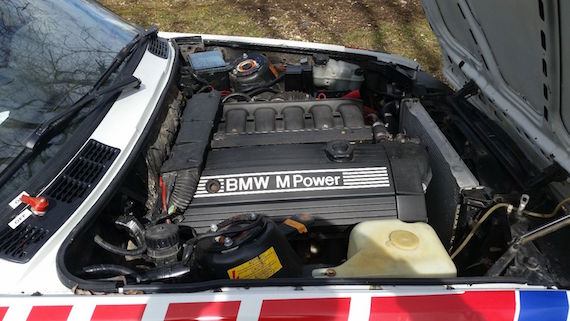 Ready to race. Body/Interior: 85 325e, recent white paint and FINA livery graphics. IX side skirts and flares, custom skid plate by Cage This, extends back beyond transmission, LDPE fuel tank protection. Full winged Bimarco FIA seats, good GForce harnesses, aluminum co -driver foot brace, ham radio, extinguishers, hydraulic hand brake.

Driveline: s52 M3 motor and gearbox, no oil burn, upgraded oil pump, and baffled oil pan, 3.73 lsd diff. Suspension : Bilstein HD with ix springs front, convertible springs rear, have JVAB custom front struts with Bilstein universal struts (never used). Fully re-bushed rear suspension, new front control arms, spare urethane bushings come with.

Wheels etc.: currently on 15″ IX wheels with new rally tires, just STPR on them, 3 spare IX wheels with good used tires. 4 , 15″ alloys with decent street tires. Full 5-lug e36 conversion parts available as well. Other: trunk ratchet strap assembly for spare tire, can fit two for rough events/ballasting. Crack free dash cones with, spare new control arm, bunch of other stuff too, gauge cluster, hood, flares, side skirts, first aid, etc.

Cage: log-booked car, passes NASA and Rally America tech, done by Bill Doyle of Cage This, 1 3/4″ DOM, tight fit to shell, very tidy, has extra gussets to pass Mt. Washington or Pikes Peak tech. Cage passes through to front and rear strut towers. Cage will pass Mt. Washington tech too. Only 3events on the fully car: NEFR 2014, dnf due to snapped rear half-shaft. Black River Stages, 2014, finished. STPR, 2015, finished strong. Car is very quick, handles very well, does well in class, and in 2WD overall, quicker than some AWD turbo cars as well.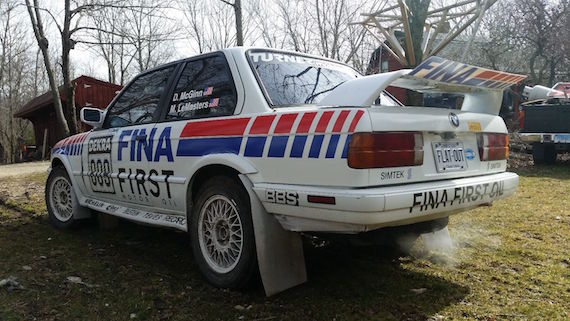 Starting at $7,500 seems extremely reasonable considering what E30s are going for. A ton of work has gone into making this car quick, safe, and fun. For anyone who has some hobby money and has been eyeing rallying for a while, this seems like the ideal entry point.
-NR