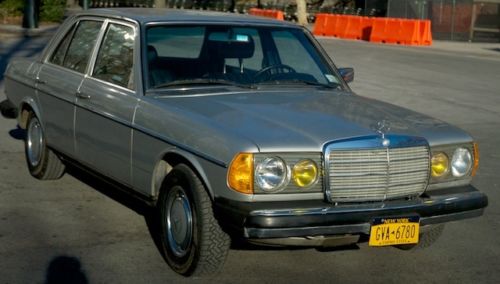 I knew I had to write this one up as soon as I clicked through the link.  In my opinion the W123 platform is the peak of Mercedes' restrained design that is still head turning and beautiful. It is truly hard to imagine any automaker coming up with such a tidy package these days, especially Mercedes, what with their current love of creases, creases and more creases. This is truly an elegant machine, built for cruising out to the country house with family or the beach house with the tennis instructor, either way you'd get there in comfort and style.
I'm a big fan of the Astral Silver paint on this extremely low mile example. It can appear to have a greenish tinge to it when in the right light, really a unique look that fits the vibe of the car perfectly. I hope the buyer lives in New York too because that plate looks just right. It's a very minor detail that people often overlook on their otherwise obsessed over vehicles but I think a license plate can make or break the look of a car. In this case, it is very much make, thanks largely in part to the yellow euro lights.
Of course the interior is something to behold as well. It's perfectly sparse, like a corner office in 1970s Germany. One of the things I like most about the W123 is that it's a 70s design that carried over into the 80s. Sure I'm a fan of the W124 as well because they're practically indestructible and it's the first Mercedes I ever rode in but it doesn't hold a candle to its predecessor. Years of beautiful Bavarian design influence is clearly evident in this car and it's not hard to see why they're collector items for people who simply love great design.