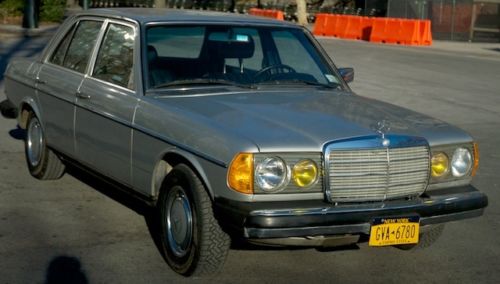 I knew I had to write this one up as soon as I clicked through the link.  In my opinion the W123 platform is the peak of Mercedes' restrained design that is still head turning and beautiful. It is truly hard to imagine any automaker coming up with such a tidy package these days, especially Mercedes, what with their current love of creases, creases and more creases. This is truly an elegant machine, built for cruising out to the country house with family or the beach house with the tennis instructor, either way you'd get there in comfort and style.
I'm a big fan of the Astral Silver paint on this extremely low mile example. It can appear to have a greenish tinge to it when in the right light, really a unique look that fits the vibe of the car perfectly. I hope the buyer lives in New York too because that plate looks just right. It's a very minor detail that people often overlook on their otherwise obsessed over vehicles but I think a license plate can make or break the look of a car. In this case, it is very much make, thanks largely in part to the yellow euro lights.
Of course the interior is something to behold as well. It's perfectly sparse, like a corner office in 1970s Germany. One of the things I like most about the W123 is that it's a 70s design that carried over into the 80s. Sure I'm a fan of the W124 as well because they're practically indestructible and it's the first Mercedes I ever rode in but it doesn't hold a candle to its predecessor. Years of beautiful Bavarian design influence is clearly evident in this car and it's not hard to see why they're collector items for people who simply love great design.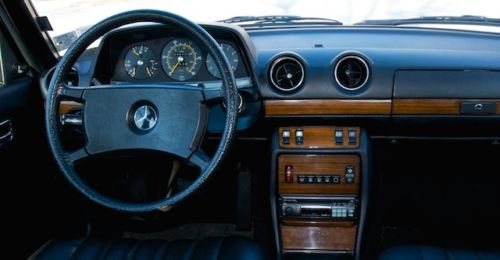 Year: 1981
Model: 280E
Engine: 2.8 liter inline-6
Transmission: 4-speed automatic
Mileage: 36,000 mi
Price: No Reserve Auction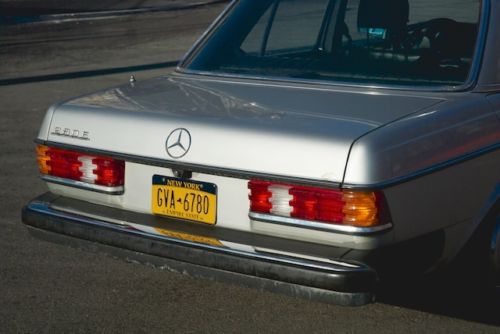 "Oh lord, won't you buy me a Mercedes Benz."- Janis Joplin recording, "Mercedes Benz", in 1973.

This rare, gasoline (regular octane) 1981 Mercedes Benz sedan, with its timeless poise and class, has an electric retracting sunroof for breezes at any speed. The car has barely been used by its original owner, 36,700 (really) miles, 200,000 to go.

"Because Everything Matters"

 Classic Exterior

◦Beautiful lines

◦Astral silver metallic finish, glossy and smooth, predating dip painting

◦Chrome bumper and trim, not silvered plastic

Elegant Interior

◦Like-new

◦Black MB Tex, embossed and embossed stitching and like new carpeting

◦Wood trim

◦Chrome details

◦Arm rests in front and back

◦Ample rear seat leg room

◦Bad weather carpet inserts

Mercedes Options

◦Cruise Control

◦Climate Control

◦Large trunk

◦Quartz chronometer

Other Options

◦Alpine AM/FM radio, CD Player

New 

◦New tires

◦New Battery

◦New fuel pump and filter

◦New heating impeller

Original

◦Purchase documents

◦Manuals (owner, engine, chassis, service, maintenance, passenger car)

◦Mercedes first aid kit

◦Mercedes tool kit

◦Maintenance records

Life Experience

◦No accidents

◦No city driving

◦No exposure to snow or ice

◦Always garaged in Manhattan, and

◦Rarely used.

Reasons for Model Scarcity 

◦Mercedes's switch to diesel for the U.S. market after 1981, in response to the oil crisis

◦Mercedes's W123 chassis, famed for reliability and durability, led to models being redeployed for African bush taxis on rough roads and rugged terrain with only basic maintenance required.

Reason for Selling 

Regrettably, we are selling this classic car with its timeless beauty (at our price). We have spent thousands on insurance and garage parking in Manhattan since its purchase new in 1981 for summers in Connecticut, but it has been unused since 1990.

Value

◦ Autocheck score of 75 compared to 15-36 for same make and model. (Report available.)

◦       Autocheck, Hagerty and Edmonds criteria confirm value $14,900.

Potential Buyers 

◦Family (seats five comfortably)

◦Classic car collection

◦College student seeking retro

◦Weekends in the country

◦Bloke (includes females) loving style and heritage.

Close 

◦Manhattan

◦ACH transfer

Details are what make a car great and the details in this vehicle are eye popping. Just look at that gauge cluster, it's gorgeous! I mean its practically got a Braun clock (these days it probably would be branded) and the brushed metal accents in the centers, just so well done. The lack of a tachometer makes the obvious even more clear, this isn't a sport sedan. This is the highway cruiser, built to cover long distances without breaking a sweat. I am very, very curious to see what this vehicle ends up selling for given the very relaxed life it has led. I love the description the seller has included, especially the potential buyers segment.
"Family (seats five comfortably), classic car collection, college student seeking retro, weekends in the country, bloke (includes females) loving style and heritage"
Now that is how you go about getting a car sold. Get the imagination wheels turning in a potential buyer's head and the desire to make the dream come true will usually trump fiscal responsibility. Even if this vehicle climbs into high price bidding territory I'd say the hell with it, throw caution to the wind and do what you gotta do in order to make it yours. Low mileage W123's don't come along very often, let alone an crispy looking 280E that has lived in a garage in Manhattan since 1990. This car deserves a good home, one where it will be driven frequently and enjoyed for another 34 years by a new owner. I know some people would want to continue to keep the miles super low and treat this as an investment but that just seems wrong to me. We know the high mileage potential these cars have, it'd be fun to snag one with so few and enjoy the magnificence of it's simplicity on a regular basis.
Though it might be a good idea to find a better audio solution, that Alpine unit sucks though it's far from being a deal breaker.
Cheers,
-Andrew