I'll never forget the first time I saw the Cannonball Run on TV. I was about 10 years old and it was one of those moments in my life that solidified my enthusiasm for the automobile. Just the thought of being able to drive a car at its limits from coast to coast became the thing of dreams to me. Created by Brock Yates (of Car and Driver) in the '70s, the Cannonball Baker Sea-To-Shining-Sea Memorial Trophy Dash as it was officially known was an underground, and for all intents and purposes, an outlaw race from coast to coast. The original intent of the race was to protest the traffic and speed laws being imposed by the US Government, but after a few years of the event, it became more known for the epic parties that came with it.
Five years after the Cannonball Baker Sea-To-Shining-Sea Memorial Trophy Dash was shut down, Yates came up with a legal and more speed limit friendly competition called the One Lap of America. This competition captured the traveling spirit of the original event, but now the excessive speeds are reserved for the track portions of the event. Still going strong the One Lap has gained huge popularity with enthusiasts, and racers alike.
This 2004 R32 for sale in Coopersburg, PA was built specifically for this event, and has been carefully engineered to walk the line of competitive track car, and reliable street car. With a 2nd place class finish in SSGT2 Small Bore in 2011, this car has proven to be no slouch on either front.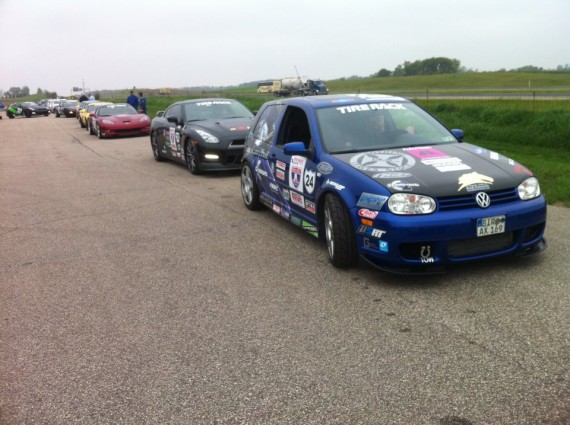 One Lap of America is over. Car build is over…Time to build a new car to promote the business and build for one lap next year. This car has completed its job for us and is now for sale. This R32T was a great car, fast, handles and great to drive! it will be missed but its time for a new project….so this one must go!
2004 R32 turbo full built. All new or super low miles. 36k miles on the car. Under 3000 on drive train. Street legal road track race car. Over $42k invested not including labor. We have SO much into this car. Someone will get a great deal on a pre built, low mile built car verus paying for all the parts and labor to build it!
Now the long list….. -C2motorsports tune, no SAI, no cat. 550 fuleing, 2nd inline pump, 4" intake and maf -IE rods and JE pistons Forge internals with arp everything. fully machined and all new block and head. valve job etc. ALL NEW gaskets, waterpump, chains, guides, tensioners etc -Mk5 baffles plated oil pan and new pump, -new Southbend clutch and flywheel. -Innovative Design & Fabrication Tubular control arms and modified ball joints. -H2sport Camber plates. -Rear adjustable arms. -14.5″ 2 piece rotors with 996 front bbk. -Rear ECS 13.1 2 piece bbk. -3″ turbo back no cat, passes emissions. heat wraped downpipe, wg tube, cables, firewall, intake manifold underside etc -Water cooler tial mvr wasteagate. -new Precision 6265 s-trim- 4" inlet and 2.5 out, 3" vband .82 ar exhaust. -Auto power race cage. -Yarrowsport rear strut bar. -Hockis hollow race adjustable swap bars. -CAE vwms shifter. -Momo wheel. -boost and AF Gauges.  -bigger Aluminum rad. Low temp fan and tstat. -Brass subframe bushings and shifter mounts. -Bilstien pss9. -Bildon wheel stubs and steel race lugs. -HPA awic intake manifold and a 2x12x24 core and rear water box. -Forge Super dv. 4″ intake and air box. -Brail 7lb battery. -Lightened 380lbs. Carbon hatch and hood. No rear seat. Still has AC and radio. -5 1552 Tarmac 18×8.5 wheels with 5 new dunlop tires and 4 65% used tires. -Carbotech 10 race pads and new street front pads. -No rubber anything in front end. -Lightened crank pulley. -SS brake lines. -Dual stage boost controller. -HPA comp haldex cotroller. -pull fire system in engine bay(needs a bottle) -real, not show tow hooks front and rear -BFI green stg3? motor mounts -5 point harness, -carbon hood and hatch. have factory hatch still -all new fluids -still has full front interior, ac, ps and radio- kept for one lap comforts -has a wrap on the sides, paint and body is very clean. no damage at all, no crashes, no repaint on any parts! stickers and wrap can come off with now issue. -has a velo driver seat. you will have to pay extra for the seat if you want it(not mine, borrowed for the year) i have a stock golf seat in the pass side because it is the lightest of all vw seats. i will include another stock golf seat for the drivers seat if you do not with to buy the velo. best race seat i've ever used though!  velo's are amazing!  -may have forgot a few things! will add more when i think of them
car is 100% street legal and registered and inspected/emission tested in PA as of now. i drove it for a daily to break in things.
asking $28Kobo without the velo seat. includes everything above. will not part out. possible trades depending on what it is. mostly looking for cash, a lotus, mk1 plus cash, etc
As a VW fan I have always liked the MK4 R32, and this car takes everything to love about it to the next level. From the turbo power to the track ready suspension, this car is an ideal track day car. This thing even looks the part, with full race livery and carbon fiber throughout.
At $28,000 this car is priced well. A bone stock R32 should fetch in the $13,000 arena, but with the extensive list of modifications, the extra $15,000 for this car is a steal for the amateur racing enthusiast.
-Brian