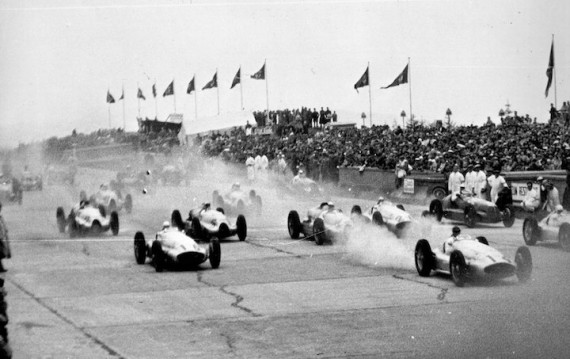 Start of the 1939 German Grand Prix with Auto Union Type D and Mercedes-Benz W154 M163s – their last meeting in the nation of their birth
Yesterday saw an interesting comparison in racing; in F1, Mercedes-Benz once again dominated the field with seeming ease, dictating the pace and watching the strategy of its competitors from Maranello. While truth told my focus remained squarely on the Formula 1 race, there were several other popular race series running concurrently; both wildly popular Moto GP and World Endurance Championship races were contested as well. Notably, Audi won the WEC Silverstone 6-hour contest, continuing its quite remarkable run in endurance series amidst rumors that they could be heading to Formula 1. The question posed by me in my conclusion to the investigation of the Silver Arrows period is simply if the racing was necessary? There were other options in terms of racing for both companies to explore, and indeed they could also have taken the Opel strategy in no racing at all. Did the companies choose the right route?
I'd like to take this opportunity to thank our readers for the positive feedback to this feature. It's been wonderful for me to revisit this research and have the enthusiast community enjoy it. I'd also like to thank Dan and Paul at GCFSB for not only affording me the opportunity to put this research up, but indeed for encouraging me to do so. Though they're not likely to be paying attention I'd like to thank the Saxony State Archives in Chemnitz and the staff at the Mercedes-Benz factory archives, both of which were very welcoming and accommodating during my time there. Lastly, I'd like to thank my family who has been both encouraging and patient while I've spent countless hours working on this site. Without further ado, please enjoy the conclusion!
CONCLUSIONS : WAS RACING NECESSARY?

Comments closed