I can't get away from E28 M5s these days. My local search has turned into a cross-country endeavor, but I have faith the time and effort will pay off. Time and effort are in no short supply with today's extreme M5, the world-renowned E28 M5 CSL. For those who haven't been exposed to this beat before, it's two E28s frankensteined into a wide-body E28 M5 cropped to 2 doors and fully race-prepped. White with m-striping gone wild, this is BMW extremism at its finest. Surprisingly, there's none of the usual Swedish tricks with turbocharged V8s or V10s needed here; it's got an honest-to-god S38 in it, albeit improved with a B36 bottom end and B38 top end. If you have about €40,000 (€38k if you join Classic and Vintage BMW on Facebook!) and the energy to ship a car from Sweden, buying this car would be the fast track you to BMW M legend.
BMW E28 M5 CSL race car for sale in Sweden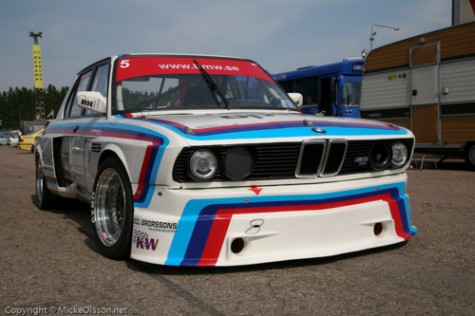 A thorough description of pure awesomeness:
This is a great opportunity to purchase one of the world's currently most famous BMWs. The Swedish BMW E28 M5 CSL. The E28 body shell has been rebuilt to a coupé and the body modifications have been custom made from fiberglass. Absolutely no expenses have been spared in order to get this car to the state that it's in today. It's flawless and it's in excellent, clean condition. It's a race car however, and it's been raced for three years by our racing team in the Swedish BMW Cup series with a good results. It's been kept in mint condition and is a candidate to compete in any car show.

Drive train:
Custom S38B36 bottom part with S38B38 top / throttle body / manifold.
Freely programmable engine management. Approximately 325Hk/380Nm (dyno figures). Getrag 260 gearbox with short shift, brand new LSD with 60-70% locking effect & 4,27:1gear ratio. Dual 2.5" race exhaust system with dual stainless FIA Race cats. Included is also a set of non-silenced CSL exhaust pipes that come out from under the right side floor. Extreme sound in the high revs with this set installed.

Interior:
White painted body coupe with FIA APPROVED seat and belts. All of the necessary safety systems are available such as window net, main electrical switch from inside / outside and so on.

Body:
E28 without a sunroof, rebuilt to Coupe. Single wiper system, Expanded 100mm per side in the rear, 80mm per side in front. Roof spoiler and front airdam comes originally from 3.5CSL factory cars. Rear spoiler is a rebuilt E30 M3 DTM with an adjustable big flap. Anti-scratch coated thin plastic windows, roll cage, plastic headlights "Hella black". Its race weight is approximately 1150kg.

Suspension:
Rebuilt front suspension. Custom-built Bilstein coilover system built according to 635CSi Grp. A specs. Adjustable top mounts, adjustable rear wheel angles.
330mm front race brakes with six-piston aluminum calipers and optimized cooling. 303mm rear race brakes with four-piston aluminum calipers.

Wheels:
Slick tires on two sets of three piece BBS wheels, 10.5×16"front and 12.5×16" rear. Inters on 10×17" front, 12×17" rear.

Other:
30 liter fuel system with catch tank, breathing tank, rollover valve, pressure sensor, dual filters, Bosch HP pump, high flow LP pump, adjustable fuel pressure regulator in the engine compartment. Intercom with radios, additional pre painted/striped drivers door, additional front spoiler, passenger seat with extra 4-point harness.

Molds for fiberglass body parts are sold together with the car. A color matching Chevy G20 van can be sold together with the M5 CSL. The van is also in very good condition.

This is a powerful and extremely eye catching race car that's been exposed in 5 different international magazines, 4 domestic magazines. It's won podium prizes in both races and in exhibitions. The attention on race weekends is quite amazing. If you are looking for publicity and the possibility to catch sponsors in a easy and effective way, this is without a doubt the best car out there!
A great mix of history and imagination, this M5 CSL is amazing. Jaws will drop at any track day or BMW show you take it to. There's no "market" to compare this price to, but for a one-of-a-kind, fully race-prepped car that oozes everything great about BMW M, I'm guessing the price will be fair for an exceptional enthusiast.
-NR