My E28 M5 hunt has heated up a little bit with the right example popping up near where I work, so I'm trying to make monetary and spatial arrangements to perhaps fulfill my dream of 80s M-car ownership. If this opportunity passes, the hunt will continue over the next year and I will have to open my mind to other options. The E28 message boards are constantly alight with M535i vs. M5 arguments, and today's eBay find takes each side to the next level.
Recently sandblasted and painted underneath with the E34 M5's S38B38 underneath, this white-on-black wheels M535 has the juice to back up the Euro-only body kit. It's located in Sweden, but a car this well-done and rare is an intriguing find anywhere in the world.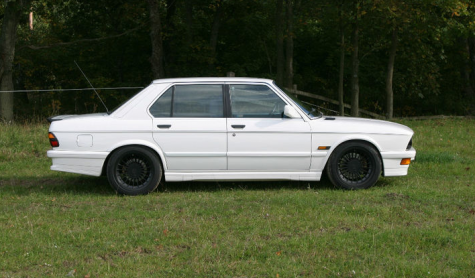 A concise description of how this beast came about:
M535i with E34 M5 drivetrain (S38B38) producing 384bhp at the rear wheels. New MOT and road tax. Clear title.

Newly renovated front and rear undercarrige. Most things have been sandblasted and painted. rear sub frame mounts have been reinforced. New wheelberings, stainless steel brakehoses, abs units, blue racing brakefluid, EBC Red stuff brakepads, Powerflex bushings front and rear. New K&N coneshaped airfilter. Newly renovated steeringsystem=no play. Removable towhook.

Considerable amount of work has been done by changing and modifying things in respect and in mind of achieving a reliable, communicative and enjoyable car to drive.

Alpina 17″ rims (even the spare) with Michelin Pilot sport tyres. Stainless steel 2.5″ double exhaustsystem with two mufflers gives a nice sound but not too loud.

Blue M-interior which is in excellent condition, like new. Sunroof electricly operated. Complete toolkit. External paintjob is in very good condition. Recently polished. Only three places where very small spots of rust exist which has not yet been taken care of. No other rust to be found.

Car is located in southern Sweden and can be viewed daily during office hours. International buyers welcome.
A gorgeous and uniquely Swedish take on German engineering, this car is well-done inside and out, with its $19k starting bid and $21k B-I-N accordingly dear. For the true M5 aficionado who likes it a little strange, this is a one-of-a-kind find that would cost even more to replicate.
-NR