The original E30 BMW M3 has taken off in terms of value and prominence amongst performance car enthusiasts. Even examples with over 100,000 miles are commanding values upwards of $15,000 to $20,000 these days. This begs the question, how are its contemporaries fairing? Designed with the World Rally Championship in mind, Mercedes-Benz set out to pick up where the 450SLC 5.0 left off in competition. At the same time Mercedes was undergoing development on this model with Cosworth, Audi introduced the Ur Quattro with all-wheel drive and a turbocharged engine. Sensing their car would be outpaced, Mercedes turned to the German Touring Car Championship instead, racking up a series of championships with the model and a few endurance test world records at the Nardo testing facility in Italy. These days, the 2.3-16 isn't as appreciated as the E30 M3, but it has a loyal following. While it isn't the fastest performance sedan, it is noted for its well-balanced chassis, dog leg gear shift pattern suited to racing and other touches such as a 7,000 RPM redline and standard limited slip differential. This example for sale in New York has relatively low mileage and shows a little bit of wear around the edges, but nothing inconsistent with the age of the vehicle.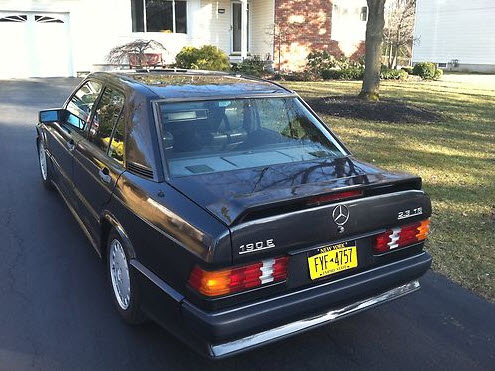 Black Metallic on Black Leather, Clean, Stock, 190E 2.3-16V

Vehicle Specs: 2.3L 16V Cosworth Engine (184 hp + 174 ft./lbs. torque), 5-Speed Manual Dog-Leg Close Ratio Gearbox, Limited Slip Differential, Engine Oil Cooler, Recaro Sport Seats, Center Gauge Pod with Oil Temperature, Stopwatch and Voltmeter. Factory Radio Delete with Rear Deck Speaker Delete, Factory Lowered Suspension with quicker dampers, larger sway bars, harder bushings and self-leveling rear suspension. This rare car has resided in Albany NY since new! Never seen inclement weather; no snow or salt, therefore, no rust of corrosion on or under this vehicle.
…