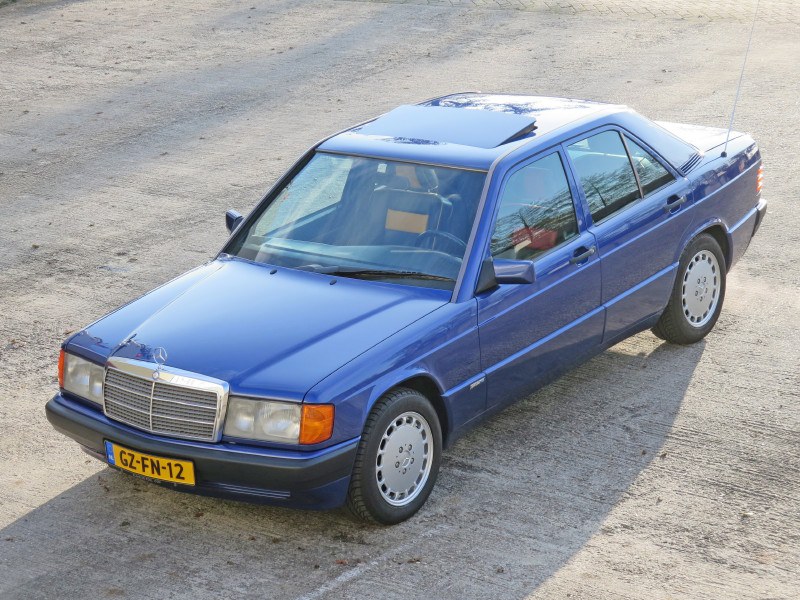 Mercedes-Benz is normally a very serious company. Stay in line, follow the rules and you will succeed. This has been their modus operandi for about the past 115 years or so and it is hard to argue against. However, every once in a while Mercedes will make a car that shows that can have a sense of humor, or at least know how to have a little fun. Today, I have one of those cars.
This is a 1992 Mercedes-Benz 190E. Now you are probably looking at that pretty blue paint and saying that is it a nice color and while it is very nice, the real gem is inside the car. That is because this is a 190E Avantgarde Azzurro. What is that? Well, for the 1992 model year Mercedes made three very interesting 190E Avantgarde special editions. In this situation, the word Avantgarde means literally means its definition of  "nontraditional, aesthetic innovation and initial unacceptability, and it may offer a critique of the relationship between producer and consumer." In laymen's terms, Mercedes made three cars with crazy interiors. They were called the Rosso (Red), the Verde (Green) and the Azzurro (Blue). The Rosso was a 1.8-liter with a wild multicolored interior, the Verde used the 2.5-liter five-cylinder diesel with a crazy green polka-dot green interior and today's car, the Azzurro, used the 2.3-liter with 190E Sportline leather interior trimmed in four different colors. Even better, the Azzurro cars were all in the Sportline trim with a lowered suspension and a 5-speed manual or automatic. Mercedes said their goal with these cars was to draw in a younger crowd but the prices of $31,000, $34,000 and $40,500 in 1992 maybe turned away some people. Production numbers varied  with 2,300 Rosso cars built, followed by the Azzurro at 950 and the Verde at 750. Needless to say none of these cars were ever sold in North America, but now that they are all 25 years-old, they might be worth bringing across the ocean. This example up for sale in The Netherlands might just be the perfect example.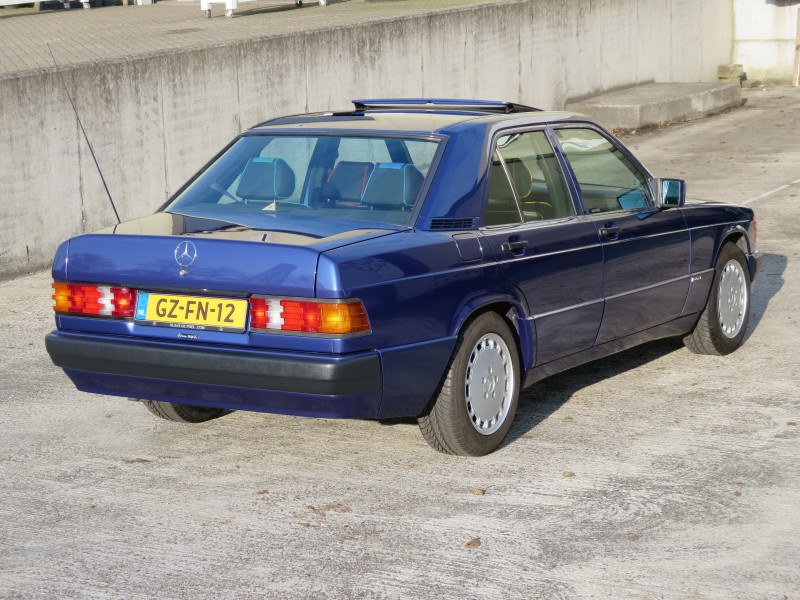 Year: 1992
Model: 190E 2.3 Avantgarde Azzurro
VIN: WDB2010281F969138
Engine: 2.3 liter inline-4
Transmission: 4-speed automatic
Mileage: 181,967 km (113,069 mi)
Price: N/A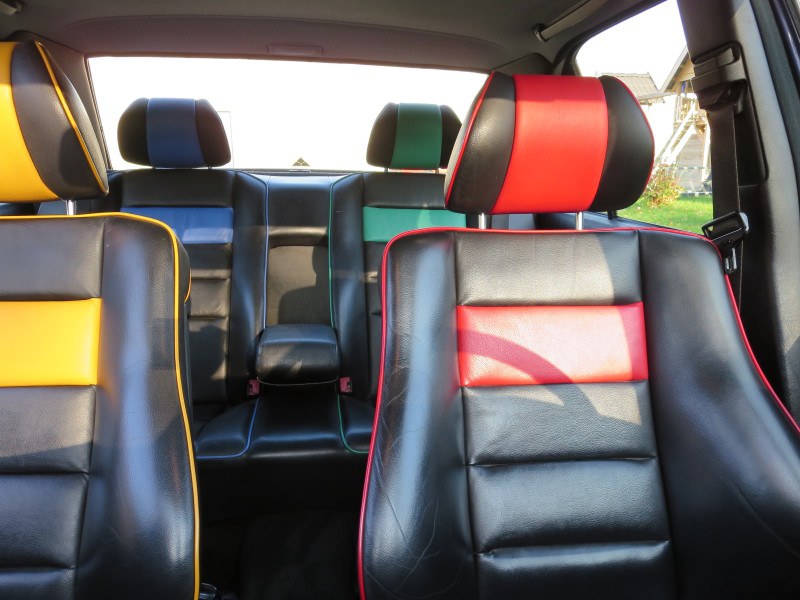 The first Avantgarde series from Mercedes which were the basis for the future. Only at the E-class W210 did they pick up the term Avantgarde again. Of the W201 190 series there were three types of Avantgarde, namely;

the 190E 1.8 Avantgarde Rosso
(production number about 2,200), the 190D 2.5 Avantgarde Verde
(about 890 produced) and
the 190E 2.3 Avantgarde Azzurro Sportline
(about 950 produced)

The latter was also the most striking. The most special color that was available on no other model and the interior which consists of four different colors in combination with the Sportline package. You think it's great or you think it's terrible. That it is now a collectors item seems clear to me.

Upon arrival, this car is equipped with LARGE maintenance (automatic oil, spark plugs etc. etc.) and new MOT

Special option package ..
240 – Outside temperature gauge
243 – Sports seats front and rear
281 – 390mm Leather steering wheel
331 – Cassette compartment
412 – Electric sliding and tilting roof
420 – Automatic 4-stage
430 – Head restraints at the back
442 – Airbag driver
466 – Central Lock
531 – Antenna
584 – Electric windows front / rear
591 – Tinted heat resistant glass
620 – Catalyst
650 – Light Metal sportsline rims
751 – Becker Grand Prix
873 – Seat heating
876 – Backlight on door contact
915 – Larger fuel tank
950 – Sportline
954 – Avantgarde Azzurro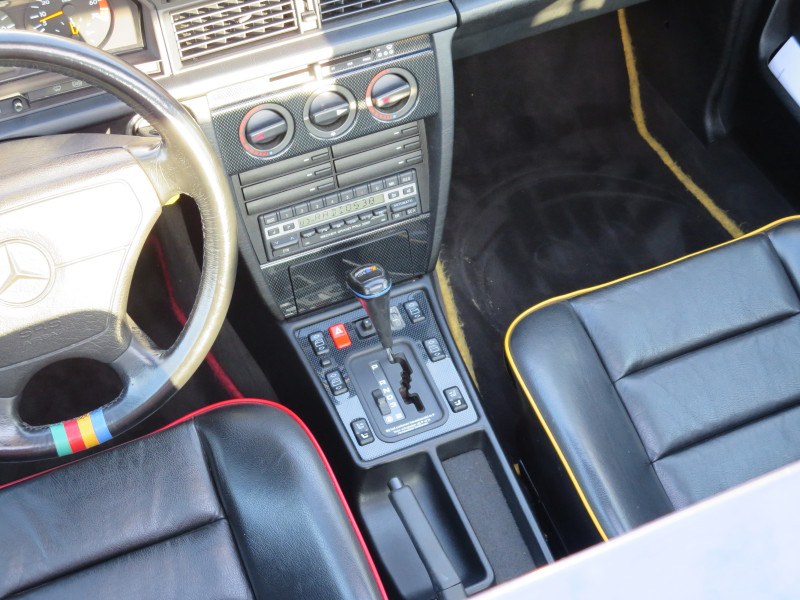 All the little details on the interior of this 190E just make me smile. I'm sure it was a production nightmare to make four different colors for the seats and floor mats so I guess that explains why they only made 950. That and of course convincing someone to spend $40,500 ($74,000 in 2018 money!) on a car with four different color seats probably wasn't the easiest thing in the world.  This color really pops on these cars and the added look of the lowered suspension makes this one look great regardless of the wild interior. The automatic is a little bit of a letdown because the 5-speed is a really fun option in these, but beggars can't be choosers.
Now that these are 25, they are in high demand given their rarity and quirks, so the price is going to reflect that. Although all three cars are really cool, most would agree that the Azzzuro is the one to buy because of its equipment thanks to the Sportline package. Are these going to be $50,000 cars one day? Probably not, but there is going to be some appreciate from them. Retro stuff from the 80s and 90s has never been hotter than right now and this car is a classic example of that. If one of these ever came stateside I would take a hard look at them, but my guess is someone is going to snatch this one up quick.
– Andrew