Starting in the late 1950s, General Motors began to import cars from its longtime European subsidiary, Adam Opel AG. The Olympia Rekord was one of the first cars from this company to make it to our shores, resembling a bit of a scaled down 1956 Chevrolet. Powered by a 1.5 liter four cylinder engine, it didn't mirror the Chevy in the power department, but in post WWII West Germany, this car was second best seller behind the Volkswagen Beetle. I've never seen one of these cars here on US soil, and this example for sale in Massachusetts is amazingly well preserved for a 53 year old car.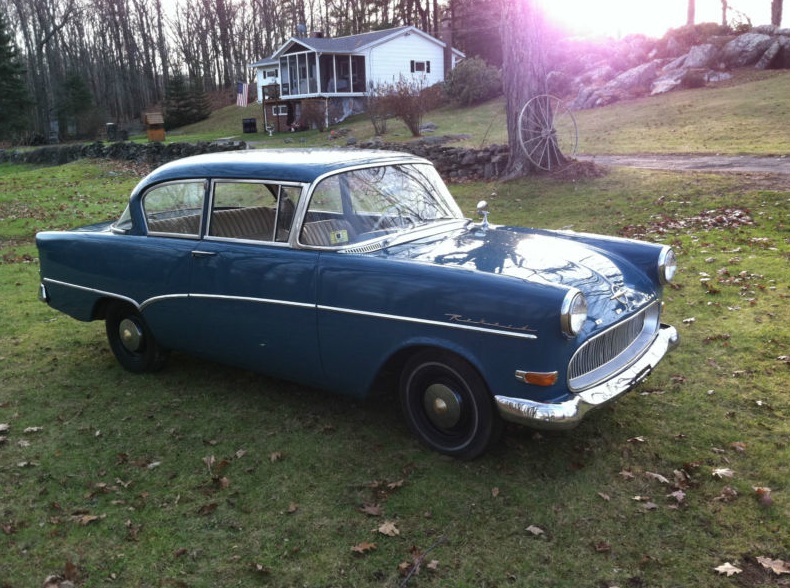 I am listing this car for a friend of mine, a 1959 Opel Olympia Rekord. As the owner of Bill Daley Opel Parts, Bill is selling this Opel from his private collection and has owned this car for 30+ years. It is an original rust free California car and has always been garaged. The interior is all original except for a new carpet. The engine, 1.5L 4 cylinder was rebuilt years ago and runs excellent. The transmission is a column shift 3 speed. The car has always been started every year. The body is rust free and the front fenders are nos. The original fenders had many dents so Bill replaced both before painting. The paint is 25 years old and was painted the original Neptune Blue. Also, included are NOS tail-lamp housings, door moldings, rubber door gaskets, etc. The mileage is 39,000 kilometers. This is a fairly rare car as not many were imported to the United States by Buick.
At least in the US, putting a value on this car is difficult, as there aren't many comps by which to evaluate it. A quick scan of Mobile.de, a German vehicle marketplace, shows a few Olympias between 1957 and 1960 pop up, ranging from €5,500 to €7,500. Based on that, the asking price of $6,450 seems in the ballpark, although maybe closer to $6,000 or a shade under might spark a little bit of interest, as this car has been listed once before. The market in the US for such an obscure GM import isn't large, but you would certainly be the center of attention at a classic car meet, amongst the slew of 1950s and 1960s American iron that would inevitably show up.
-Paul