Warning!
This post is in our archives. Links in this post may have been updated to point to similar cars available to bid on eBay.
The BMW E23 7 series was a continuation of BMW's drive to standardize their model designations and continue their drive to be a true competitor to Mercedes-Benz in the luxury car arena into the 1980s. Introduced in 1977, the 733i produced 181 horsepower by 1983, being superseded by the 735i in 1985. These cars were ahead of their time, offering such features as service interval indicators, on board computers and eventually anti lock brakes and a driver's airbag. You still see an occasional first generation 7 series on the street, but typically, they are well worn, as collectors prefer to collect its two door brother, the E24 6 series. This example of one of BMW's early executive sedans comes from our reader John in New Jersey.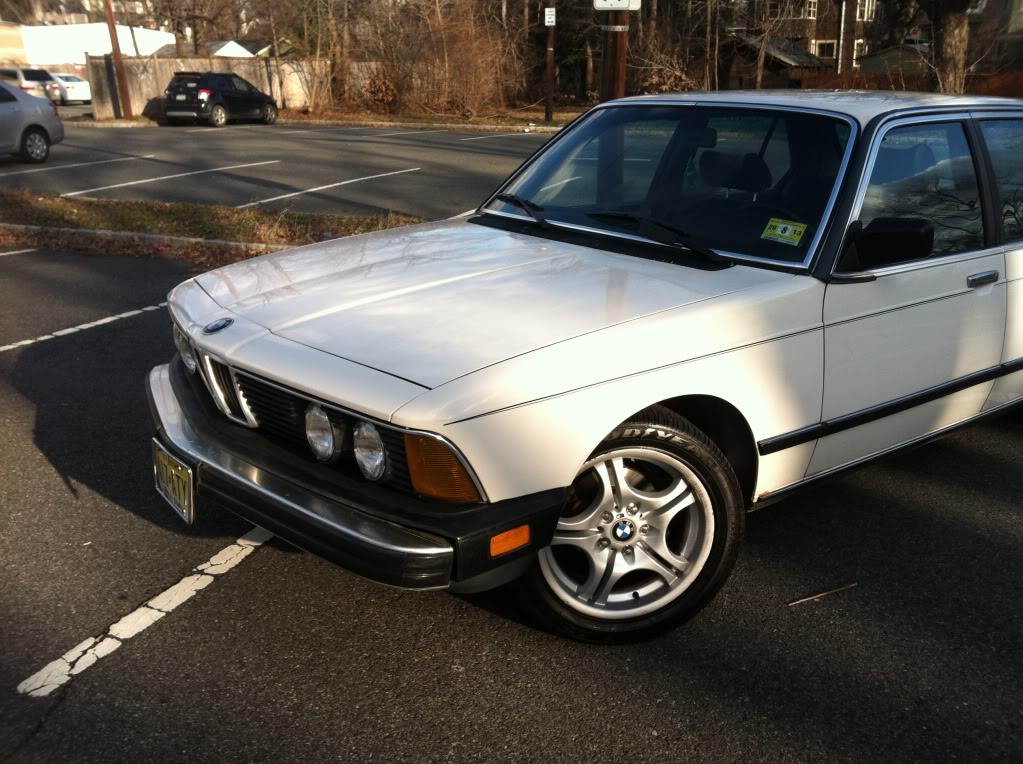 This car has been my daily driver, but I will soon be going away and can't stand the idea of leaving it sitting for long periods of time. That is terrible for all cars, especially vintage BMW's. I'm the third owner and so far I've had this car for about a year and it has been reliable, and a blast to drive. The transmission shifts smooth, the breaks are good, the ac blows cold, and all the electronics work. If you're looking chances are you already know a lot about this car, and that they can last for hundreds of thousands of miles if they're maintained well. This one has been, and I have several folders filled with records to prove it. The car was purchased at Open Road BMW in Edison, NJ in 1984 and the same female owner drove it until 2008. She then sold it to a mechanic whom I brought it from in March of 2011. Since having it I have put about 5,500 miles on it and some of those trips have been about 400 miles with no problem. The car is reliable and I would not hesitate to take it across the country.

This car is not a grey market import; it was made for the United States. This makes it even more rare, as very few US-Spec manual transmissions were made. The advantage of a US Spec is apparent when you try and insure the vehicle, and when you try and get it inspected.

Highlights

– Five Speed Manuel Transmission (Very Rare for E23)
– 4 New German Made Goodyear Eagle RS-A's 225/55/17 ($220 each)
– 17-Inch M Wheels
– No Mechanical Issues
– No Leaks
– No Burning of Oil
– Spare Stock Wheel and Spare M Wheel
– Stock Wheels Also Available With Firestone Tires On Them With Decent Tred Remaining
– AC Blows Cold
– Non-Smoking Owners
– No Electrical Problems
– Only Use Mobile 1 Synthetic Oil
– I get 17 MPG in Town and 26 On The Highway
– Passed NJ Inspection In November
– Has original tool kit and is only missing small pliers.

Recent Work

– Brand New Stock Muffler
– New SI Board
– New Antenna (Not Pictured)
– New Kenwood CD Player with IPod+Pandora Support (Not Pictured)
– Rebuilt Alternator
– New Shift Knob
– New Clutch Master Cylinder
– New Clutch Line
– New Transmission Cross member
– New Blower Motor
– New Fan Blade and Fan Clutch
– Installed Parking Sensors
– New Drive Belts

Things To Keep In Mind

– Shocks/Struts are starting to wear and could be replaced if you intend to drive this car very spiritdly, it does not sag or bounce but it is fairly soft

– Headlights and High Beams function however one of the check relays has gone bad (Means light flashes on Diagnostic Check Unit)

– Stain on headliner in the back right that is due to the sunroof being left open about half a centimeter while it was raining, the car does not leak.

– Outside temperature gauge just stopped reading accurately

– There are a few rust spots on the lower right side of the car. They are barely noticeable and minimal considering the cars age but I included a few close up shots of them. The rest of the car is rust free!

The car is reliable, and the fact that it is a manual with a near perfect interior, and exterior in such good condition makes it extremely rare. As it ages it will only more rare.
The seller has provided quite a comprehensive history of this 733i, and these manual transmission E23s are certainly a rare find. With one owner for a long time, the original paint and a comprehensive history, this would be a fantastic usable classic of a BMW that hasn't garnered the most popularity amongst enthusiasts but is an important BMW in its own right.
-Paul