Warning!
This post is in our archives. Links in this post may have been updated to point to similar cars available to bid on eBay.
Often times cars come along and you wonder how they came to be so ridiculously priced. The VW Caddy is one of those cars. Back in the '90s when I was searching for my first car, I wanted a 2 door Rabbit and lusted after a GTI. Every Wednesday I would go through the Want Advertiser and VW pickups were everywhere, often dirt cheap, but at that time they were the red headed step child of the MK1 family. When I think back on how plentiful and cheap they were, it's tough for me to fathom an almost $7000 price tag. When you really think about it, all of the reasons it makes no sense are all of the reasons they are so collectable now.
For the longest time no one cared about these trucks and overlooked them in favor of the hatchback models, sending many of these trucks to the junk yard. If they weren't just discarded, body rot was the second leading cause of death. These trucks had a lot of rot issues, mainly with the strut towers. Born and raised in California, this '82 Caddy has managed to avoid the fate that many of its siblings succumbed to. This low mileage Cashmere White truck for sale in Chicago, IL is a great example of a survivor, and would make a great driver or restoration project for the true MK1 enthusiast.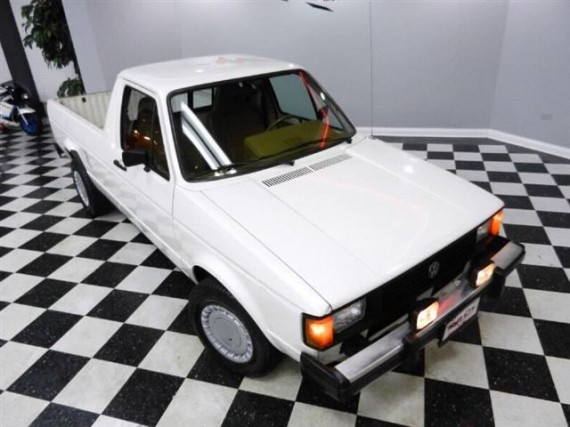 We at Windy City Motorsports are very pleased to offer for sale this hard to find and super clean 1982 Volkswagen Rabbit Caddy Pick up truck.

***Super Clean & Rust Free California Truck It's Entire Life

***Original Body & Paint

***Many New Parts. Including……

…..New fuel pump

…..New tires

…..New spark plugs, cap, rotor & wires

…..Fresh oil & filter

…..New carpet

…..New headliner & more

***Original California Blue Plates & Included

***The odometer shows only 72k miles, but cannot be verified to be actual

***Fires Right Up & Runs Strong

***Facetime Users Please Contact Us For A "Virtual Walk-Around"

***Inexpensive Nationwide / Worldwide Delivery is Our Specialty!

Please review all of the photos, and feel free to contact us with any specific questions or concerns you may have.

***We sincerely appreciate your interest, and hope to add you to our quickly growing family of 7,200+ satisfied customers!

Please Note…..In order to protect both the seller & the buyer, we require that all interested buyers either include a phone number with your offer, or contact us prior to making an offer. Given certain buyer contingencies, we are unable to accept any offers until the full details of the transaction are shared. 1-866-605-4866
I'm pretty partial to this truck for several reasons, but first and foremost, I love Cashmere White on MK1s.  All of my early GTIs have been this color and to me it doesn't get any better.  That alone isn't really a good reason to spend $6900 on a 30 year old VW pickup.  While in good shape and with only 71K miles, it certainly isn't perfect.  The cracked dash, issues with the paint, and overall condition of this truck keep me from thinking it's worth anything close to that.  With cleaner examples going in the $6000-$6500 range, I'd be more apt to pay around $5,000 for this truck, but with the MK1 VW market swarming with buyers for nice clean cars, this truck will likely fetch close to asking.
-Brian