Like a Rolex Submariner watch or a pair of Persol sunglasses, a classic Mercedes-Benz SL is one of those accessories that is timeless and shows infinite good taste. Introduced at the 1963 Geneva Motor Show, the W113 SL was nicknamed "pagoda," due to its concave hardtop. Not just a pretty face, the 230SL won the Spa-Sofia-Liège Rally in 1963 piloted by Eugen Böhringer. Famous owners of the W113 SL include David Coulthard, Sofia Loren and Sir Stirling Moss. Just under 50,000 230, 250 and 280SLs were made through 1971 and these cars are highly prized not just for their looks but for their performance and practicality that is not far off from modern day motors. It's getting harder to find good W113 SLs for under $30,000. While this example for sale in California isn't perfect, it would be a great candidate for someone looking to undertake a few minor fixes to turn it into a nice looking driver.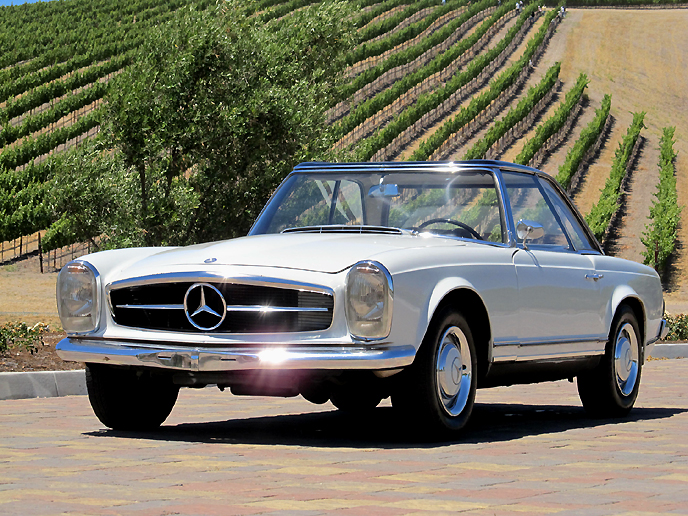 Offered For Sale is a 1966 Mercedes-Benz 230SL. The styling represents a rolling work of art and the model, a highly collectible piece of Mercedes history. These cars are built rock solid and definitely personify German engineering and precision of a time gone by. The highly sought after "SL" is a world-class automobile and is ready for the next owner to enjoy. Experience what a real Mercedes used to be. Even M-B doesn't build 'em like this anymore! What's definitely cool and rare about this particular 230SL "Pagoda," is that it's a European version that was brought over to the states 30 years ago. It's still got the highly desired Euro headlamps and other neat appointments, such as a stick-shift transmission. Drive it as Mercedes-Benz engineers intended it to be.

This Mercedes was owned for nearly 30 years by the same family. I recently acquired it from this owner, who purchased the SL in Belgium back in 1982 from the car's original owner. The Mercedes was transferred to the New York City/New Jersey area where it had remained till I purchased the car and had it brought to California. The SL was used sparingly during its stay in NY, spending most of the time in a dry garage. In fact, the Mercedes had been sitting for the last six years till it was recently resurrected.

The 230SL currently runs and drives good. She starts right up and sounds great. This Pagoda had never been restored, and it's not perfect. It is a good "driver," but due to sitting for years, some cosmetic and mechanical tinkering will be required to make this classic even better. Prices and collectibility for these cars have recently sky-rocketed, much like the early Porsche 911s & 912s or E-Type Jaguars. Everybody wants one, and the reasons are quite clear. This particular SL Pagoda can be had at an affordable price, where the new owner can drive and enjoy it, while making some improvements, and watching the value grow and appreciate.

It'll feel great pulling up to the Country Club in this Mercedes. It's definitely "old-school" elegance and class. Aside from that, the quality of the car in terms of ride, smoothness, comfort, luxury, and appearance is first rate. To enthusiasts, the allure of a German classic is when it sports authentic European characteristics, unlike the safety mandated US versions, with all the added "stuff." This one is the real deal: large glass headlamps, no bumper over-riders, no side markers. The appearance is pure and uncluttered, as M-B intended.

Classic facia displays old-world craftsmanship and an elegance that only Mercedes-Benz could produce. It doesn't get much more appealing than a painted metal dash and chrome bezels. Dash padding is in great condition with no obvious cracks. All gauges are functioning properly exc. for the clock. Speedometer is still in Kilometers. Electrics are in fine operating condition. Lights, wipers, horn, and signals function as they're supposed to.

Open the door, and that period leather aroma, familiar to vintage European cars, is there and in potent supply. To me, the scent is wonderful and should be bottled. The interior is in original condition, as you can see. Genuine M-B leather upholstery is still intact and does show some wear. There are some splits in the upholstery, but being the factory leather hides makes them more desirable to me than aftermarket M-B Tex materials. Carpets, however, look to have been replaced recently. The pile is thick, both in the front of the cabin and behind the seats in the package area. Door panels, look to be original, and are in good shape. Outside door locks are not operable with the key. Glass is all good; windows roll up & down fine; there are no chips, cracks, or damages.

Soft top looks to be in good shape, aside from a couple small blemishes. Canvas is thick, and plastic window is clear. A common area for rust, especially after 46 years, is the inside well where the soft-top is folded. Water can leak in, and if it doesn't evaporate, corrosion will form. However, as you can see on this particular SL, that is not the case. The area is dry and in great shape. Rear package area is clean and the carpet has been replaced. Headliner and convertible top frame are in very nice condition. Rails aren't rusted out, and the inside fabric is clean and intact. It opens and folds easily, too.

Trunk is spacious for a car of this size. It's clean as well. Original mat is present. Also intact are the spare tire (with cover) and jacking equipment. Taking the SL out for a little excursion last Saturday afternoon proved to be most enjoyable. The Mercedes runs strong, and manually shifting through the gears while making that raspy exhaust note sing, made the experience even more invigorating and exciting.

This 230SL presents itself quite well. The ivory/white finish is shiny and still has a good gloss. From what I gather, this is the factory color, but at some point years ago, the car had been repainted. Panels appear relatively straight, considering the SL's age, with a few routine dings and paint chips. I don't see any evidence of rust bubbles or rot on the M-B's panels. Undercarriage is original, and typical to a car of this vintage, there are some rust blemishes present. Most notably, the driver's side floorboard had some metal patchwork done. At some point in the future, replacing the panel can be addressed, but for the time being, it doesn't look bad. The passenger side appears to be solid, without issues.

Mechanically, the main components of this Mercedes are strong. It runs good and feels tight. A short YouTube video below will show the car idling and driving. However, from sitting the past several years, there are some items that will need to be addressed so the Pagoda can be used on a regular basis with confidence. The engine always fires up right away on the first try, even after sitting for awhile. Once the engine's warmed up and driving for several miles, the operating temperature is consistently cool, and the oil pressure is always high. The previous owner had replaced the exhaust system, so it's new from front to rear. Also, the brake calipers and front hoses look relatively new.

The motor idles smoothly and doesn't miss or hesitate. However, upon recent driving I noticed that it does emit blue smoke when accelerating. I'm not sure if this is due to the car's sitting, and that with driving it will evenutally go away. After checking the spark plugs, I took note that all fired evenly and none were fouled or saturated with oil, so that's good. I also changed the oil, and noticed it was just pure oil, with no indication of water mixed in, so that's good, too. There is an oil leak that is coming from the tachometer sending unit on the engine. Also, to be noted, the brake pedal is hard. I believe this to be the brake booster, as pressing on the pedal affects the vacuum at idle. Master cylinder looks to be recently replaced.

The clutch and transmission feel good. Shift bushings were all replaced along with new oil, so everything is smooth and tight in the gear box. There's no growling noises and all synchros work as they should. There's no popping out of gear. If you're a fanatic of classic Mercedes-Benzes, then you'll like this 1966 230SL. Quality and elegance were unsurpassed and they certainly didn't compromise. Back then, you knew this was a Mercedes! This tangible investment is safer than the stock market and is something that can be enjoyed, now and in the future. Why not mix business with pleasure? This 230SL Pagoda is being advertised in a Buy it Now at $26,750 format. There is no auction, where missing out on a good deal in the last 15 seconds is a tragedy we all know too well. No, this classic Benz is being offered For Sale right now, at a disclosed price, so don't let it get away.
The Buy it Now price is rather attractive, given the condition of this car. Since it seems the engine is pushing oil, valve guides and piston rings may need to be examined, as well as the brakes. In addition, a retrim of the leather seats along with sorting the loose fitting convertible top appear to be in order. Otherwise, not a terrible example that is made more attractive by the European headlamps and manual transmission.
The following is some vintage footage from Mercedes-Benz Fascination series (in German):
-Paul