Another market value gauge here with this no reserve sale of a beautiful 1972 3.0 CSi. There is something special about these cars. The 2 door pillarless couples of the early 70s from Germany have a certain look and feel to them that I can't quite figure out, but they stand out. The rear and side views of the E9 are prettier than the front, in my opinion, but that doesn't detract from the overall picture.
The 3.0CSi sports a 200 horsepower inline six and when mated to the 5 speed manual, as in this car, you can be certain to keep the car in the power band as well as have fun.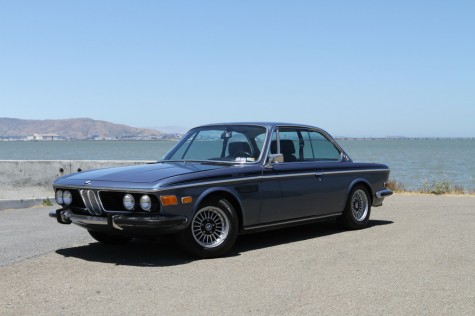 This car originally sold in Italy and has been a project car for the current owner who has done a nice job bringing it to its current state over the past year. A list of some of the things the seller has fixed on the car include:
*Full complete repaint with PPG paint in Baikal Blue 

*New CSI stripe decals in black 

*New rubber window seals front and back 

*New upholstered factory Recaro seats front and back 

*New Burlwood trim for that elegant finish (original wood pieces removed and refinished in Burl Walnut) 

*New covered vinyl dash, shifter, and rear hat tray (dash has no cracks and looks beautiful) 

*New Michelin tires less than 50 miles   

*New clutch master cylinder 

*New heater hose/coolant hose 

*New reseal cylinder head rear gasket

The interior looks wonderful and it has maintained its Euro spec VDO gauges. The look and clarity of these VDO units make it no surprise that they were seen on many German cars, like Mercedes.  The seller seems to be up front with a couple of the issues with the car and provides ample photographs documenting the car for potential buyers. The photos show an engine bay that could use a little tidying for overall presentation points, but again this car really looks nice. The low mileage, a few ticks under 58,000 miles will help make this car reach full value in the sale. As a bonus this car sits on appropriate 14″ Alpina rims.
The 3.0CSi isn't especially rare, just under 8000 were produced, not counting the thousands that made up the other variants of the E9. However good examples are bringing strong prices, the highest of course for genuine CSL models. Any original low mile and good condition 3.0CSi can be looked at with investment potential. This one is at just over $17,000 with a little time left, I expect the price to climb by several thousand. The decent description and plenty of nice photos and videos  really help the listing make this car look its best with no surprises.
~Evan