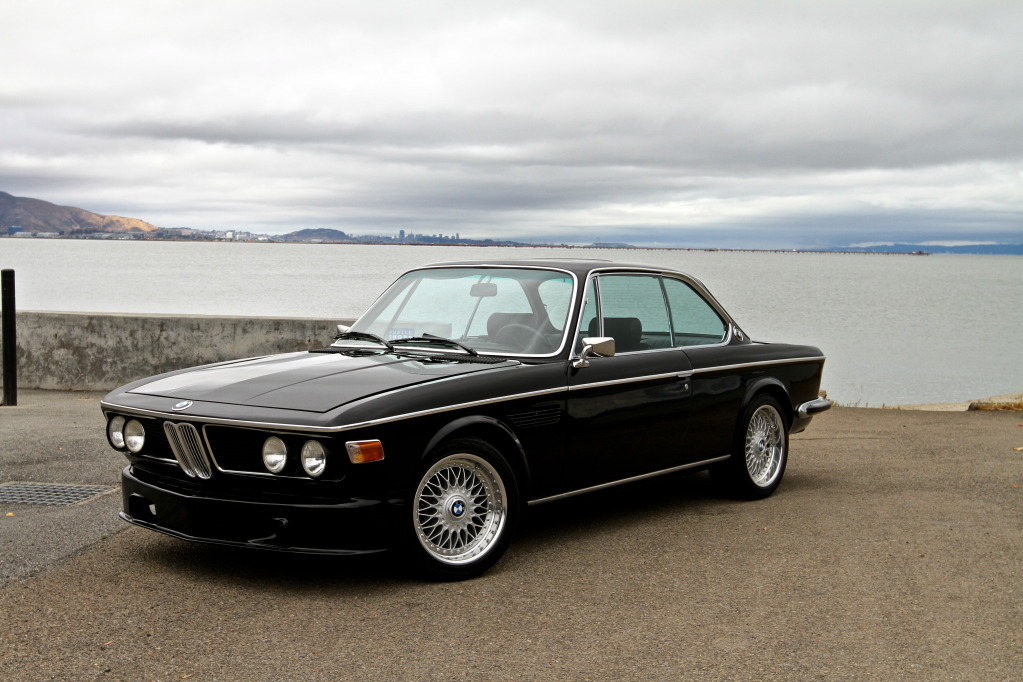 With some classic cars, it's hard to improve on the original design. The Porsche 928 comes to mind. So fluid and pure were its lines that any attempt to add a spoiler here or wheel modification there distracts from the overall aesthetics. The BMW E9 is a different story. This is a car that looks good in stock form but can also withstand a tasteful modification or two. Even the factory CSL version had a butch, purposeful look that took it from the ordinary to the extreme. This 1973 3.0 CSI was brought to our attention from our reader EB and is for sale with no reserve. The bumperless front end does a lot to accentuate the early shark nose look. If Mad Max was a bit more refined, I'd imagine he'd pilot something like this.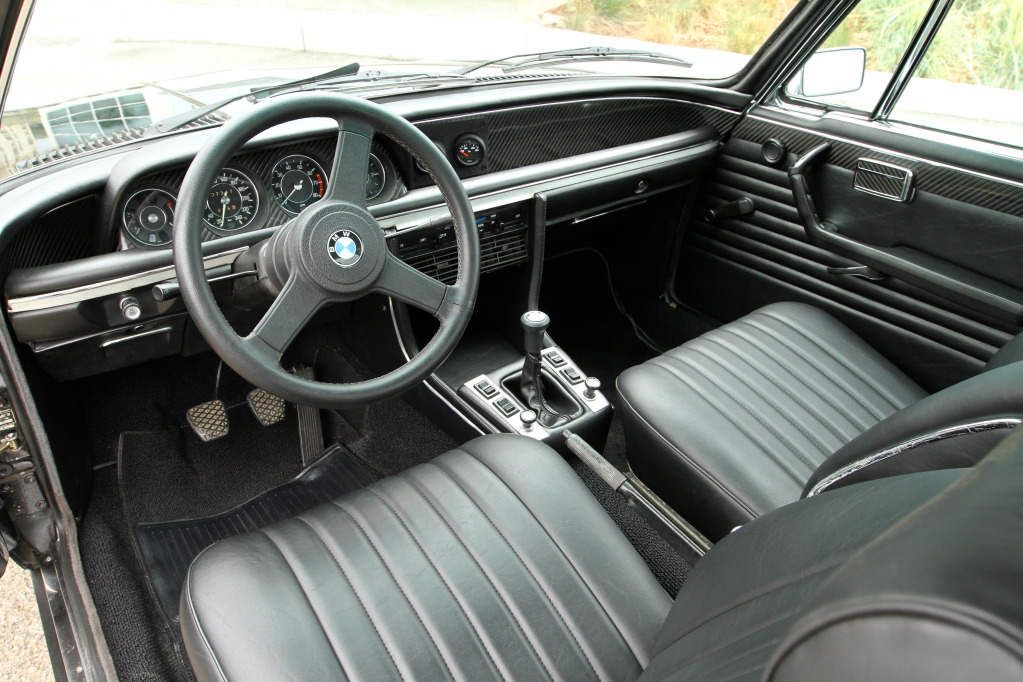 Year: 1973
Model: 3.0 CSI
Engine: 3.5 liter inline-6
Transmission: 4-speed manual
Mileage: 7,347 miles
Price: No reserve auction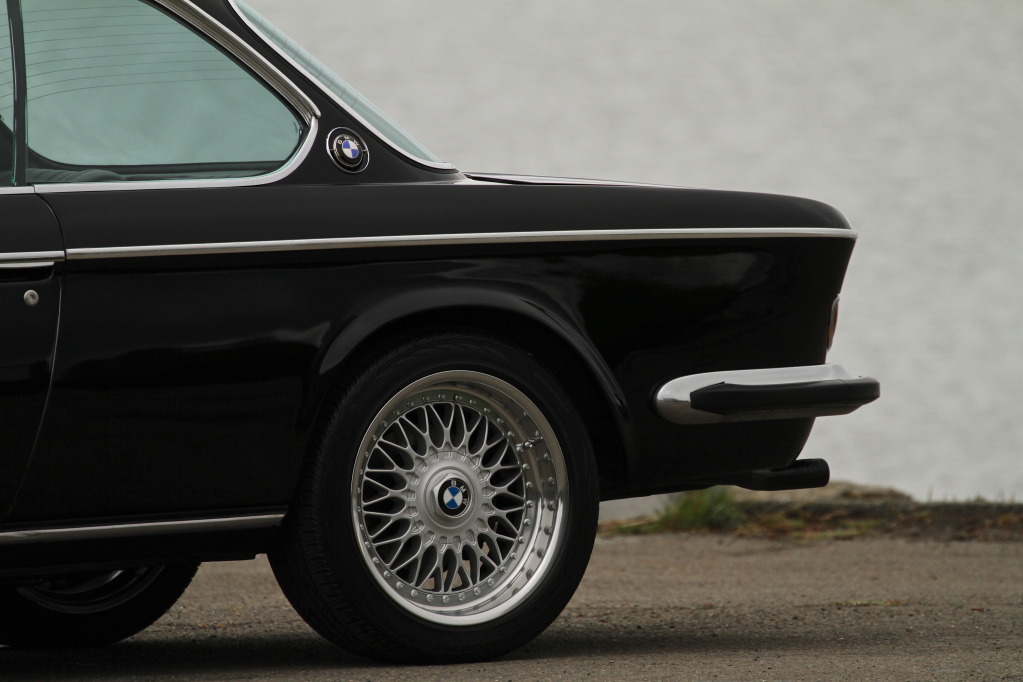 Selling for no reserve. Final bid wins…

Unique 1972 BMW 3.5 CSI Black on Black with upgraded 3.5 liter fuel injected motor and 4 speed manual. This is a genuine 3.0CSI E9 coupe from Europe. Never produced for US Market. It was originally delivered to Italy. These are rare to find. Purchased as a project and invested several thousands to make it an outstanding example of a Resto-Mod E9 coupe.

First thing you will notice is the striking black glossy paint and 17 BBS polished Style 5 wheels. The front has a very nice custom front spoiler with integrated vents and front bumper was deleted. It really highlights the shark nose front end. The side markers have been shaved along with rear BMW trunk emblem. All other emblems and vent grills have been replaced. I have all of the receipts for parts purchased for build and will provide to new owner.

Paint and Body
Car has a fresh repaint from 6 months ago. Body was painted with PPG black paint. Original factory color was Fjord blue. Lower rust in rear quarter panels was cut out and replaced with Jaymic replacement panels from the UK. Both outer rockers were replaced as well. Floors, trunk well, and shock towers are very solid and not rusty. Front corner markers were replaced with new Italian clear orange lights. New door locks and door stops. New windshield.

Motor
The motor upgrade was performed by Don Lawrence. Original 3.0 CSI motor had weak compression in one of the cylinders and we took this opportunity to convert the motor to a 3.5L B35 motor with 9:1 compression from a 7 series BMW. Motor had approximately 80k miles and strong compression. Head was removed and rebuilt. Also all of the fuel injectors were replaced along with fuel rail. Plenum, intake tubes, and valve cover all sent out for powder coating. Transmission was solid and only needed new clutch and resealing. Shifter linkage and bushing were replaced to have smooth tight shifting between gears. New battery. New alternator. Upon assembly we replaced water pump, thermostat, hoses, cap & rotor, wire set, replaced jetronic unit, fuses, relays and more.

Brakes and Suspension
Braking system was fully inspected and many parts were replaced such as new front and rear rebuilt calipers, pads, master cylinder, and stainless brake lines. Next we replaced many suspension parts. Bilstein shocks, Carl Nelson performance springs, strut mounts, tire rods, and idler arm. Fuel system needed servicing so tank was removed and cleaned, new fuel pump, new seals, and new fuel hoses.

Interior
Next the car was given an entire new interior. Carpets were replaced with German loop black carpet, Seats are reupholstered with factory look and new foam padding. Door panels, console, shifter, dash, and rear hat tray were all replaced at the same time. Headliner was sprayed dyed black to match. Custom Carbon Fiber dash and door accents replaced the boring factory wood. Custom aluminum gauge panel holds two VDO gauges (oil temp and oil pressure) in lieu of the speaker grill. Steering wheel is replaced with 320is factory sport wheel.

Whats left
Mostly electronic issues. Speedo, brakes lights, signals, wipers, sunroof, rear windows, fuel gauge and reverse lights are inoperable. There is a fuse that pops and a short that needs to be traced. The custom gauges are not wired yet. No spare tire. Missing visor.

Summary
This is an amazing car and gets tons of attention and thumbs up. Black is one of the most stunning colors on this coupe. The chrome and black just really make the car pop. It is truly a unique build and may not be for the E9 purists but I built it for my own use and had already restored a few E9s in the past. The car is very fast and strong. Motor and transmission are very healthy. Big difference from the stock 3.0 CSI power plant. The suspension is incredibly tight and handles beautifully. Once the car is fully sorted it is car show worthy and a real hoot to drive with the bigger motor. The perfect road rally car!

Clean title in hand. Email for more info.

Work done:

3.5L B35 motor conversion (approx 80k miles on motor)
Head rebuilt
Clutch replaced
Trans serviced
Fuel injectors/rail rebuilt
Powder coated plenum
Powder coated valve cover
Shift linkage rebuilt
New brakes- New front calipers, rebuilt rear calipers, pads, stainless brake lines, master cylinder.
Fuel tank drain and cleaned, fuel lines replaced
New fuel pump and filter
New Bilstein shocks
New Carl Nelson performance springs
New Carl Nelson suspension mounts
New tie rods, center link, idler arm bushings
New Water pump, thermostat, hoses
New belts
New flex disc
Door locks replaced
Relays replaced
Rockers replaced
New interior
Seats repholstered
New Carpets black German loop
Carbon fiber dash and door accents
New Dash tray
Vinyl wrapped dash and console
Custom front spoiler
Front bumper delete
New Italian side markers
New hat tray
New sunroof seal
New windshield
New hood pad
New rubber seals on window front and rear glass, trunk
Side markers shaved and rear BMW emblem shaved
Restored BBS style 5 wheels
New tires
All new fluids and filters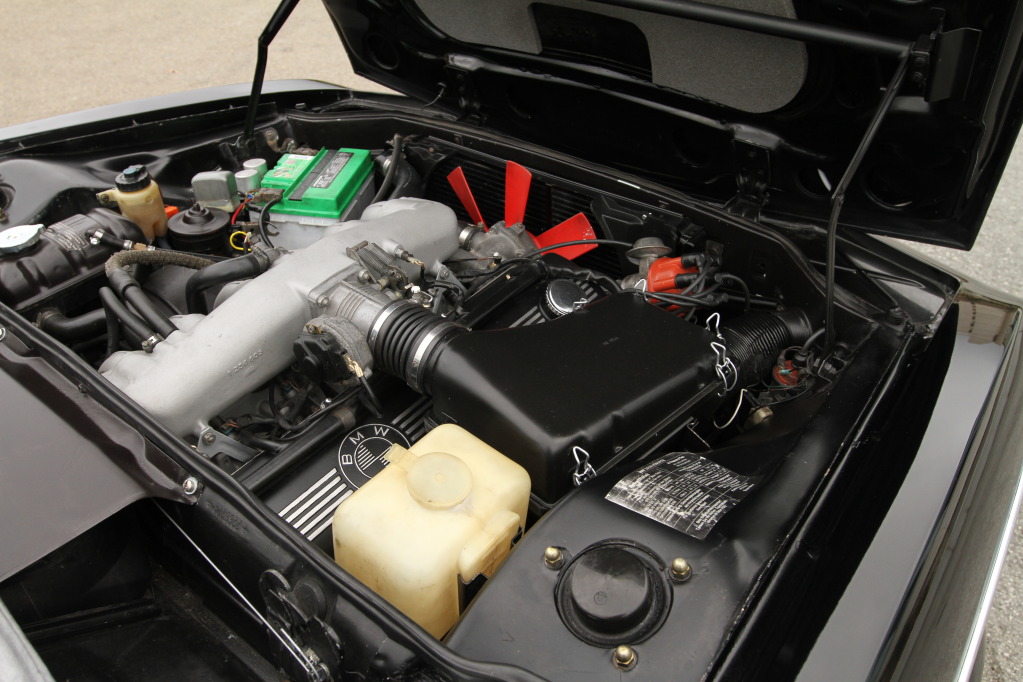 I'm sure everyone will have a few qualms with this car. For me, I'm a huge fan of Fjord Blue and it was disheartening to discover this was the car's original color. But, different strokes for different folks. At least black isn't the most offensive of hues. Also, this car does have its needs but it certainly is good base for someone who likes to tinker a bit. In light of that, the seller has been realistic keeping this a no reserve auction and letting the crowd decide on where this car's value lands. Given what we've seen other E9s go for, I'd suspect this one will probably wind up edging $30,000 if just a tad over.
-Paul