Warning!
This post is in our archives. Links in this post may have been updated to point to similar cars available to bid on eBay.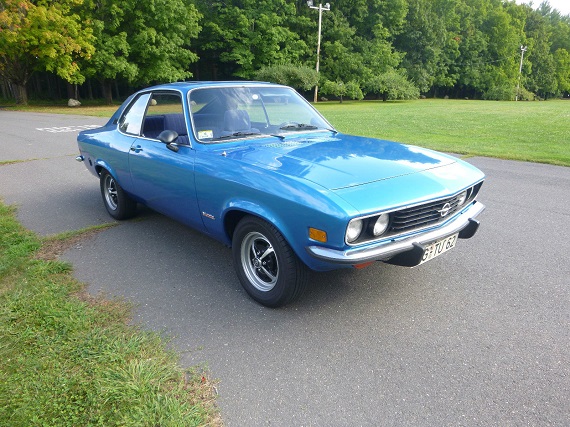 As with every automotive enthusiasts, I'd like to believe, I have some amnesia about some periods of automobile history. Show me a 1985 and 1986 Audi 4000 side by side, and I can rattle off the subtle changes between model years; but show me some 1950s American iron and outside of the real standouts, they're all a bit vanilla to me. I can't tell you the difference between, for example, a 1955 Pontiac and a 1955 Mercury – I guess, if I go and look at pictures, the Mercury had slightly pointier headlight surrounds, but generally the way that I tell the difference between those cars is to walk up to them and say "Oh, this is the one that says 'Mercury' on it". I'm sure it's one of my many shortcomings as a person, though just as I can identify that NASCAR and NHRA racing takes a fair amount of talent, it's not the talent I'd prefer to explore. People who can identify those cars and all of the specific model year changes are, to me, semi-Rainman-esque in their ability to memorize and quickly recount every single 1950s cars. Of course, to them I bet every single car from the 1980s looks exactly the same. Line up a Fiat Dino, an Audi 100 Coupe S and an Opel Manta (along with a handful of other cars that share the same basic silhouette) and I bet they'd be doing the same thing as me – walking up to this "blue one" and proclaiming "Oh, this is the one that says 'Opel' on it":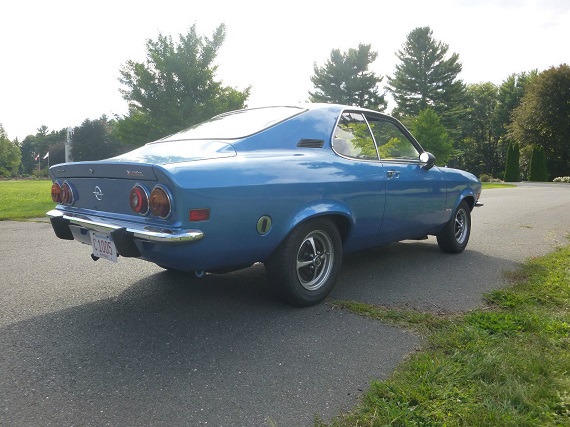 Year: 1973
Model: Manta Blue Max
Engine: 1.9 liter inline-4
Transmission: 3-speed automatic
Mileage: 67,000 mi
Price: $10,500 Buy It Now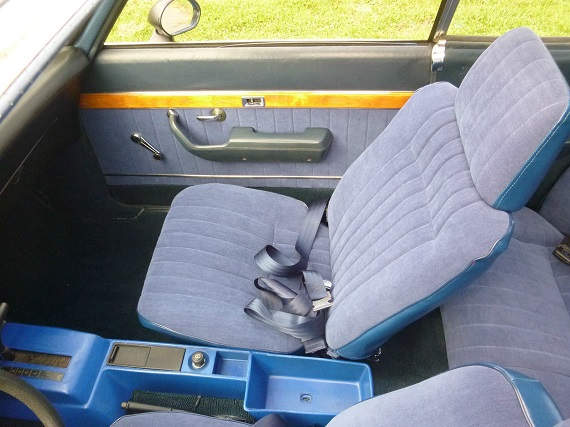 Up for auction is the rarest Opel ever imported to the U.S. The "Blue Max" edition Manta. It was a special one year only edition of the Manta Luxus for 1973. There are most probably, less than a dozen of these left in the world! When it came from the factory it included a blue vinyl roof, factory sunroof, automatic transmission, white wall tires, tinted glass, strato-blue(aka.monza blau) paint, etc. This car was purchased by me five years ago as a project car that some one had given up on. The paper trail of all of the owners are in my possession. The car started off with its first owner in Washington state, then went to California, then Long Island NY, before I picked it up and brought it to Massachusetts to undergo restoration. The car has 67,000 original documented miles, so it did not need much mechanical work except for a new Weber carb and extensive brake renovation. She runs really well. It has undergone a thorough exterior renovation as well as interior. I wanted to keep this "Blue Max" as original as possible, but personally I never liked vinyl tops so that had to go. I swapped the speedo/instrument unit for one from Germany, so it now reads in KM and has a tachometer. It's time for me to sell the car because of upcoming retirement, along with moving, and other projects that I still want to tackle. This is a really beautiful car, that turns heads where ever she goes and will do the new owner proud. NADA lists this car for $13,000+. I am offering a buy it now price of only $10,500US. Transaction must be completed within 10 days of auction ending. A $500 deposit via Paypal will be required 48 hours after auction ending. We will only accept bank wire transfers or cash for balance of payment. Only when funds clear our bank will the title will be released. Do not bid if you have a rating less than 10. This vehicle is also being sold locally, so seller reserves right to cancel auction at any time. No warranties implied. Wir sprechen auch Deutsch! Vielen Dank, and Thanks for looking.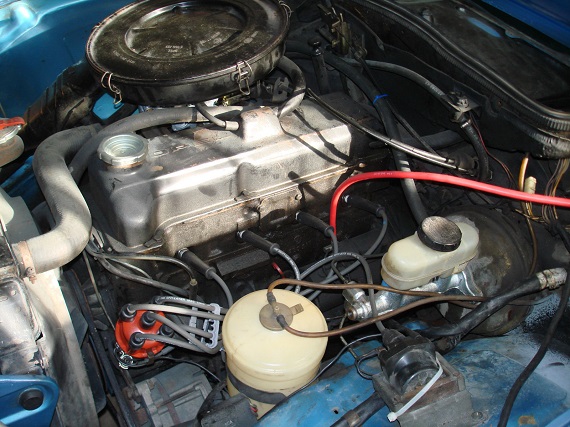 The Opel Manta special editions are, in many ways, reminiscent of the early Porsche 924 limited models. Just off the top of my head, I can think of four "limited edition" models of the early 924 that were little more than appearance packages, and I bet there were even more. But like the 924, while these limited models just had slightly different details, they're neat to see forty-odd years on. The Blue Max edition was a luxury model, equipped with corduroy seats and faux-wood trim and topped with only the finest of vinyl roofs. All of this was color coordinated to – you guessed it from the name – the maximum amount of blue. Performance was sapped by the automatic-only transmission; this was, after all, a luxury model. But the Opel Manta is still a great looking GT car that has some relevant racing history and is a seriously rare sight on the roads and even show circuits around the U.S.. This example has been restored; a few of the original details – like the vinyl roof, thankfully, aren't there, but overall this is one of the more impressive Mantas that has come to market in recent memory. Like the 924, it's also extremely affordable as it's often overlooked. Cheaper than any of the cars that the look emulates, this stellar example is available right around $10,000. Can you get much more classic German metal for less? I think the only fly in the ointment from the 1970s might be that other GT car I mentioned, the 924 – usually available for half that amount with a manual transmission and also, as mentioned, in limited editions, it would probably be the car I chose first. But the Manta has some seriously cool character and, if you like to march to the beat of a different drummer, you'll find a bunch of self-proclaimed automobile experts walking up to it and studying the badge to find out what that blue car is…
-Carter