I'll confess, I'm a huge fan of 1970s culture. A lot of this enthusiasm boils down to the music I listen to, whether it be disco, punk or the grand orchestral arrangements mixed with soul and funk overtones that epitomized the Philly Sound. While the automotive scene in the 1970s was a bit of a wasteland, there were a few bright spots. Key of which was the R107 Mercedes-Benz SL, which lasted a full decade longer after the seventies came to a close. We've featured many R107 SL roadsters and C107 SLC coupes on GCFSB, but this 1975 450SL in Cayenne Orange is an eye-opener and brings you right back to the period of lava lamps, leisure suits and Led Zeppelin.
Year: 1975
Model: 450SL
Engine: 4.5 liter V8
Transmission: 4-speed automatic
Mileage: 142,000 mi
Price: $15,750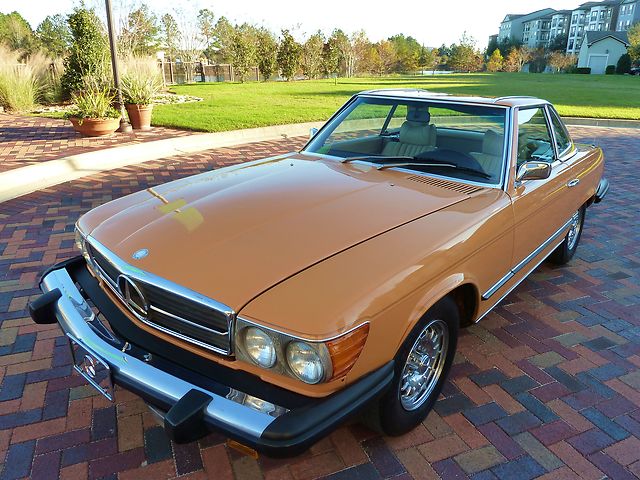 1975 Mercedes-Benz 450SL R107 Roadster. The W107 chassis of the 280, 350, 380, 450 and 560SLs was one of the longest running production bodies in the Daimler-Benz AG's line, and W107s are extremely well built and collectable. It is also the first V8 powered two-seater to be built at the Stuttgart, Germany factory. 450SL's are plentiful, but it's very hard to find one with this rare and highly desirable color combination, that is unmolested, and has been meticulously maintained, and documented!

Only 142,000 original and documented miles. That is only 3,700 miles per year! You will see there are some "low mileage" SL's out there, but do they have records supporting the stated mileage, how long ago odometer stopped working (big problem with older Mercedes), is it original cluster??!! Truth is, many will have no records supporting their mileage! In this case mileage is correct and documented including all stampings and service records (in excess of $28,000!)

This beauty also comes with all original books and manuals as well as its original data card and its tool kit. It's original and highly desirable and rare Cayenne Orange Paint shines beautifully and combined with Parchment Interior this Classic German roadster looks stunning! Its original Cayenne Orange (#406H) paint has a beautiful shine and luster and it makes this German roadster look timeless! Chrome is in beautiful condition, complete with healthy luster and this beautiful roadster is a head turner and conversation piece everywhere it goes.

This Mercedes is only a two owner car and it was California Vehicle its whole life. Current owner purchased this beauty from his best friend in 1983 and owned it and cherished it until this day! Being California car its whole life, it is very solid and its undercarriage is all original, unmolested and most importantly it is rust free! Body is also straight and solid and all doors, hood and trunk are operating with ease, with everything lining up as it should. It has been always garaged, pampered and kept away from rain and bad weather. Factory VIN # stamping on the front radiator support is another sign of originality of this car. (please see pictures)

There is not a lot of 450SL's out there in this solid and amazingly kept and preserved condition. It comes with both soft top and the hard top! Chocolate Brown Canvas Soft top is like brand new, in excellent condition and it is very easy to operate. Back Plastic windows are crystal clear. Hard top is also in excellent condition, including all original Sekurit glass and the headliner which is clean and rips and tears free! Another sign of originality of this beautiful car is stamping mark on the Hard Top (7284) which reflects the last four digits of the vehicles data card number.

-Interior

Its original and elegant Parchment interior is in wonderful condition. MB-Tex seats are in excellent condition, new looking and they are very supportive and comfortable. This Mercedes comes with power windows and they are working as they should. Just take a look at the pictures and you will get an idea about the condition of this car, how nicely it is kept and how beautiful it is.

-Engine & Transmission

4.5 Liter V8 Engine is strong and powerful as ever with only 142,000 original and documented miles. All of its maintenance and mileage is documented and there is over $28,000 in documents and receipts, as it owner wanted to make sure that his baby runs just as good as it looks. Whatever this car needed, it was always addressed without a wait or expenses spared. Automatic transmission shifts smoothly and effortlessly through every gear. This German roadster handles great at the high speeds and it is very comfortable. Air conditioning works as it should and this car is ready for some topless fun! There is nothing better than driving down the road with the top down and the wind in your hair!

This beautiful roadster comes all complete with its original maintenance books and manuals, original tool set, and its original production data card. Original spare tire is still in the trunk, and when you take a look at it, you will notice ORIGINAL green dot on the Wheel (please see pictures), which indicates that this spare tire NEVER touched the road. With its rare and desirable color combination, being only two owner California car (current owner owned it for over 30 years!!!), plus documented maintenance (over $28,000 in receipts) there is not a lot of 450SL's like this one on the road!

-Values

Value of this car is increasing from day to day, and unlike stocks, this is only investment that can be your investment and your "toy" at the same time! Just checkout NADA (www.nada.com) values below and the best thing is, value of this car will only continue to appreciate, as cars in this condition are getting harder and harder to come by!

http://www.nadaguides.com/Classic-Cars/1975/Mercedes-Benz/450SL/2-Door-Roadster/Values

High Retail Price: $23,100
The seller has been pretty reasonable with the Buy it Now figure. Top prices for SLs of this vintage can land anywhere in the $20,000 to $25,000 range. While this car does have high mileage, the continuous record keeping and extensive maintenance performed by the previous owners adds a lot of value to the equation here. If the car looks as fresh in person as it does in these photos, this would be a car I would put at the top of the list for those in the market.
-Paul